All Hell Breaks Loose In Chainsaw Man's First Teaser Clip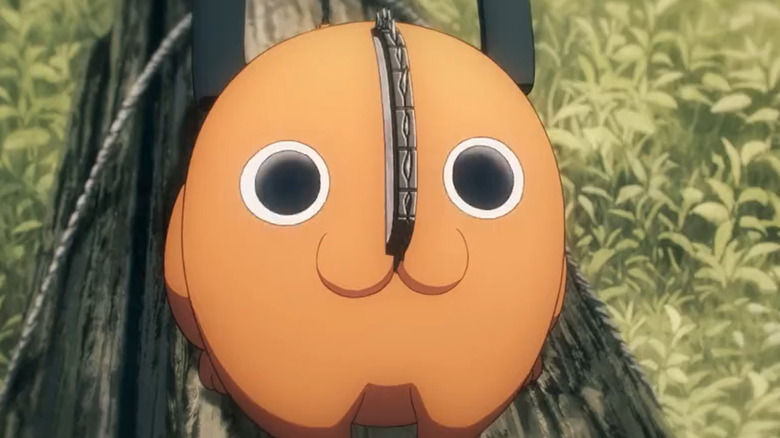 TV Tokyo
"Chainsaw Man" is about to take the anime world by storm with its premiere later this month. The award-winning series has already captured the hearts of manga readers, and it now has its sights set on anime watchers.
"Chainsaw Man" follows Denji, a poor boy who uses his adorable pet devil Pochita to kill devils for the Yakuza and pay off his debts. After the Yakuza betray and kill him, Pochita replaces Denji's heart, bringing him back to life and growing back any missing organs. With this new bond, Denji can pull the string hanging out of his chest and become Chainsaw Man, a devil with chainsaws for his head and arms. Shortly after getting revenge on his debtors, the Public Safety Devil Hunters, a government agency that kills devils, finds Denji and gives him an ultimatum: join them or die. He joins the agency and uses his chainsaw powers to help hunt devils, including the infamous Gun Devil.
With the premiere of "Chainsaw Man" Season 1 right around the corner, fans are getting more and more information about the highly-anticipated anime series. Crunchyroll recently released the tracklist for Season 1, confirming that each episode will have its own ending theme.
Today, a brand-new clip dropped to add to the excitement.
Chainsaw Man is preparing fans for bloody violence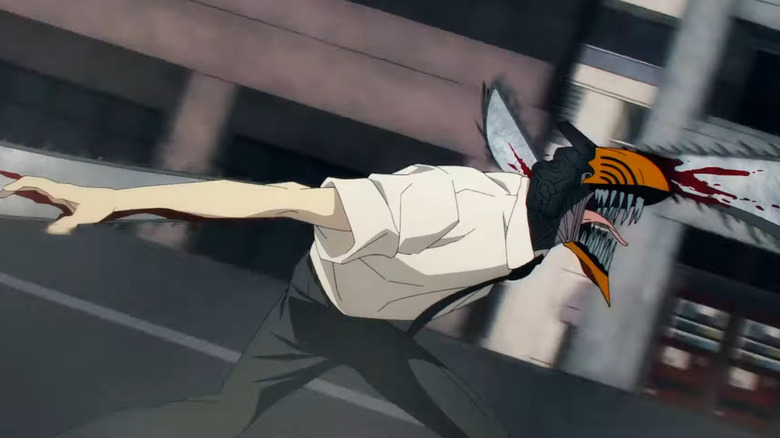 Crunchyroll
The "Chainsaw Man" official Twitter page released a brand new clip to show fans what's in store for Season 1. The video has already garnered over a million views, with fans expressing their excitement in the replies.
The short video only runs 15 seconds but is a montage filled with quick clips from the anime's first episode to get fans excited for the premiere. We see Denji and Pochito, still in his ever-so-cute form, meeting. We get quick establishing shots of the story's Tokyo setting and some that show the less-than-lavish lifestyle Denji is living. He's missing an eye and living in a small, rundown room with only bread to eat. Early in the video, we get a quick look at Makima, surprising since she will probably only feature at the end of the episode. We also get a great look at the action that's in store for Episode 1. We see Chainsaw Man in all his violent glory, including a quick look at Denji's first transformation. The video closes out with clips of Chainsaw Man taking on the Zombie Devil — a fight that manga readers know sets the pace and tone for the rest of the story.
Episode 1 is titled "Dog and Chainsaw" and premieres on Crunchyroll on October 11. "Chainsaw Man" is adapted into an anime by legendary studio MAPPA, who have recently created hit shows like "Jujutsu Kaisen," "Attack on Titan: The Final Season," and "The God of Highschool."
At MAPPA's 10th Anniversary Event, manga creator Tatsuki Fujimoto participated in a Q&A, revealing what inspired him to create "Chainsaw Man." The author said "The Texas Chainsaw Massacre" was his primary inspiration because of the cool chainsaws. Fans can expect similar violence when "Chainsaw Man" premieres next week.