Real-Life Teachers Make It Clear How They Feel About Abbott Elementary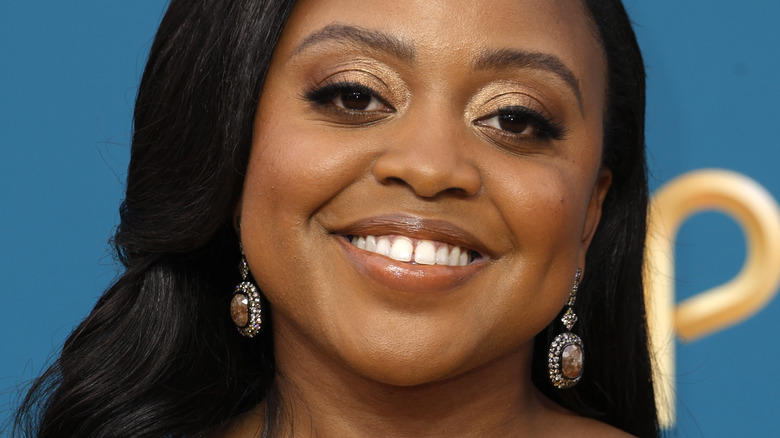 Frazer Harrison/Getty Images
Created by Quinta Brunson, "Abbott Elementary" follows optimistic second-grade teacher Janine Teagues (Brunson) and her coworkers at a Philadelphia elementary school as they are filmed for a documentary about underfunded public schools. The ABC mockumentary-style sitcom focuses on the day-to-day struggles of working with kids and navigating the inner workings of the public school system. The other main characters include new substitute teacher (and potential love interest to Janine) Gregory Eddie (Tyler James Williams), awkward history teacher Jacob Hill (Chris Perfetti), the "Abbott Elementary" character that steals the scenes, Ava Coleman (Janelle James), and veteran teachers Barbara Howard (Sheryl Lee Ralph, who initially wanted to play a different role), and Melissa Schemmenti (Lisa Ann Walter).
"Abbott Elementary" became one of television's biggest hits of the season following its December 2021 premiere. It grew a massive fan base and earned itself six Primetime Emmy nominations (and ended up winning some — Brunson won for writing, and Ralph won for her supporting role). The show was swiftly renewed for a second season of 22 episodes, as reported by TV Insider. Fans are quick to point out plenty of reasons "Abbott Elementary" became such a hit — the writing is sharp and funny, and the cast has great chemistry. 
But another reason is that it showcases a realistic portrayal of teachers while still being a hilarious show — at least according to teachers.
Teachers love Abbott Elementary — and relate to it
In February 2022, CNN spoke with several real-life teachers — all of whom had nothing but praise for "Abbott Elementary" and its portrayal of the world of teaching. In the pilot episode, Janine struggles to find funding for a new rug after one of the kids throws up on the old one. It's an important battle because one of her students doesn't get enough sleep at home and relies on napping on the rug. This moment struck a chord with one second-grade teacher from North Carolina, Ashley Crenshaw. Crenshaw told CNN, "It might seem very small and minute, but we do experience kids that aren't sleeping at home. So I might have to make a little nook for them, just to kind of catch 10, 15 minutes."
Educators appreciate seeing teachers portrayed in a positive light. Wake Forest University professor Mary Dalton, who studies the representation of educators in media, said, "This is the first female teacher character in a comedy who has been portrayed in a positive light, and who is realistic — like a well-rounded person — in a very long time."
Teachers also voiced appreciation for how the show highlights their jobs' difficulties. Additionally, they are grateful that a Black teacher is at the center of the narrative — especially since many of the students are students of color — rather than setting up a white savior situation as many teacher-focused movies have done.
Brunson has seen close up what teachers' lives are like
Creator and star Quinta Brunson, whose mother was a long-term teacher, revealed to NBC News one moment from her mom's teaching career that helped inspire "Abbott Elementary." Brunson visited her mom during parent-teacher conference night, knowing it would be running late and wanting to ensure her mom got home safely. During the visit, Brunson began getting irritated when no single parent showed up until 8 p.m.
Brunson explained, "I was so mad. The school day had wrapped early, so my mom had been there since 12 waiting for people." However, her mother wasn't upset — much to Brunson's surprise — but instead was happy to have waited all that time to meet with the sole parent who showed up. Brunson continued, "She sat down there and had that conference with that parent. I was overhearing their conversation, watching my mom do her job beautifully, flawlessly, and with such care. And I was like, 'Man, this is beautiful.'"
While on the red carpet at the Emmys, Brunson explained the type of school environment she wanted to portray in the series. She told E! News, "Schools like Abbott, with Black children and Black teachers who care about them, they're very special places. Places of community and safety and morals and intense humor."