The Actresses Who Play Mina Ashido In My Hero Academia Are Gorgeous In Real Life
"My Hero Academia," based on the manga by Kōhei Horikoshi, is one of the Shonen anime series that has garnered a considerable fanbase in recent years. It's not difficult to see why. For a start, the public's interest in superpowers – or "quirks," as they're known in the universe of the show — is at an all-time high. "My Hero Academia" asks us who we'd be if we'd been born into a world where 80% of the population possesses a quirk, and whether we'd use our gifts to become a hero or a villain.
But there are many other reasons to enjoy Horikoshi's tale, too. One of them, which is specific to the anime adaptation, is the cast of talented actors whose voices bring our favorite characters to life. In fact, they're so good that it's more than worth taking a little time to pay homage to the two actresses behind the show's super-likable pink hero, Mina Ashido.
Eri Kitamura plays Mina in the Japanese version of My Hero Academia
Mina is cheerful, upbeat, and considered something of an "airhead." Indeed, Mina isn't the brightest bulb in the box, but she makes up for her intellectual shortcomings with lots of energy and eternally high spirits. Her breakdancing skills are revered, as is her mastery over her acid quirk. To give a voice to this bubbly character, one needs to channel easygoingness and dynamism. Without both of those specific traits, Mina would lose the qualities that make her so endearing. Thankfully, Eri Kitamura and Caitlin Glass do an excellent job capturing Mina's lively spirit.
Eri Kitamura, who provides Mina's voice in the Japanese version of "My Hero Academia," has been in the voice acting business for nearly two decades. Born on August 16, 1987, she is best known for playing Ami Kawashima in "Toradora!," Karen Araragi in "Monogatari," and Yui in "Angel Beats!" In addition to her voice acting career, she is also a singer with multiple titles under her belt. According to her website, the Tokyo-born actress likes drawing manga, the color black, and dressing in Gothic styles, which we can often see her wearing in pictures.
Caitlin Glass lends her voice to My Hero Academia's English dub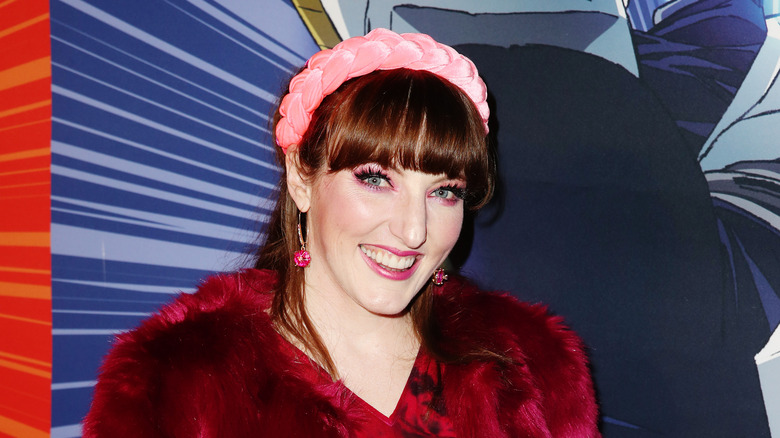 Joe Scarnici/Getty Images
Born in Washington D.C. in 1981, Caitlin Glass has also been voice acting for nearly two decades. One of her most well-known roles includes Winry Rockbell in both "Fullmetal Alchemist" and its reboot, "Fullmetal Alchemist: Brotherhood." Not only did Glass voice direct the English dub of "Ouran High School Host Club," but she also played the main character, Haruhi Fujioka. She also portrayed Miria Harvent in "Baccano!," Kyoko Kirigiri in the anime adaptation of "Danganronpa," Machi Kuragi in "Fruits Basket," and, most recently, Damian Desmond in "Spy X Family." She currently resides in Dallas, Texas; according to her Twitter bio, she also loves French Bulldogs.
"My Hero Academia" fans can hear Kitamura and Glass as Mina in Season 6the anime, which adapts the fan-favorite Paranormal Liberation War arc. The new season premiered on Saturday, October 1, 2022.