The Rookie Fans Can't Stop Rolling Their Eyes At Season 5 Episode 2's Nonsensical Storyline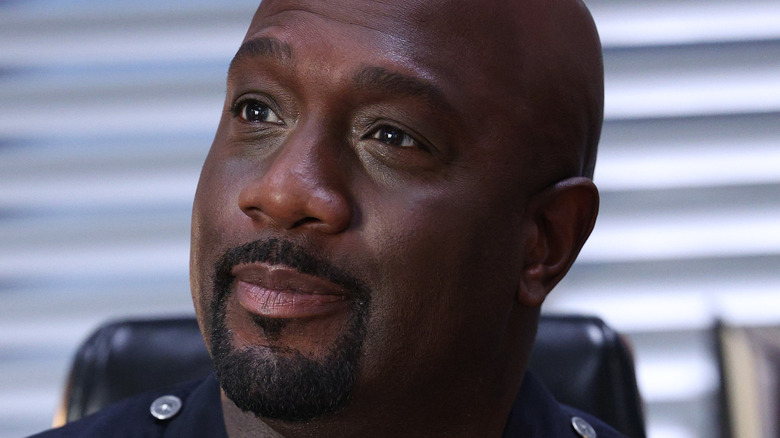 ABC/Raymond Liu
Contains spoilers for "The Rookie" Season 5, Episode 2 — "Labor Day"
Being a police officer is certainly a job that isn't for the faint of heart. It isn't all just writing tickets and pulling people over for speeding, and sometimes cops have to deal with murder, drug running, thievery, and violent assaults. However, if one decides to become a police officer after a divorce in an almost mid-life crisis-like move, then one gets the overall plot of "The Rookie," which is oddly enough inspired by a true story.
"The Rookie" stars Nathan Fillion as the main character John Nolan, who becomes the oldest rookie in the Los Angeles Police Department. Picking up after the bombastic Season 4 finale, Season 5 sees Nolan utilize the "golden ticket" he earned from his previous heroics, which allows him to pick any job in the LAPD he wants. Choosing to be a training officer, Season 5 also brings back the serial killer Rosalind Dyer (Annie Wersching). Between these two major events in the very first episode, Episode 2 certainly had some rather big shoes to fill, but it looks like one plotline has really rubbed fans of the show the wrong way. 
Fans think the plot involving Nyla's neighbors is dumb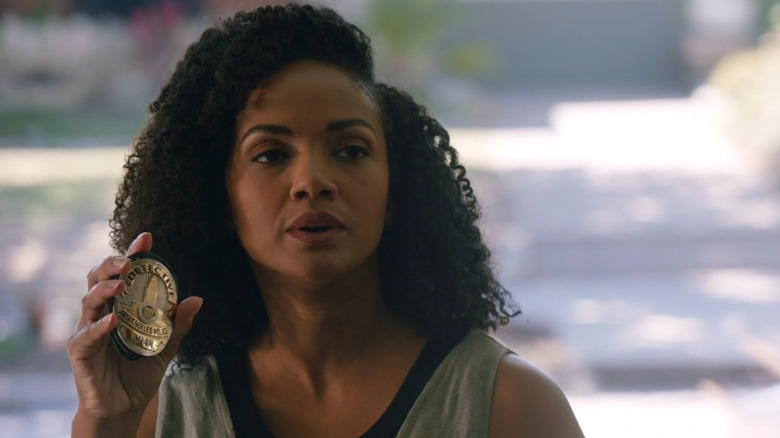 ABC
It turns out that several fans have taken issue with a scene involving Nyla Harper's (Mekia Cox) neighbors. Taking to Reddit, u/magikarpcatcher said, "The entire storyline about Nyla's [neighbors] was so dumb. It would be one thing if they didn't know she was a cop, but she walked right up to them and told them she was a cop, yet they still killed someone in broad daylight with a cop living across the street. So dumb."
This particular plot revolves around Nyla taking a leave of absence for her pregnancy, which affords John Nolan a chance to flex his newly acquired training officer status. Settling into a new home that is quite close to a hospital, Nyla becomes suspicious of their new neighbors, and their very first interaction involves Nyla explaining her profession when she goes over to complain about their loud music.
She eventually hears gunshots and then sees her neighbors moving what looks like a dead body, which seems to be one of the major issues fans have with the episode. Realizing that they may get in trouble for the murder, the neighbors decide to attack Nyla in her home, which sees her defend herself and give birth around the same time. Needless to say, there is definitely plenty of drama in this episode, but it hasn't sat well with some fans.
Viewers think that Nyla should have acted more appropriately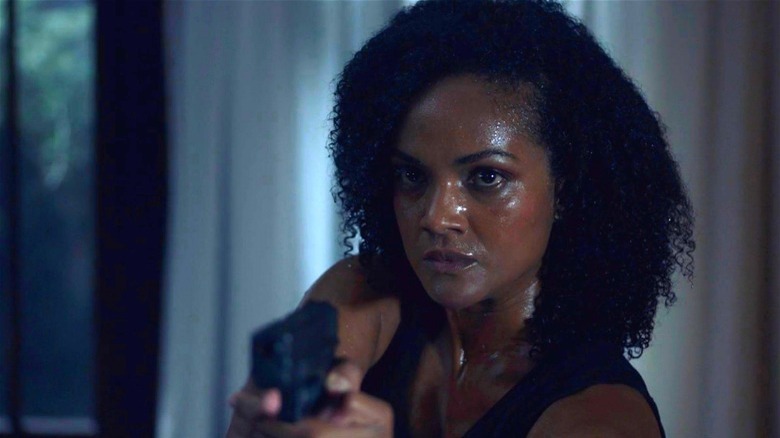 ABC
The above Reddit statement caused u/FaizerLaser to reply, "Also why the f*** did Nyla even have to investigate when she saw them moving the body? That's probable cause right there and she could have called the other officers to pull up and check it out. Would have been insanely easy to do but then she decides to investigate while about to have a baby with no gun." They added that the criminals were stupid in this instance, but so was Nyla because she is pregnant and shouldn't be taking unnecessary risks. She has spent time as both an undercover agent and a training officer, which really highlights that the character should have realized the danger she was in.
Others also felt the same way about this specific plot, with u/ThatBrownGuy35 adding that the writing is just very poor. They continued, "The writers need to understand not every big moment needs to have suspense or drama."
This pregnancy plot woven throughout "The Rookie" was actually created specifically for the character of Nyla because the actor who plays her was pregnant in real life. Posting on Instagram in January 2022, Mekia Cox said, "Much love to @alexihawley and the rest of ['The Rookie'] writing team for writing my pregnancy into the show. Happy to be on a show where pregnancy is acknowledged and celebrated."
How this story will continue is anybody's guess, but one thing is for certain — some fans weren't exactly keen on this plot's execution.