The Rookie Showrunner Dangles Tantalizing Hints About Nolan In Season 5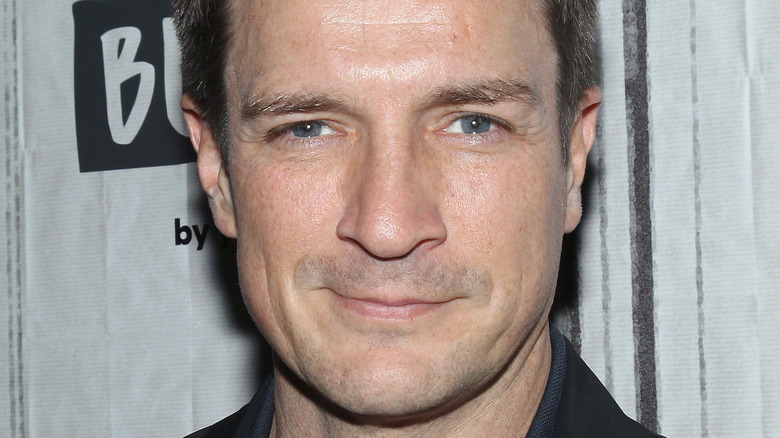 Jim Spellman/Getty Images
Being one of the oldest rookies in a police academy is certainly rife for both comedy and drama. Typically, most police trainees are probably fresh out of high school, college, or the military, and it is usually their life-long goal to become an officer of the law. However, what happens when a middle-aged individual gets a divorce and decides to make some rather big career shifts? This is the fulcrum in which ABC's "The Rookie" spins, which is based on a true story. It generally follows John Nolan (Nathan Fillion) as the oldest rookie ever, who works exceptionally hard and approaches his new job with a full heart and a compassionate ear.
Season 4 ends with a probable relationship between coworkers and an intense moment for Nolan that sees him engaged in a shoot-out with a gang after he and a trainee arrest one of the gang's members. Their combined heroics eventually result in an explosive scene that sees many of the gang members either wounded, killed, or arrested, and it looks like this moment will have far-reaching effects on the television series going forward, and cause yet another career shift in Nolan's life.
Nolan has lots to deal with in his new position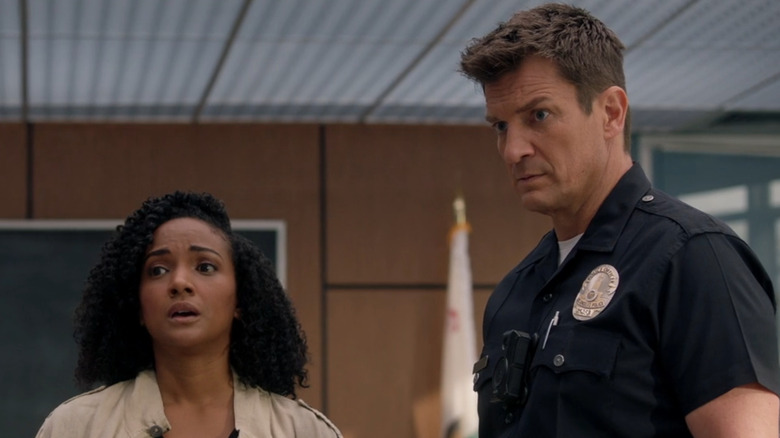 ABC
Now that Season 5 of "The Rookie" has kicked off, viewers can see how John Nolan will be rewarded for his endeavors in the previous season. As highlighted by a clip from ABC, Nolan is given a "golden ticket" for his quick and unconventional thinking in the Season 4 finale, which means that he can choose any assignment within the Los Angeles Police Department. For fans of the show, his choice should be apparent: he wants to be a training officer. He has made previous overtures to this assignment, but now he can finally act on this wish with impunity.
In an interview with TVLine, showrunner Alexi Hawley spoke about what is on the horizon for Nolan, and he specifically mentioned that the focus of the show is to highlight the only way to change police officers is to change the system from within. Hawley was then asked what kind of training officer Nolan will be, and he replied, "I do think that Nolan at heart is an empathetic person — he's a listener, he's a question-asker — so I don't think anybody would believe him as a hard-ass like Tim [Bradford]. But there is this line of being too nice or too willing to give the benefit of a doubt on a job when s*** can come out of nowhere and turn everything upside-down."
He later added, "We're going to throw a lot at him." Considering the intense Season 4 finale of "The Rookie," it would make sense that Nolan will not simply be teaching from the classroom. His innate cunning and unique perspective makes Nolan a breath of fresh air, and his thinking under pressure probably makes for a fine teacher.