Black Panther: Wakanda Forever's Official Trailer Has Fans All Buzzing About The Same Thing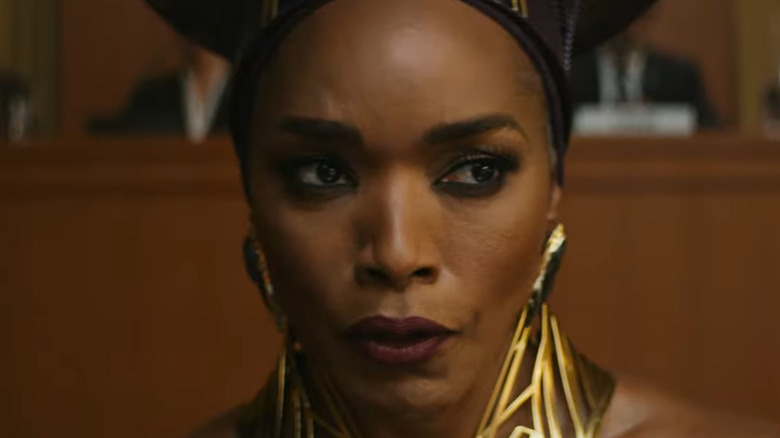 Marvel Entertainment/YouTube
Tickets for "Black Panther: Wakanda Forever" are officially on sale, and, in typical Marvel fashion, the studio released a brand new trailer to celebrate. 
This latest official look at the film dives deeper into the conflict between Wakanda and Talocan following the death of King T'Challa (Chadwick Boseman). It's still up in the air how exactly "Wakanda Forever" writes off Boseman's titular hero, but based on the currently available footage, it's now clear that T'Challa has passed away in the MCU. In this newest trailer, Wakanda is mourning its king's death, which leaves the country vulnerable to an invasion. Namor and his people's full strength is then on display as they attack Wakanda and even flood one of its cities. Viewers also get close looks at Namor (Tenoch Huerta), Shuri (Letitia Wright), Ramonda (Angela Bassett), and Riri Williams (Dominique Thorne). 
Finally, the trailer's last shot gives fans what they've all been waiting for: a look at the new Black Panther. Following the tragic loss of Boseman in 2020, theories took over the internet as to who would take up the Black Panther mantle next. Some fans believed Marvel Studios should have recast the role to maintain T'Challa's presence in the MCU, but Kevin Feige himself stated that it was too soon for such a change (via Empire). Others thought giving the role to an established character was the way to go, with Shuri, Nakia (Lupita Nyong'o), and M'Baku (Winston Duke) being the most popular choices. 
It's now apparent that Marvel Studios took the latter of these two routes, and many fans are overjoyed with their decision.
Shuri is probably the new Black Panther, and fans are loving it
The new trailer for "Black Panther: Wakanda Forever" all but confirms that Letitia Wright's Shuri will inherit the Black Panther mantle in the upcoming sequel, and plenty of fans are loving this revelation.
After its latest trailer first dropped, Twitter exploded with fans sharing their excitement for "Black Panther: Wakanda Forever." Everyone seems more than ready for the sequel, with plenty of users loving pretty much every aspect of the trailer. Namor's reveal, Riri Williams' Mark I Ironheart suit, and the return of beloved characters from the first film all seem to be highlights, but the new Black Panther reveal is the clear standout among fans online. User CPizza570 said that the hero's new suit looks fire in so many words, while josemichael1998 posed the question of whether Shuri or Nakia might be wearing it.
Twitter ultimately came to the consensus that Shuri is donning the costume in the trailer, and fans are excited to see her as the new Black Panther. User kamoutd wrote, "So that confirms it, it's Shuri. I'm not mad. They could've recasted, but I'm not mad." Targ_Nation agreed with this assessment, posting, "yeah, that's 100% Shuri behind that mask." Thescarletprint, meanwhile, believes Shuri is the correct choice for the role and said, "Shuri is about to DEVOUR as the next Black Panther."
Why fans think Shuri is the new Black Panther
While viewers don't actually see Shuri in the Black Panther costume in the latest trailer for "Black Panther: Wakanda Forever" — the reveal simply shows a masked, feminine Black Panther suit — it heavily implies that this new incarnation of the hero is the younger sister of T'Challa. Shuri and Nakia have long been the two rumored options to become the next version of the iconic hero, and the latest trailer as well as the film's newly-unveiled poster strongly suggest that we'll see Letitia Wright in the role.
One Reddit thread, for example, argues that Shuri's presence at the center of the new poster's character lineup acts as confirmation that she's the franchise's new titular hero. One commenter in a similar thread even pointed out that markings on the new Black Panther suit match Shuri's signature face paint.
So, users online excited about the prospect of Shuri becoming Black Panther based on this latest trailer — like wandaslizzie on Twitter, who simply wrote, "Shuri in the Black Panther suit" in an ecstatic fashion and received more than 4,000 likes — seem to have plenty of evidence supporting this assumption. 
Fans can find out definitely whether or not Shuri is definitively taking her brother T'Challa's place when "Black Panther: Wakanda Forever" hits theaters on November 11.