What Is The Song In The Black Panther: Wakanda Forever Official Trailer?
Excitement for Marvel Studios' upcoming feature "Black Panther: Wakanda Forever" is more palpable than ever after the studio dropped a new trailer for the film. In contrast to its first meditative and mysterious trailer, this sneak peek at the Marvel Cinematic Universe's latest project provides a clearer idea of what fans can expect from the film.
While many comic book fans had already expected that Atlantis would, on some level, serve as an antagonist for Wakanda's healing royalty, this trailer confirms that at some point during the "Black Panther: Wakanda Forever" runtime, Wakanda may be willing to risk "eternal war" just to take out their leader, Namor. Of course, Namor is a well-known and long-awaited comic book antihero, and one of the most recognizable mutant figures in Marvel Comics. Fans also get quick glimpses of Riri William's first Ironheart suit, as well as someone — widely speculated to be Shuri — taking up the mantle of the Black Panther (previously carried by the late Chadwick Boseman's King T'Challa). As this action unfolds, a fitting piece of music underscores the tension, drama, and hope of "Black Panther: Wakanda Forever."
The song is Sampa the Great's Never Forget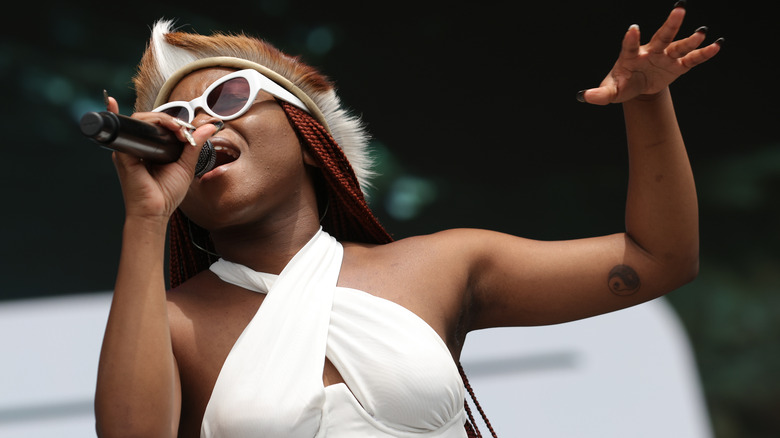 Michael Hickey/Getty Images
The song is "Never Forget" by Zambian musical artist Sampa the Great, featuring artists Tio Nason, Chef 187, and Mwanje Tembo. In a press release from the song's debut as a single in June of 2022, Sampa described the piece as "an ode to Zamrock music, a genre born in the '70s combining traditional Zambian music and psychedelic rock" (via NME). "Never Forget" would ultimately be released as part of her 2022 album "As Above, So Below."
The second trailer for "Black Panther: Wakanda Forever" picks up with Chef 187's verse in the song's second section. His inclusion in this piece was very intentional by Sampa — while she was born in Zambia but became a professional recording artist in Australia, Chef 187 built his career in Zambia. In an interview with Vulture, Sampa said she wanted to find a Zambian artist like Chef to provide the experience of someone creating art in the continent of Africa — an experience she feels she cannot speak on.
Chef's verse is written and performed in Bemba. Unfortunately, there is no official translation to inform listeners of the literal meaning of his words. In some unofficial translations, the verse speaks about the power, achievements, and pride possible for people who identify as part of the African diaspora. Sampa told Vulture that this verse is the voice of the future: "We're leaving a mark. We are the ones that are gonna take it forward." Furmaan Ahmed, one of the directors of the "Never Forget" music video, said of the song, "At its heart, 'Never Forget' is an homage to the strength, resilience and magic of the diaspora ... a ritualistic unearthing and a celebration of our heritages and the power of music in liberation."