Ana Lily Amirpour And Kate Hudson Discuss The Psychedelic Wonderland Of Mona Lisa And The Blood Moon - Exclusive Interview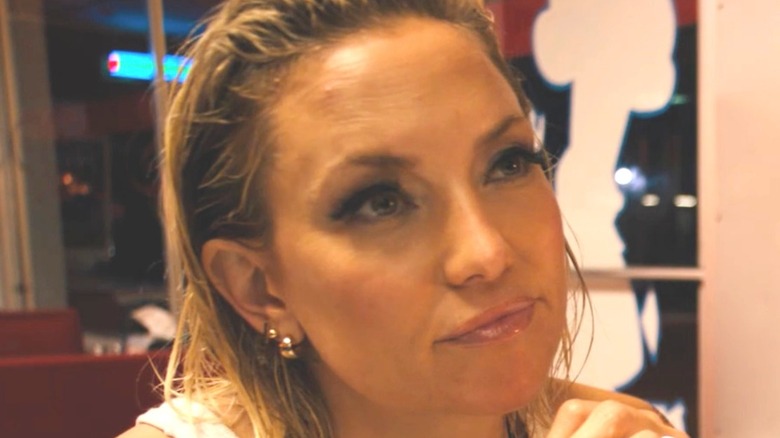 Saban Films
It may seem like we've encountered every single kind of pop-culture superhero possible. However, we've never seen anyone quite like the title character (Jun Jong Seo) in "Mona Lisa and the Blood Moon," a mysterious mental hospital patient who has the ability to control people with her mind. After escaping the hospital, it quickly becomes clear that Mona Lisa doesn't have a strong sense of morality or a real understanding of the world as a whole. Soon, Bonnie (Kate Hudson), a savvy stripper and single mother, takes advantage of that naivete, enlisting Mona Lisa in a pseudo-Robin Hood scheme in which Mona Lisa forces people to make ATM withdrawals to get money for Bonnie. Yet, despite her lack of street smarts and her periodic use of her powers to inflict bloody violence, Mona Lisa still comes across as someone who's simply trying to figure it all out.
Writer and director Ana Lily Amirpour brings a singular vision to "Mona Lisa and the Blood Moon," turning its New Orleans setting into a psychedelic wonderland full of saints and sinners while also digging into themes such as women's empowerment, the kindness of strangers, and how we forge relationships with others. The stacked cast, which in addition to Hudson includes Ed Skrein and Craig Robinson, is with her every step of the way, bringing the stylized movie's varied characters to life with nuance and conviction.
In an exclusive interview with Looper, Amirpour and Hudson discussed the visually dazzling "Mona Lisa and the Blood Moon," including what Amirpour wanted to convey through the story and why Hudson wanted to work with Amirpour on the film.
A filmmaker that sees 'the world differently'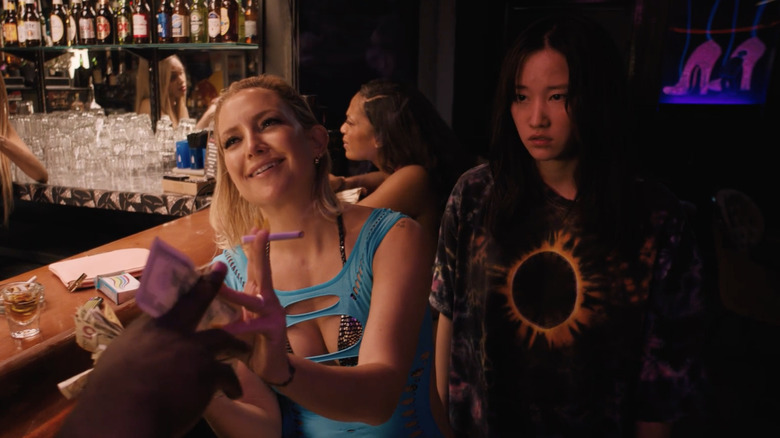 Saban Films
Lily, how did you come up with the story for this film?
Ana Lily Amirpour: I dropped some acid ... No, I'm just kidding. That's what I do after I'm done. I wanted to do this fairy tale that was warm and fuzzy but dirty and grimy, set in New Orleans, about a girl. It's warm-and-fuzzy dirty grimy — not dirty-grimy dirty grimy — warm-and-fuzzy dirty grimy. It's for those that [have] a fine palate and [takes] you through this fairy tale searching for freedom and connection but more grounded in the mundane reality of what we are after and what people are like.
Kate, Bonnie is different from any character I've seen you play before. Why did you want to take on this role?
Kate Hudson: There's a number of reasons. One, knowing Lily's work and being a fan of it ... Her visuals are inspiring to me. I know that she's going to make a mark as a really special filmmaker in our industry, and I believe that we need to take more chances on people that see the world differently, and I want to be a part of [projects by] people who do that and are uncompromising with it. If I can bring something to a character they have in mind and they want me to be a part of it, then I am down. When I read Bonnie, I was like, "I could see myself in this, and hopefully she can see me in this." It looked like a really fun thing to be able to do with someone whose work I admire.
What you see isn't what you get
Saban Films
The movie delves into these really interesting themes. It's fascinating the way it addresses the way we treat strangers and the reasons behind it. Lily, what did you want to convey about that through this film?
Amirpour: That's a very interesting, thoughtful question. That's like, how do we treat people and see people? One of the things about people is that what you see isn't what you get, meaning if you look long enough or peel back layers, you're going to get to somewhere else. All of us are such a complicated enigma of things, and you have to keep looking. Sometimes there's an opportunity to do that, and sometimes we're too busy and we come to our conclusions, but it's interesting to go places you didn't expect. It's interesting when people surprise you, [for] better or worse. You learn from both things.
"Mona Lisa and the Blood Moon" is available in theaters, on digital, and on demand.
This interview was edited for clarity.