Martin Kove Explains How A Karate Kid III Scheduling Conflict Led To The Rise Of Terry Silver - Exclusive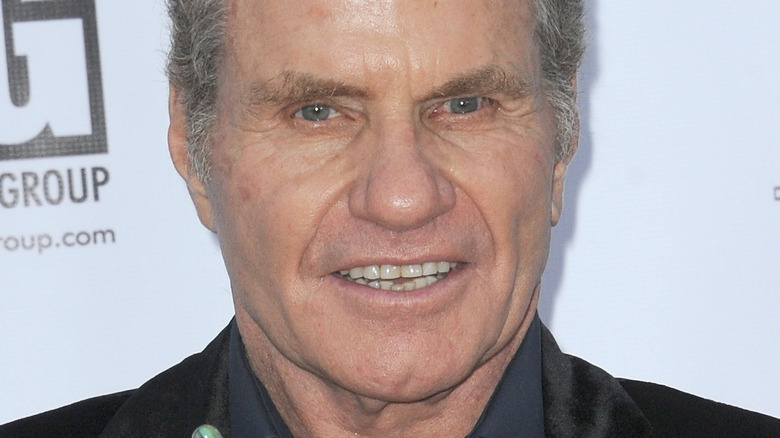 Albert L. Ortega/Getty Images
The enormous success of "The Karate Kid" spin-off series "Cobra Kai" has shown that if a great story is given enough time to play itself out, it will right the ship for all of the players involved — including "The Karate Kid Part III" stars Martin Kove and Thomas Ian Griffith. "Cobra Kai" is rooted in the outcome of the All-Valley Karate Tournament in "The Karate Kid," where the underdog, Daniel LaRusso (Ralph Macchio), defeats his bully, Johnny Lawrence (William Zabka). The outcome altered both teens' destinies and effectively resulted in a reversal of roles for the two more than 30 years later.
Just as central to the plot of "The Karate Kid" were Daniel's encouraging mentor Mr. Miyagi (Pat Morita) and Johnny's menacing sensei, John Kreese (Kove). Featuring only briefly in the sequel, Kreese was supposed to come back in a big way for "The Karate Kid Part III," but a scheduling conflict created the need for a new villain. Penned as a former Army buddy of Kreese's in Vietnam, Terry Silver (Griffith) — a megalomaniacal toxic waste industrialist — uses his money and power to help Kreese train a new protégé, Mike Barnes (Sean Kanan), to make Daniel's life hell. Doubling their efforts, Silver steps in to manipulate Daniel to defect from Miyagi's teachings.
One of the hallmarks of "Cobra Kai" is how the series weaves characters from the "Karate Kid" films into the narrative. As such, Silver was brought aboard to help Kreese in Season 4, only to frame his old friend for the brutal beating of Cobra Kai student in the season finale. The purported crime leads to a prison term for Kreese in Season 5, opening the door for Silver to build a Cobra Kai dojo empire in his image — a story that is unimaginable had the original plans for Kreese's character worked out in "The Karate Kid Part III."
Terry Silver wasn't in the original script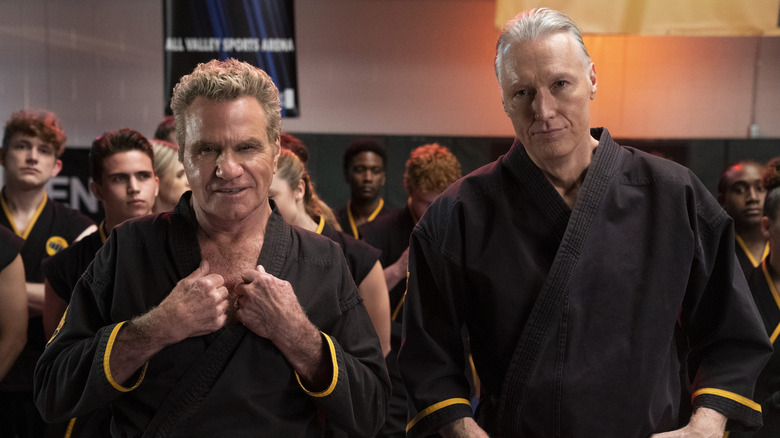 Curtis Bonds Baker/Netflix
While Martin Kove is enjoying the success of "Cobra Kai," he admitted in an exclusive interview with Looper that his involvement at the end of "The Karate Kid" trilogy was a bittersweet affair because another job opportunity altered the plot for Kreese in the threequel.
"There wouldn't be a Terry Silver if I was available to do 'Karate Kid III.' I had gotten a TV series called 'Hard Time on Planet Earth' at CBS and Disney Television, and I couldn't do 'Karate Kid III,'" Kove recalled. "There wasn't a Terry Silver [in the script] ... The whole story was John Kreese doing all that, not the Terry Silver character that they brought in from Vietnam. It was a bittersweet experience because [director] John Avildsen didn't want to gamble on shooting me on weekends. I would come in two or three weekends and finish up being on vacation, and then I came in for the final tournament. But it was very bittersweet because it was all written for me in 'Karate Kid III.'"
Time has proven that the addition of Silver to "The Karate Kid Part III" and "Cobra Kai" has only enriched the overall story. Kove is happy that things have worked out, even though the idea of introducing another villain messed with his psyche for a while.
"Things are fascinating when you bring in another villain, and you feel strange. You don't feel that people are stealing your thunder, but it's like you can't pull Darth Vader out of the 'Star Wars' franchise. John Kreese is Cobra Kai," Kove observed. "It's like I say at the end of Season 4, 'I'm Cobra Kai!' It's not an ego thing — it's just that I'm always amazed at how the audience reacts to situations where you're a little reluctant about it."
All five seasons of "Cobra Kai" are streaming exclusively on Netflix.