Cobra Kai's Martin Kove Discusses The Evolving Story Of John Kreese - Exclusive Interview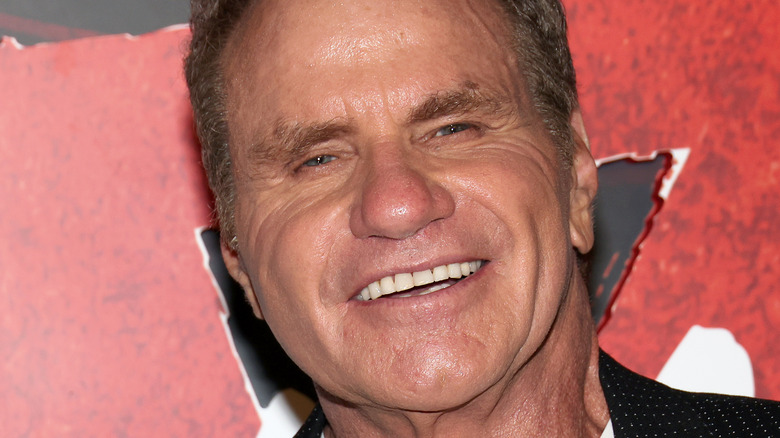 David Livingston/Getty Images
This article contains spoilers for "Cobra Kai" Season 5.
Veteran film and television actor Martin Kove's career is about as prolific as it gets, having starred in more than 225 screen projects dating back to 1971. One of his most notable roles, of course, is villainous sensei John Kreese in "The Karate Kid" and its two sequels, where Kreese's unforgiving "No mercy" mantra went on to become a time-honored phrase in the cultural lexicon.
Kove certainly had plenty of things going before, during, and after his "Karate Kid" days, with turns in such films as "Death Race 2000," "Rambo: First Blood Part II," "Wyatt Earp," and more recently, "Once Upon a Time in Hollywood." On television, Kove has guest-starred on dozens of series from "Gunsmoke" to "Kojak" to "The Goldbergs" and appeared in a starring role for seven seasons on the classic crime drama "Cagney & Lacey."
Then, in 2019 — 30 years after "The Karate Kid Part III" — Josh Heald, Jon Hurwitz, and Hayden Schlossberg got Kove to reprise Kreese for the second season of their "Karate Kid" spin-off series "Cobra Kai," and he's been a prominent part of the show ever since. The series finds Kreese at odds with Daniel LaRusso (Ralph Macchio), and eventually, his former Cobra Kai student Johnny Lawrence (William Zabka). "Cobra Kai" takes an even bigger dramatic turn for Kreese in Season 4, though, when his fellow Vietnam veteran — the corrupt industrial magnate Terry Silver (Thomas Ian Griffith) — betrays his longtime friend by framing him for a vicious crime he didn't commit.
"Cobra Kai" Season 5 finds Kreese behind bars and facing an uncertain future as he attempts to adjust to some very dangerous surroundings. In an exclusive interview, Kove — Zooming in from his backyard in Nashville — kicked back to discuss with Looper his time on "Cobra Kai," Daniel and Johnny's pivotal prison visit with Kreese, his thoughts on future storylines for Kreese, and much more. But to begin, Kove lit up a well-deserved cigar.
Kove loves how Cobra Kai has a family audience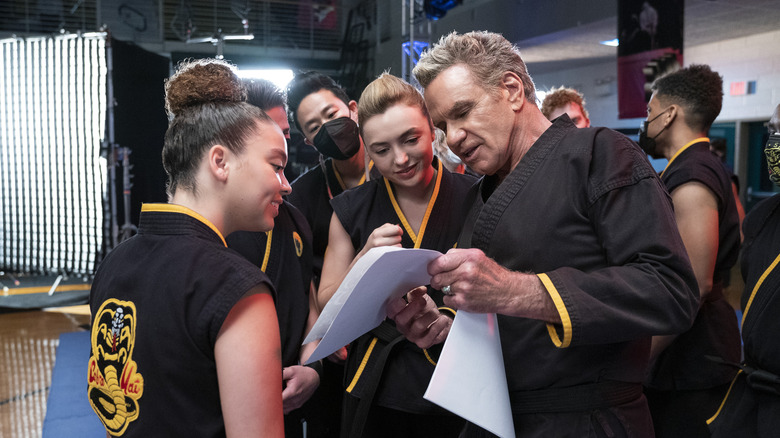 Curtis Bonds Baker/Netflix
Congratulations on "Cobra Kai" Season 5 — I love the cigar, a celebratory stogie for another successful season!
Someone just sent me a box. You do a successful show and all of a sudden people start sending you things. [laughs]
Of course, the Emmy Awards were last night. I was hoping Season 4 was going to be nominated for the top award like Season 3 was.
We're in the wrong category anyway. We're in the comedy category. The only thing that's comical about John Kreese is the mere fact that a lot of people are rooting for him and how he manipulates everything. But I signed on for this show because I wanted the character to be more vulnerable. I wanted the character to be more versatile. I told that to the writers — I wasn't interested in playing him like John Kreese in "Karate Kid," and every season, they're giving me more and more of this emotional texture.
It's drama; it's not comedy. I'm not the protagonist — Billy [Zabka] and Ralph [Macchio] are — but there's not a lot of comedy with Billy and Ralph's characters. Some of it is ironic. They're both wonderful, especially this season. Billy's the king of irreverence, so that's funny. But putting us in a comedy category, we don't have a chance to win anything. Put us in the drama category.
Absolutely. I'm sure the show for you guys isn't about winning awards anyway. You're winners because of the way the show resonates with the fans. To me, that's the greatest award any actor could ever hope for.
Absolutely, and it's a family show. It really is. If I go to a convention or I talk to anybody in the supermarket — I'm here in Nashville — people stop you and I say, "Well, why do you like the show?" They all say the same thing. They all say that they tried to get their kids to watch "Karate Kid" when "Cobra Kai" came out, and the kids said, "No, no, no." Then, after they watched "Cobra Kai," they went to the parents and they said, "You know those movies you were telling us about, about the background of those characters? Let's watch them." So they watch it together.
Now, after seeing the movie, the family sits around together and watches "Cobra Kai," something that's a rarity for television. We used to do it with the "Ed Sullivan Show." When Ed Sullivan was on, we'd do it. That's why it's so popular, because it's the only show that's written really well for the entire family.
Kove welcomed Kreese's change of scenery in Season 5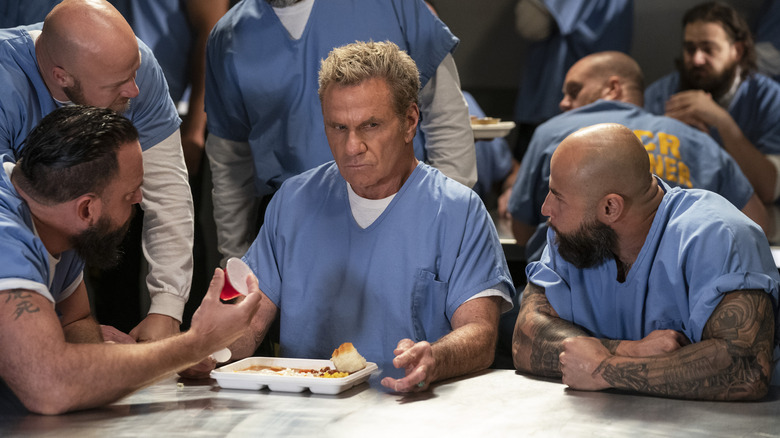 Curtis Bonds Baker/Netflix
It's great seeing how Kreese continues to evolve in Season 5. We're seeing him in a place we haven't before with prison and being forced to adapt to these very dangerous surroundings. That's something you must welcome for the character.
I enjoy that so much more. The tears you saw, the manipulation, the backdrop of all those characters in my life — that's what I love. Oddly enough, I made a good living playing a tough guy. But even on "Cagney & Lacey," he was a wise-ass, but he was a macho entity. 
I remember doing a movie that Al Waxman directed me in — Al played the lieutenant in "Cagney & Lacey" — and it was a movie called "White Light." It was about a cop who dies in the first 10 minutes of the movie, and I see a woman who gives me unconditional love in this vision, and I spend the rest of the movie trying to find out, "Was it a vision, this woman, or was she a reality?"
It was all vulnerability. It was all the romance and all the stuff that you like to play that you don't get a chance to play. Guys like Mel Gibson and Clark Gable, they all like to play heavies, and they never could, and then you get the heavies that all want to play the leading men. But versatility and emotional texture and sadness and all? I really enjoy drawing on that.
Can Kreese be humbled?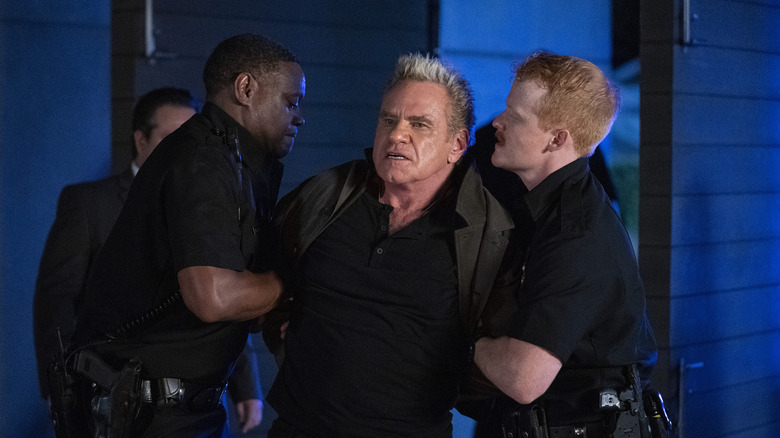 Curtis Bonds Baker/Netflix
I love how the creators are trying to tap into Kreese's psyche in prison in Season 5. It's hard to tell at first: "Is he really humbled or is he feigning humility?" We don't know that going through the season until that final episode comes about. Then I began to wonder, "Is John Kreese the sort of character who can be humbled?" He's been quite a hard-ass throughout the movies and throughout the series, and you wonder if that's even capable of being humble given all of the trauma his character has been through in his past.
Well, remember that there's two things that are important in his life: One is the integrity of Cobra Kai, and two is Johnny Lawrence, who he looks at as a son. Even though I've been defiled by Johnny, what they did to me in jail [by fooling Kreese to think he was going to get Daniel's lawyer] was unspeakable. But the bottom line is, it's Daniel. I expect Danny LaRusso to do that. But with Johnny, I'll have to deal with that, but he's third on the list. First, of course, is Terry Silver; second is Danny for double-crossing me, and then I'll deal with Johnny.
But humility, I believe, is what they will write for me in the future — because I'd like for a future episode to have a woman who humbles John Kreese. It would have to be very slight; it would have to be very subtle, but a character like [Kreese] who has come up the hard way and has a huge moral fiber ... Humility is something that would be great to play.
A woman could teach him humility, someone he doesn't ever think would come into his life — the type of woman that somehow rings a few bells. Maybe it could be this sensei who he knew from before [Kim Da-Eun, played by Alicia Hannah-Kim], who's now running Terry Silver's operation, if she did a turnaround. She likes John Kreese, [and] they knew each other when he was very young, based on that scene where her father was teaching him in Korea. They have a  backstory and it could be very interesting. I'm hoping she'll do a reversal as a heavy. She's now the heavy, but I hope she will do a reversal for the sake of Cobra Kai.
A longtime collaboration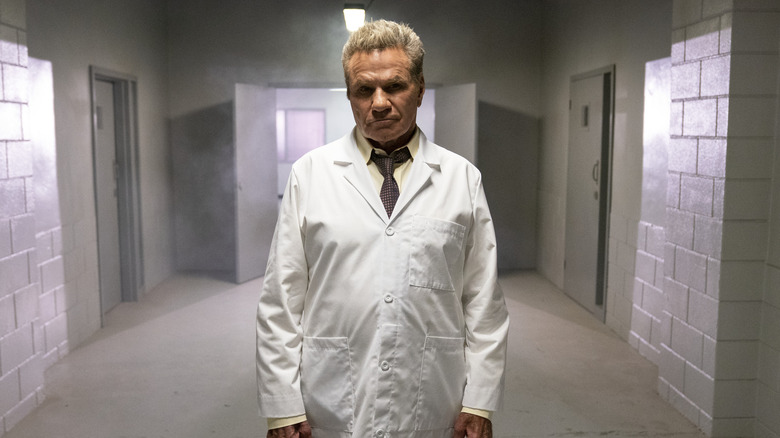 Curtis Bonds Baker/Netflix
Did you have any creative input with Josh Heald, Jon Hurwitz, and Hayden Schlossberg into Kreese's endgame this season, or was it a matter of you finding out when you read the script?
It's a little bit of both. When we met for the opening of Season 3, I had met with Soldiers of Fortune mercenaries, Army Rangers, everybody where I could talk about his Vietnam flashbacks. I went with a legal pad, five pages of notes, had lunch with them in Beverly Hills, and [Josh, Jon, and Hayden] were there already. They had perceived his background for the next two years.
The flashbacks we saw in Season 3 — where my son [Jesse Kove] plays a bully in that episode, beating up the young Kreese [Barrett Carnahan] in the diner, and then the flashback to Vietnam for the first time — the guys were ahead of me. They know these characters so far in advance. I do a big backstory [with my characters]. I go between the lines a lot. I didn't as a young actor, but now I create the character's background that's not even in the script, but [Josh, Jon, and Hayden] do, too. They do it brilliantly, and they think way ahead of the ego of the actor who says, "I want to do this, and I like to do this." They're already having you doing it or giving you a good reason why you can't do it now, saying, "You can do it next year." We're fortunate — these cats are fans, and they're smart.
A turning of the tables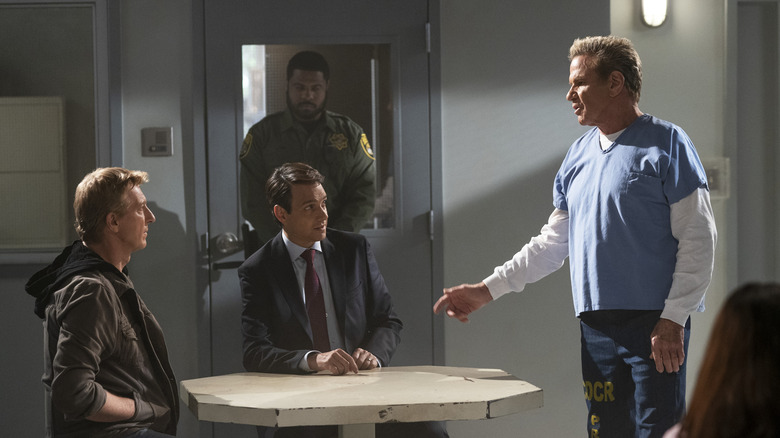 Curtis Bonds Baker/Netflix
One of my favorite scenes this season involves Daniel and Johnny handing Kreese a note in jail that's supposed to have the number from Daniel's lawyer, but instead it says, "No mercy, motherf***er." I was thinking, "Wow, this is the ultimate comeuppance for Kreese," isn't it?
I expected that kind of behavior from Daniel LaRusso. That's why when [Kreese's Cobra Kai mole] Tori [Peyton List] tells me, "It didn't work out the way it was supposed to and Daniel got beaten by Terry," Kreese's reaction to that was, "Well, doesn't hurt to have one of the enemy hurt." But when they lay that note on me in the jail with that piece of paper and that conspiratorial effort, I expected it from Ralph's character, but what I played was sadness, since I did not expect it from Johnny Lawrence. I did not expect that kind of venomous betrayal from someone that you care about, even though he truly feels that I violated him a multitude of times taking away his dojo. But honest to God, the only time Kreese ever took the dojo was because he violated the integrity of Cobra Kai and Miguel got hurt and he was preaching, "Be merciful." It's not what Cobra Kai is about, so he had to be removed.
What hurt me as the character was being betrayed by Johnny. It was not a matter of humor — it was a matter of, "My God, you too?" A lot of stuff goes on [in that scene]. Billy [Zabka] and I, because of the 35 years of history, we don't even have to have dialogue. There's so much for the audience to read [about what's going on] between us. It's so fascinating. In fact, I think I had one line in that scene, and he said, "You're going to rot in jail." What really hurt Kreese was that Johnny betrayed him, rather than telling him, "Rot in jail." He went along with Daniel LaRusso, and by going along Daniel LaRusso, he's vermin. He's as bad as Terry Silver, as far as John Kreese is concerned.
All roads lead to Robert Kamen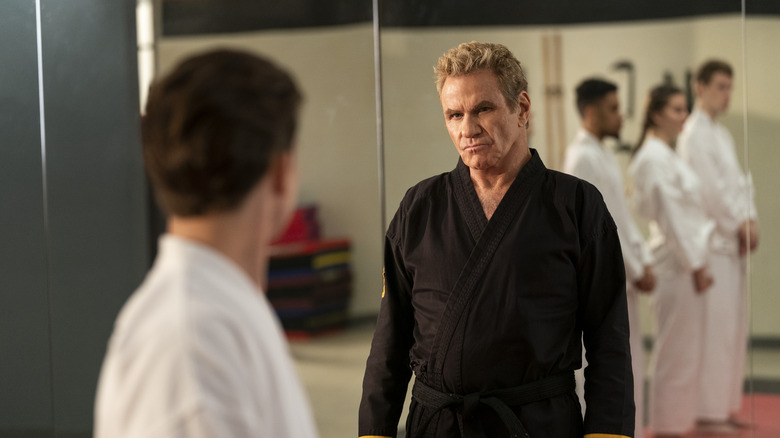 Curtis Bonds Baker/Netflix
I love how Kreese's presence is always felt. He looms over the entire series. Your presence was even looming over Episodes 1 through 4 in Season 5, even though you weren't there. Another character who's had presence, who unfortunately is no longer with us, is Pat Morita's Mr. Miyagi. How do you account for that?
It was Robert Kamen. Robert was the writer of "Karate Kid" 1, 2, and 3, and he thought that success of the movies was based on the story of Daniel and Miyagi. I said, "No, the reason why these things are successful is because 35 years later, we're still saying, 'Wax on, wax off,' 'Sweep the leg,' and 'No mercy.'" With other movies, it's lines like, "May the Force be with you" and "Play it again, Sam" — great lines that we say decades later that we remember always come from great literature or usually a great film. I said to Robert, "It's your writing, man." That's what defines Miyagi and John Kreese so well, the writing, just like the new dialogue in "Cobra Kai."
Sharing in the villainy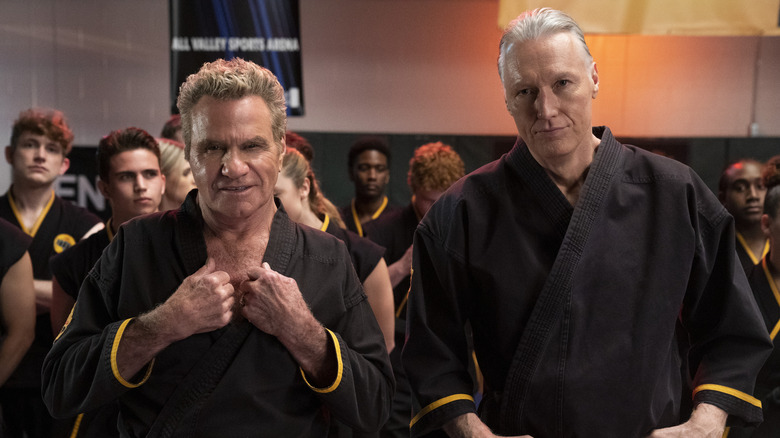 Curtis Bonds Baker/Netflix
It seems to me that including characters like Terry Silver and Mike Barnes [Sean Kanan] from "The Karate Kid Part III" in "Cobra Kai" Seasons 4 and 5 gives that movie much more meaning now. Since you were a part of that movie as well, would you agree with that assessment?
It was a bittersweet experience for me because there wouldn't be a Terry Silver if I was available to do "Karate Kid III." I had gotten a TV series called "Hard Time on Planet Earth" at CBS and Disney Television, and I couldn't do "Karate Kid III." There wasn't a Terry Silver [in the script] — it was all my vehicle, it was all "John Kreese trains Daniel, trains Mike Barnes ..." The whole story was John Kreese doing all that, not the Terry Silver character that they brought in from Vietnam. It was a bittersweet experience because [director] John Avildsen didn't want to gamble on shooting me on weekends. I would come in two or three weekends and finish up being on vacation, and then I came in for the final tournament. But it was very bittersweet because it was all written for me in "Karate Kid III."
I have to admit, it's interesting. Things are fascinating when you bring in another villain, and you feel strange. You don't feel that people are stealing your thunder, but it's like you can't pull Darth Vader out of the "Star Wars" franchise. John Kreese is Cobra Kai. It's like I say at the end of Season 4, "I'm Cobra Kai!" It's not an ego thing — it's just that I'm always amazed at how the audience reacts to situations where you're a little reluctant about it and saying, "Was that work really good? Was the situation calling for this or for that?"
People's reaction to "Cobra Kai" is so surprising. How do I feel about "Karate Kid III"? Everybody seems to enjoy it. I enjoy making people happy. I enjoy that the kids love it. I enjoy the parents love it. I enjoy [that] it's a family event. All these elements from "Karate Kid III" with Mike Barnes and Terry Silver seem to be pleasing everyone. 
Kove gets a kick out of working with his family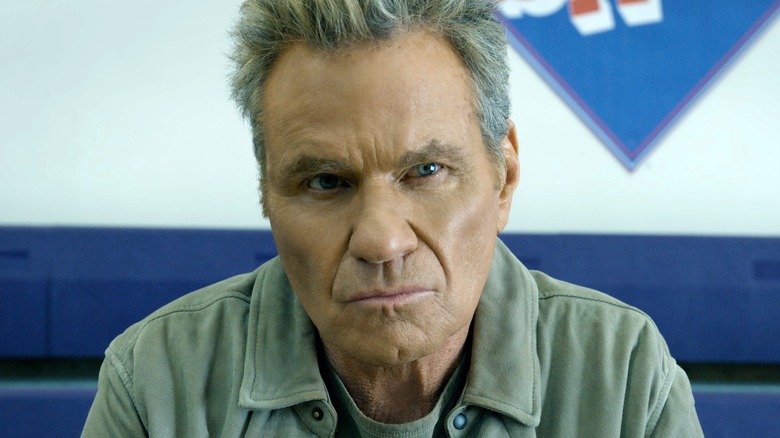 Curtis Bonds Baker/Netflix
I know you're a big family man, so having the opportunity to do the "Kicking It with the Koves" podcast with your kids must be the greatest thing in the world for you.
I'm so excited that my kids are so articulate. I didn't have that experience with them on stage doing plays in New York. I've done a few films with my son, Jesse, so I knew that he was a good actor, and certainly he guest-starred on "Cobra Kai" — and I didn't get him the part! He got it. But my daughter, Rachel, who's a life coach, who's got an incredible voice, who literally is a wonderful actress — wears her emotions on her shirt sleeves — now wants to go into the business because she's gotten such incredible feedback as a radio commentator.
I love it. It's something that I put together for the kids. It's not just that they'll have a career on radio, where I can see how energetic my son is and how wonderful his voice is, but it allowed them to be free and confident and feel the confidence to be appreciated by everybody who loves the show. Ralph Macchio did the show and he loved it, and his daughter did the show and loved working with my kids. Sometimes we all get to LA, and we do the podcast together. Sometimes we're all on Zoom if I'm out here, and still the energy is exciting ... I feel like it's been a gift from God to be able to do this with your kids and to see how well they've generated into mature artists.
Kove the collector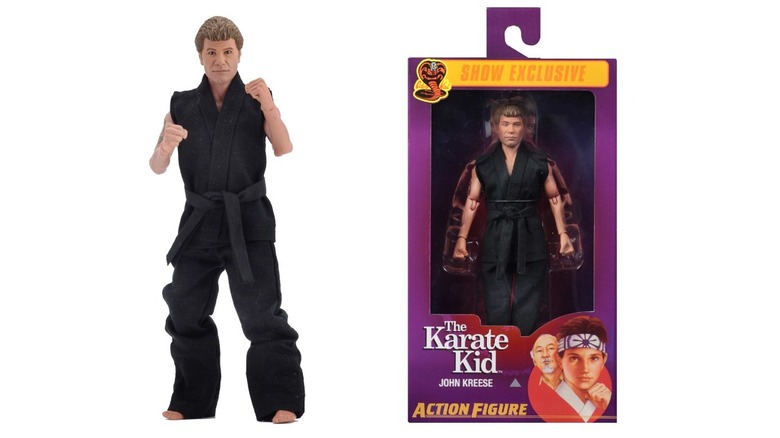 NECA
You mentioned that people send you things, so I'm wondering if someone has sent you this John Kreese action figure. Put that on top of a trophy, because this is one badass figure!
Oh, thank you. I've got a bunch of these little dolls. I have a 5-year-old grandson, and I give him one of everything. The most recent ones, which I'm sure you've seen, are with "Cobra Kai" characters and the [Teenage Mutant] Ninja Turtles. I gave the one with John Kreese fighting a Ninja Turtle to my grandson. It's all very funny. 
I call them dolls. I always call them dolls. People call them action figures, but I've got one of Matt Dillon from "Gunsmoke," because I'm a Western freak. I collect all these things from Westerns that I can find, "Have Gun, Will Travel," those books. I have "Zorro" with Guy Williams at Disney — all my favorites. The only things I collect are my favorites from when I was a kid. It's terrific. I even have action figures from "Django Unchained" and "[The] Hateful Eight." When I did "Once Upon a Time in Hollywood" with Quentin Tarantino, I had to get them, so they sent me a couple of action figures.
All five seasons of "Cobra Kai" are streaming exclusively on Netflix.
This interview was edited for length and clarity.