The Legend Of Korra Character You Likely Didn't Know Spongebob Squarepants' Tom Kenny Voiced
When it comes to hilarious sponges living under the sea engaging in all kinds of silly shenanigans, no one does it better than SpongeBob SquarePants. The absorbent, pineapple-dwelling Bikini Bottom citizen rarely disappoints when he is on screen. Of course, his comedic charm and popularity can be most deservedly attributed to one talented individual.
Tom Kenny is the one that brings everyone's favorite dishwashing aid to life in every entry of the Nickelodeon cartoon since 1999, when the show first aired. According to Parrot Analytics, the show's popularity reached a global scale during that time. The franchise is a big hit with fans of all ages, including former President Barack Obama (via Entertainment Weekly), and it generates billions of dollars in merchandise revenue (via Adage.com). Many factors can be attributed to its next-level success — and one of them most assuredly has to be Kenny's efforts in the recording booth. From the infamous laugh to the signature unbridled enthusiasm, everything that makes SpongeBob work so well is thanks to the exceptional skills of Tom Kenny.
But "SpongeBob SquarePants" isn't the only cartoon the Daytime Emmy-winner has lent his talents to over the years. Shows like "Solar Opposites" and "Adventure Time" also occupy a place on his resume. He was even in "The Legend of Korra," playing a certain character from the show fans may not have expected.
Tom Lenney voices Referee in The Legend of Korra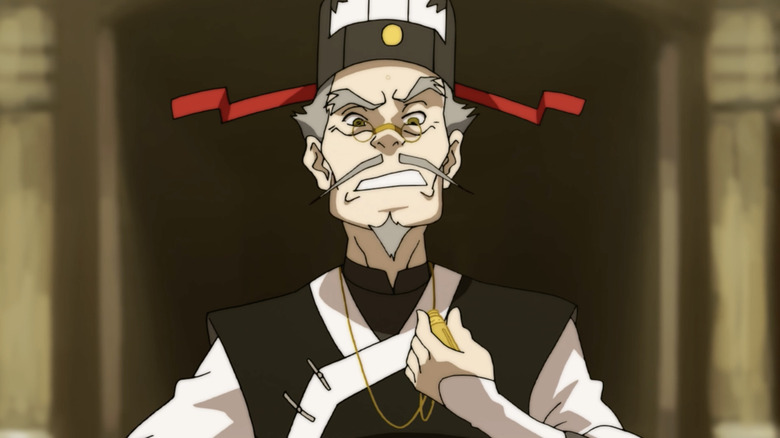 Nickelodeon
Tom Kenny voiced Referee in "The Legend of Korra" (via YouTube). Kenny's vocal skills can be heard in the episodes "And the Winner is...," "The Spirit of Competition," and "A Leaf in the Wind." Kenny voices the linesman, one of two pro-bending referees officiating the matches in the arena in Republic City.
It's amazing how there is no shortage of big-name titles like "Legend of Korra" on the actor's IMDb page, and many people may be wondering how the prolific player in the world of voice acting has been able to pull it off. In an interview with Talking Voices (via YouTube), Kenny talked about how he was able to put together the extensive list of credits he has attained throughout his impressive career. "Kind of one thing lead to another, that's kind of been how my whole career has been — just kind of do it. And one thing leads to another, to another, to another. I never had any strategy or I never had any five-year plan that would be smart to have." The talented vocal star also commented on how lucky he has been so far and how he couldn't picture himself doing anything else.
Despite not having any kind of plan, his extensive efforts fueled by his love for bringing cartoons to life (via YouTube) have resulted in some entertaining performances — whether it's voicing the iconic SpongeBob SquarePants or even a small part like the Referee in "Legend of Korra."