Why Catherine De Medici From The Serpent Queen Looks So Familiar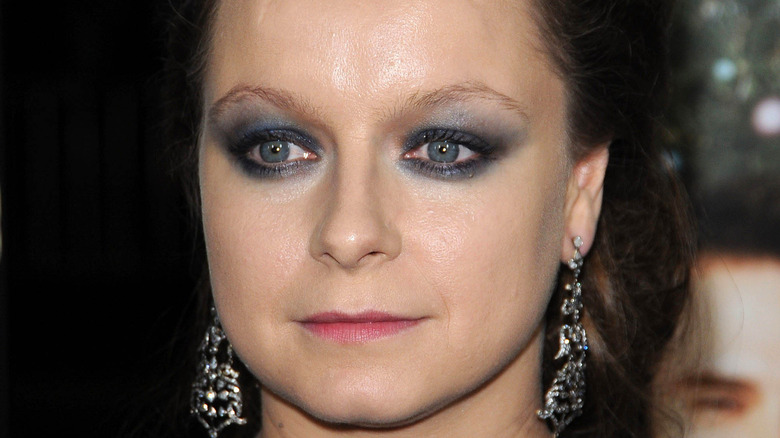 s_bukley/Shutterstock
If premium cable network Starz has cornered the market on anything, it's period pieces. "Outlander" and its complex timeline created a monumental success story, and the Philippa Gregory universe has been heavily documented with "The White Queen," "The White Princess," and "The Spanish Princess." With seemingly all of history at its disposal to adapt, Starz has taken a slightly different tactic for its next series, "The Serpent Queen."
The famous Medicis of Florence appeared in the aptly named "Medici" series and were referred to several times in Showtime's "The Borgias" as the notably affluent banking family of the Italian Renaissance (via History). But this Medici has made a name for herself more impressively than all the rest. Orphaned within days of her birth, Catherine de Medici was of aristocratic stock and sent to live in a convent. At 14 years old, she was arranged to be married by her uncle Pope Clement VII (Charles Dance). This started a trajectory of an infamously smart woman who did whatever she had to in order to ensure her success as the queen of France. 
And though scholars question the portrayal of Catherine de Medici, there is no question that the role in "The Serpent Queen" was expertly cast. If the titular character looks familiar to you, you're not alone — the actor who portrays the ruthless ruler has played a variety of roles in her vast career.
Samantha Morton is the reason that PreCrime existed in Minority Report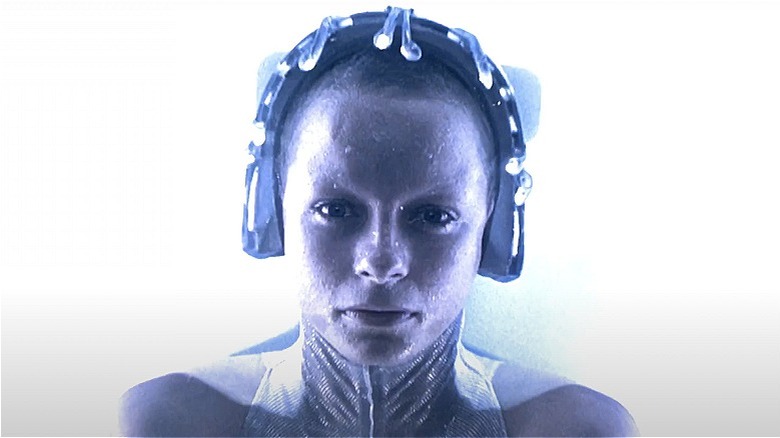 20th Century Studios
Sci-fi's great strength is commenting on the issues of current society. Not only does "Minority Report" accomplish this in the film adaptation of the Philip K. Dick novel, but it does so with a noir aesthetic. Directed by Steven Spielberg, the Tom Cruise-led film introduces viewers to a world free of crime thanks to the help of three Precogs. But as with most mysteries, there is more to the story. Though Agatha (Samantha Morton), Dashiell (Matthew Dickman), and Arthur (Michael Dickman) can predict murders before they happen, the system is not foolproof.
Detective John Anderton (Cruise) realizes just how faulty the system is after the Precogs predict that he will be committing a murder in the near future. Anderton liberates Agatha from her watery temple because she is the most talented clairvoyant, certain that he will not commit the murder. And though some events are set in stone, Anderton discovers that the entire nature of PreCrime was built on a lie. In addition, the three precogs are subjected to inhumane conditions in order to take advantage of their gifts. Agatha is instrumental in helping Anderton realize not only is the system flawed, but his obsession with stopping murders before they happen is holding him back. It is a true futuristic noir story that questions the nature of society, as only Dick's work can.
She's the woman behind Love Will Tear Us Apart in Control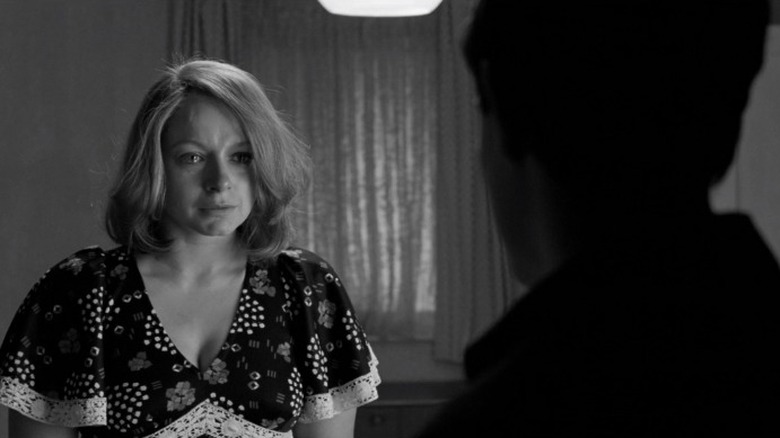 The Weinstein Company
The story of Joy Division's Ian Curtis is a tragic one, and there is no more devastating telling than in 2007's "Control." A biopic featuring the beginning and ultimate end of the Manchester band, Samantha Morton has some of the hardest scenes as Curtis' wife, Debbie. After getting married young, Debbie endures the quick fame of Joy Division, Curtis' infidelity, and the gut-wrenching final moments of his life. The band was known for such hits as "She's Lost Control" and "Love Will Tear Us Apart," which was intimately dissected in the film. 
Curtis' eventual death by suicide is not sugar-coated, nor is Debbie's realization that her husband has fallen in love with someone else. One of the most pivotal sequences shows Debbie discovering Curtis' affair, set to "Love Will Tear Us Apart." Not for the faint of heart, "Control" is for those who want a truly close examination of the band, no matter how difficult it is to watch. And there is nothing more heartbreaking than Morton's performance.
If you or anyone you know is having suicidal thoughts, please call the National Suicide Prevention Lifeline​ by dialing 988 or by calling 1-800-273-TALK (8255)​.
She is one of many who portrayed the famed Mary, Queen of Scots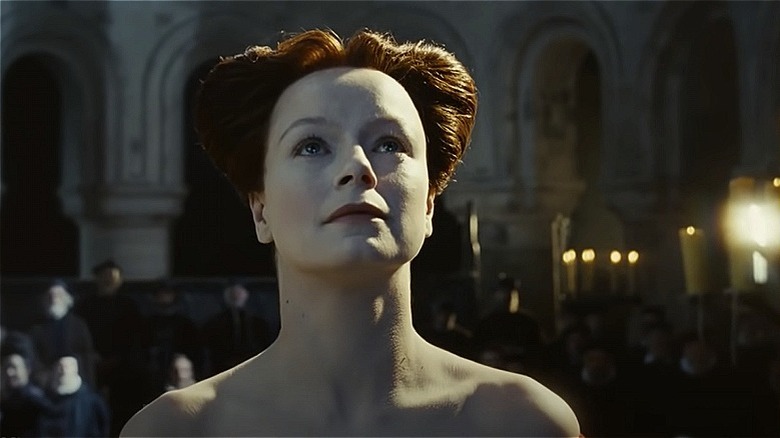 Universal Pictures
Costume dramas have always been a source of obsession, especially that of regency England. From "The Tudors" to "Mary, Queen of Scots," popular culture has more than covered the era of the House of Tudor. But perhaps the most recognizable portrayal of the royal family is Cate Blanchett in the role of Queen Elizabeth I. Following the success of 1998's "Elizabeth," Blanchett returns to the role almost a decade later in "Elizabeth: The Golden Age." After enduring her first heartache at the hands of Lord Robert (Joseph Fiennes) in the first film, Elizabeth must contend with an even bigger threat to her kingdom: the claim of another woman to the throne.
Mary, Queen of Scots (Samantha Morton), is Elizabeth's first cousin and next in line for the throne should the English queen have no heirs. But with the conflict between Catholicism and Elizabeth's Protestant England raging, Mary as queen is a non-starter. Her Catholic faith brings her in direct opposition to Elizabeth and ultimately leads to her imprisonment. Pitting two powerful women against each other is not new in the history of the world, but "Elizabeth: The Golden Age" does it with immense style. There are, of course, deviations from history, as Mary was well into her 40s when she was executed for treason (via History). But Morton's role as the tragic Scottish queen is certainly one of the more emotional components of the film.
She joined the Harry Potter universe in Fantastic Beasts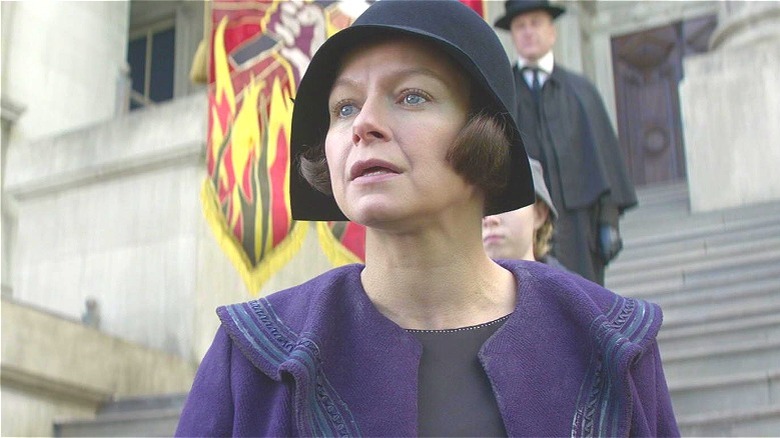 Warner Bros. Pictures
The Wizarding World of Harry Potter has seen some indisputable controversies, but the lucrative franchise continues to pump out content (via NBC News). Even when the teen wizard had his ultimate showdown with Voldemort (Ralph Fiennes) at the end of "Harry Potter and the Deathly Hallows," the movies showed no sign of slowing down. 2016 began a new franchise with Magizoologist Newt Scamander (Eddie Redmayne) in "Fantastic Beasts and Where to Find Them." Based on the encyclopedia of the same name, the film was J.K. Rowling's first foray in screenwriting (per The Guardian).
Instead of Harry's (Daniel Radcliffe) well-known hero's journey, "Fantastic Beasts" is a more heartfelt adventure. When we first meet Newt, his only concern is his missing magical briefcase full of fantastic creatures. But even though Newt is a well-meaning and gentle Hufflepuff, he still has his own trials in fighting prejudice. One figure that represents this struggle is the abusive No-Maj mother, Mary Lou (Samantha Morton). With no supernatural abilities of her own, she is vehemently anti-magic and sets upon a crusade to rid America of magical beings. Her cruelty doesn't just extend to strangers but also to her adoptive son, Credence (Ezra Miller), who never had a chance at a normal life. In a series full of nuanced characters, Mary Lou is an irredeemable villain whose death in the film lets everyone breathe a collective sigh of relief.
She isn't your typical madame in Hulu's Harlots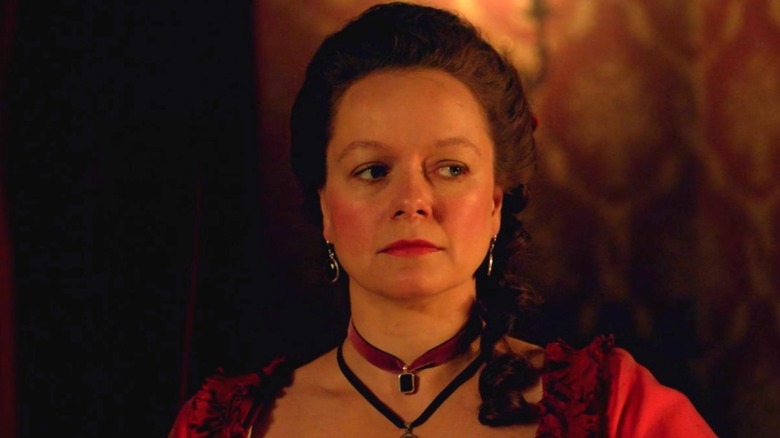 Hulu
Hulu's short-lived series "Harlots" was sadly canceled after three seasons, but that doesn't negate the brilliance of the show. In Georgian London, one in five women were sex workers, and therein lies the social commentary of the series.
"I think with the sex, it is a job for the girls. It's like the violence in 'The Sopranos,' which is a job for those guys," co-creator Moira Buffini told The Frame. "It isn't dwelled upon. It isn't glorified. It isn't really anything. It's what they do." The series takes the perspective of sex workers and weaves a tale about female independence. For many women, this was the only way to have any sort of autonomy over their lives. And while not always the safest vocation, that is inherently the thesis of "Harlots." Women had to — and still do, in many cases — fight tooth and nail to get what they want and ultimately deserve. 
This perspective is sold by Samantha Morton's role as the madame of a mid-class brothel, Margaret Wells. Born into the lifestyle, Margaret was sold to a bordello run by Lydia Quigley (Lesley Manville), who becomes her nemesis later in life. Raising her daughters Charlotte (Jessica Brown Findlay) and Lucy (Eloise Smyth) as courtesans, there are no moral judgments made on these characters. This was the way of life for many women, making the series a departure from aristocratic series such as "Bridgerton."
She played one of the worst villains to date in The Walking Dead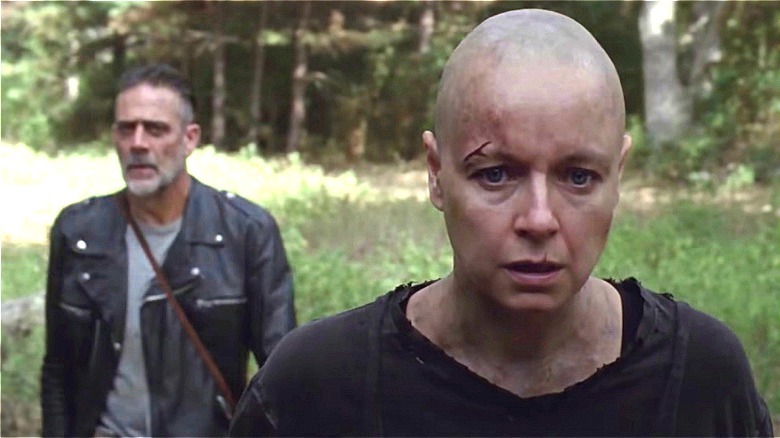 AMC Networks
Rick Grimes (Andrew Lincoln) and his crew have been subjected to some of the most iconic villains on "The Walking Dead." The Governor (David Morrissey) was an architect of cruelty, and though Negan (Jeffrey Dean Morgan) has come a long way, he committed one of the worst atrocities in the series. But even with all their crimes, Samantha Morton's appearance as late series villain Alpha is the worst of the worst. The leader of The Whisperers — whose creepy practices include wearing the faces of walkers — Alpha revels in the deaths of some of the most beloved characters fans have come to know and is an unrepentant abuser of her daughter Lydia (Cassady McClincy).
Alpha's belief that living as animals instead of in supportive communities leads her to take hostage many residents and execute them. Tara (Alanna Masterson) and Enid's (Katelyn Nacon) deaths were shocking and among many to be unceremoniously killed with their heads put on spikes. While Negan's villainy motivated him to kill Glenn (Steven Yeun), Alpha murders with a level of psychopathy that has not been seen before. Somehow, even after a decade of content, "The Walking Dead" keeps amping up the ante with their antagonists. Alpha's reprehensible nature just makes it that much more satisfying when Negan kills her at the end of her arc.