CSI: Vegas Mandeep Dhillon's Had A Hilarious First Reaction To The Fake Corpses On Set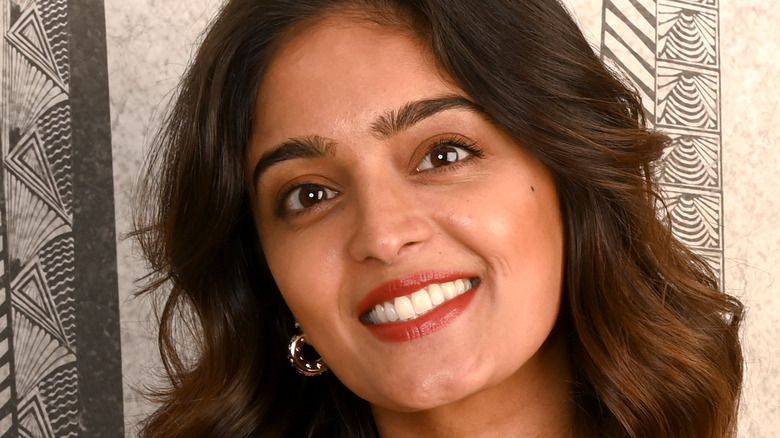 Dave J Hogan/Getty Images
When the "CSI" franchise launched "CSI: Vegas," fans were excited to welcome back regulars from the original "CSI: Crime Scene Investigation" like William Peterson as Gil Grissom and Jorja Fox as Sara Sidle. But they also welcomed new stars to the series, such as British actress Mandeep Dhillon who plays Level II CSI Allie Rajan. Known for roles such as Saz Kaur in "Some Girls," Sandy in Ricky Gervais' "After Life," and the role of Lieutenant Garan in "Star Wars: Episode IX – The Rise of Skywalker," Dhillon has become a fan favorite in many of the shows and movies she's been in.
A 2020 thread in the subreddit r/BridgertonNetflix suggested her as the perfect choice to play the character of Kate, and the thread became swarmed with fans of hers from her many roles. "Oh my gosh she would be perfect...Loved her in After Life. Great actress, pretty, WOC, and I can see her having fiery chemistry with Anthony," wrote u/PrivateSpeaker. "She is hilarious and has the attitude down. (Side note – I love Some Girls)." wrote u/TheOneThatCameEasy. While casting her in "Bridgerton" may have been fan fantasy, the overall response from Reddit users in r/BridgertonNetflix seems to be that she's pretty good at everything she does.
So, how has Dhillon reacted to working with fake corpses on the set of the procedural crime drama? Her co-star, Jorja Fox, had some comments about Dhillon's reaction.
It took some adjustment
Eamonn M. Mccormack/Getty Images
Jorja Fox stopped by "Live with Kelly and Ryan" and talked about how her new co-star, Mandeep Dhillon, reacted to the rather realistic-looking corpses on the set. "[S]he got into the morgue, and she was really unhinged," Fox explained. "The first hour, the color left her face a little bit ... And, an hour later, she was having a piece of candy while we were shooting. She's like, 'I got this.'"
The dead bodies on "CSI" shows can be pretty accurate, to a point. Matthew Mungle, special effects makeup artist for the original "CSI," explained in a featurette that a lot of research is done to make sure that dead bodies look scientifically accurate, but they also have to take theatricality and television standards into account. "For me, the biggest challenge, I think, is, obviously, making it as realistic as possible, and also stretching the truth a little bit sometimes because TV work you can't get too gross on, and you have to stretch what reality really is," Mungle explained. "But sometimes we do have to ... punch it up a little bit, make it look more theatrical," he went on to explain.
Dhillon will be able to get more experience around those corpses as "CSI: Vegas" was renewed for Season 2, according to Variety. However, Variety also reported that original "CSI" cast member William Peterson would not be returning. Fox later announced on Twitter that she would not return for the second season either. "I personally just can't split Sara and Grissom up again," she wrote in her post. Deadline then reported that Marg Helgenberger, who played Catherine Willows on "CSI: Crime Scene Investigation," would be joining the "CSI: Vegas" cast in Season 2, giving the show a new anchor back to the original series.