Young Sheldon Fans Are Stuck On This Glaring Detail In The Season 6 Premiere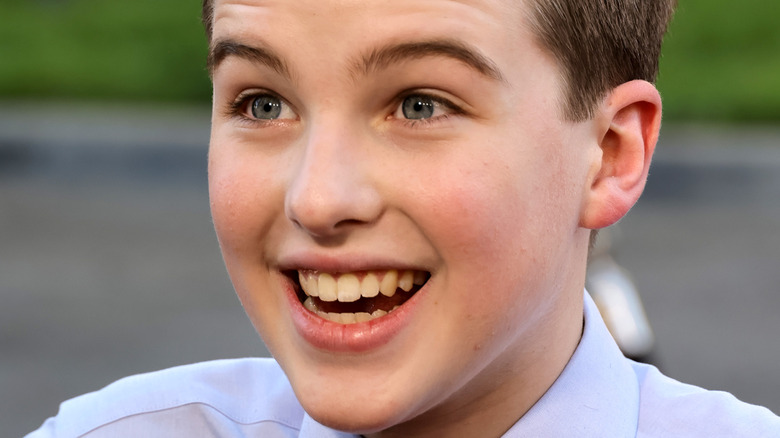 Kevin Winter/Getty Images
Contains spoilers for "Young Sheldon" Season 6, Episode 1 — "Four Hundred Cartons of Undeclared Cigarettes and a Niblingo"
In the Season 6 premiere of "Young Sheldon," we finally find out what happened to Meemaw (Annie Potts) and Georgie (Montana Jordan), after Season 5 ended with them getting busted in Mexico and calling George Sr. (Lance Barber) for help. The pair's 400 cartons of cigarettes are confiscated, and they have to plead guilty and pay a $2,500 fine. Meemaw's attempts at negotiating the fine are denied — even when she attempts to throw in Georgie. George Sr. heads down to Mexico to pick them up, and Dale (Craig T. Nelson) tags along for the sole purpose of taking a photo of his ex, Meemaw, in jail.
Elsewhere, Sheldon (Iain Armitage) and Missy (Raegan Revord) inadvertently meet Mandy (Emily Osment) and spill the beans about Meemaw and Georgie's predicament, while Missy bonds with her brother's estranged girlfriend. Mary Cooper (Zoe Perry) attempts to hold her head high and go to church, but the hypocritical and snotty patrons get under her skin, and she leaves the mass after being snubbed.
Except for the car ride back from Mexico, Sheldon is in most scenes — either saying the wrong thing or saying more than he should. Unfortunately, it was Sheldon's talking that was proving quite a distraction for fans.
Sheldon's deeper voice surprised fans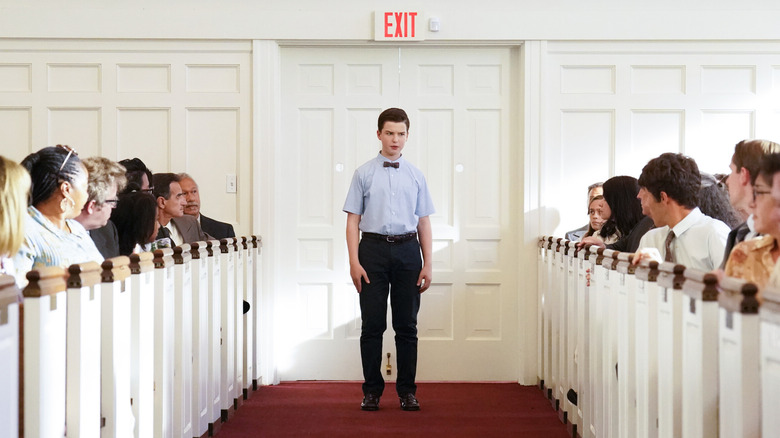 Robert Voets/2022 Warner Bros. Entertainment Inc.
Season 5 of "Young Sheldon" ended with Sheldon getting his first sign of puberty: a pimple. While he spent half the episode in denial and trying to convince everyone that it must be a hive or something, the pimple confirms that the character — and Iain Armitage — is growing up. Viewers have taken to social media since the Season 6 premiere to talk about how distracting Sheldon's deeper voice is. "Puberty while acting must suck," u/JazzFan619 wrote on a "Young Sheldon" subreddit. "Younger Sheldon's voice is now deeper than older Sheldon." User u/hay_bales_feed_us was more blunt, writing, "Holy cow his voice!"
With Armitage and Raegan Revord both now 14 years old, we've been waiting for some adjustments in the storyline to reflect the growing pains each sibling is going through. TV Insider shared some upcoming Season 6 plot points, noting that "Sophomore Sheldon spends more nights in his East Texas Tech dorm room. Also, he and twin Missy hit their teens!" Even so, Sheldon's deeper voice is a jolt to viewers. "Sheldon's voice is going to take awhile to adjust to," u/Motormouth1995 wrote on the subreddit. We agree.