Why Mary Cooper From Young Sheldon Looks So Familiar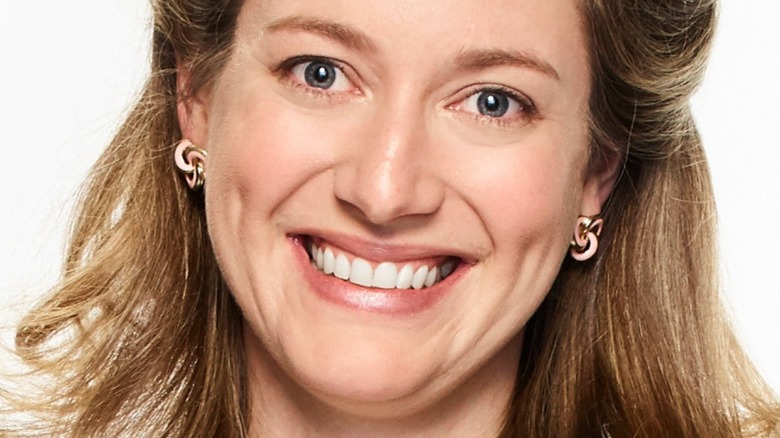 Smallz + Raskind/Warner Bros.
Among the unique cast of characters featured on "The Big Bang Theory," Sheldon Cooper (Jim Parsons) certainly stands out. Although Sheldon's impressive intellect causes him to be nit-picky and uncompromising at times, his quirks and science-based sense of humor charmed audiences for 12 seasons. Sheldon's personality is so interesting that a youthful version of the character is the focus of a prequel series titled "Young Sheldon." Starring Iain Armitage, the narrative follows Sheldon as he navigates childhood. Although Sheldon means well, his bluntness and advanced intelligence make it difficult for him to fit in with his peers and family. Thankfully, Sheldon has the unwavering support of his mother, Mary.
Played by actress Zoe Perry, Mary Cooper is a force to be reckoned with. Mary demands that Sheldon be treated like an average child despite his eccentricity. Her kindness and no-nonsense attitude keep Sheldon grounded, and Mary's influence helps to shape the character viewers get to know in the original series. If you've caught yourself wondering where you've seen Perry before, you've come to the right place. Let's look at the most prominent roles in the actress' filmography.
Zoe Perry played a woman married to her brother on Private Practice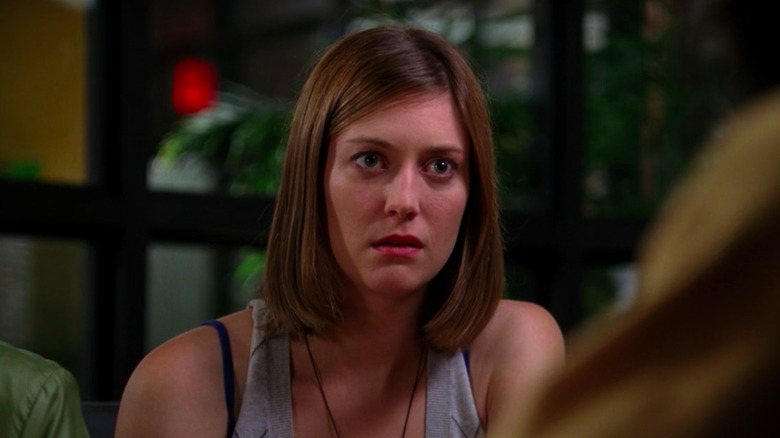 ABC
Zoe Perry appears in an emotionally charged episode in the second season of "Private Practice." Titled "Equal and Opposite," the installment continues to deal with the fallout from the previous season finale. Addison (Kate Walsh) and Sam (Taye Diggs) are scrambling to get the financials at Oceanside Wellness in order after Naomi (Audra McDonald) lied about their money troubles. Every doctor is encouraged to bring new patients to the practice to make ends meet. So, despite their issues, Addison and Naomi are happy to treat a young couple hoping to have a baby.
Lisa (Perry) and Brian (Fran Kranz) have been together since middle school, and their connection has only gotten stronger over the years. With identical interests and quirks, they seem like the perfect match. However, these self-proclaimed "soulmates" are not as well-matched as they think. Everyone at the practice is shocked when a blood test reveals that Lisa and Brian are brother and sister. Although the couple initially decides to stay together, Lisa is horrified when Brian admits that he knew she was his sister for years. The reality of their relationship finally dawns on Lisa, who tearfully breaks down as the doctors look on. Perry's down-to-earth performance allows the viewer to sympathize with Lisa as she navigates an impossible situation.
Zoe Perry played a patient on Grey's Anatomy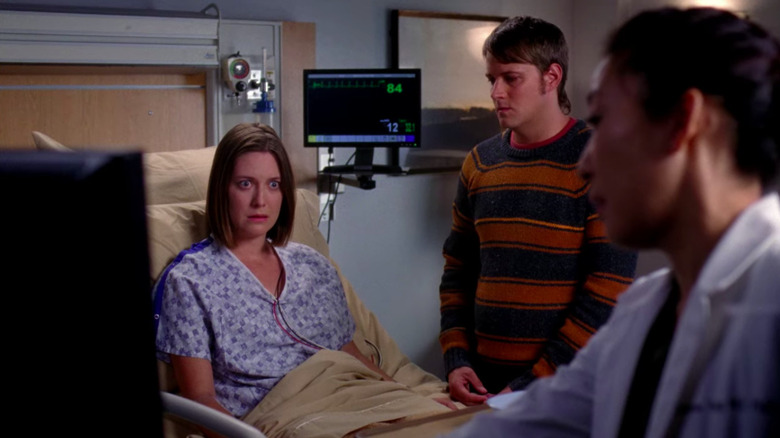 ABC
Zoe Perry plays a patient named Katy Noonan in a Season 9 episode of "Grey's Anatomy" titled "Beautiful Doom." Following the tragic plane crash in the previous season finale, Meredith (Ellen Pompeo) and Cristina (Sandra Oh) try their best to maintain a long-distance friendship after the latter is transferred to the Mayo Clinic in Minnesota. As the women work through their trauma, Cristina takes comfort in her growing friendship with a fellow cardiac surgeon, Dr. Craig Thomas (William Daniels). Although the pair initially clash, Thomas quickly becomes a mentor to Cristina.
Cristina and Thomas' mutual respect allows them to develop a fine-tuned partnership in the operating room. However, their patient Katy Noonan has a complicated aneurysm that requires two surgeries to repair. Luckily, Katy and her husband, Will (Matthew Carey), are well-versed in preparing for the worst-case scenario. They are doomsday preppers who can't help but lecture Cristina and Thomas about the importance of preparing emergency supplies, an attitude that the doctors chuckle about. However, Katy's surgery becomes disastrous when Dr. Thomas has a heart attack during the operation. Attempts to revive him are unsuccessful, forcing Cristina to accept that Katy and her husband's cautious attitude might have some merit. The events surrounding Katy's storyline prompt Cristina to return to Seattle, allowing her to reunite with the rest of the cast.
Zoe Perry appeared as a police officer on NCIS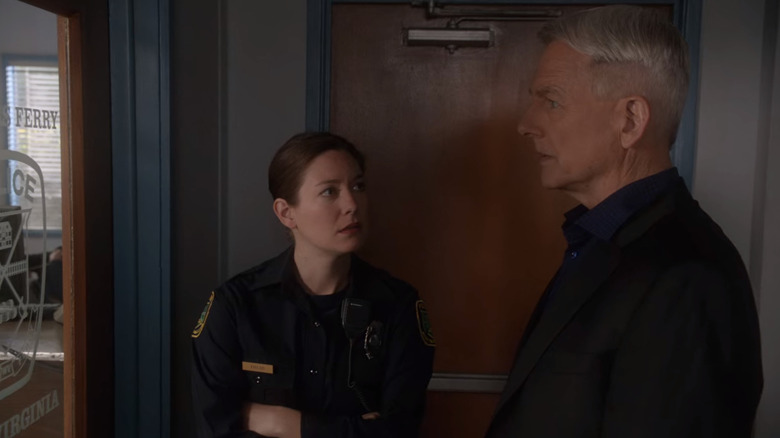 CBS
"Homefront," a Season 13 episode of "NCIS," is unique because it features two separate storylines. Part of the plot focuses on Director Vance (Rocky Carroll) and Agent Fornell (Joe Spano) as they travel to England to further investigate the death of former NCIS head Thomas Morrow (Alan Dale). At the same time, the rest of the narrative concerns an invasion at the home of Marine Master Sgt. David Marshall (Elijah Mahar). Before deploying to Iraq, Marshall tasked his teenage son, Henry (Benjamin Stockham), with watching out for their family. When a mysterious intruder breaks into their house, Henry realizes he's being targeted, prompting Special Agents Gibbs (Mark Harmon) and McGee (Sean Murray) to dig deeper into the Marshall family's past.
Zoe Perry appears in the installment as Officer Kristen Fields, who's first on the scene after the break-in. Perry does a great job portraying Fields as a concerned, by-the-books officer, evoking an innocuous persona that easily fades into the background of the narrative. As it turns out, Officer Fields isn't as innocent as she seems. She's the one who ordered the break-in at the Marshall house to cover up her illicit activities as a dirty cop. However, Perry's appearance is overshadowed by an even bigger guest star. The episode also features an "NCIS" character cameo from former First Lady Michelle Obama.
Zoe Perry played Samantha Ruland on Scandal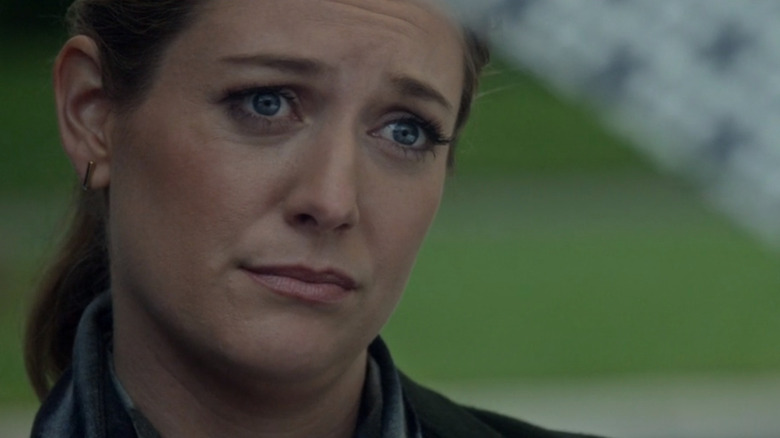 ABC
Zoe Perry appears throughout Season 6 of "Scandal" as Samantha Ruland, a shadowy figure who causes quite a bit of trouble for Olivia Pope (Kerry Washington) and her gladiators. Going up against Olivia and her father, Rowan "Eli" Pope (Joe Morton), is no small feat, though Samantha proves herself to be a formidable foe. It's slowly revealed that Samantha and Theodore Peus (David Warshofsky) coerced Eli into assassinating President-Elect Francisco Vargas (Ricardo Antonio Chavira). The mysterious pair intend to gain control of the country covertly by getting Mellie Grant (Bellamy Young) elected. No matter what Eli does to get out of the twisted arrangement, Samatha and Peus are one step ahead of him.
The role allows Perry to demonstrate the full range of her acting abilities. As Samatha, Perry gives a stellar performance, managing to pose a credible threat that adds to the high-stakes narrative. The character is a compelling antagonist, though Samantha quickly makes powerful enemies, and Eli ultimately stabs her with a dinosaur tooth. This marks Perry's third appearance in the Shonda Rhimes television universe, which isn't as surprising as you think. Shondaland's shows tend to recycle actors (via Refinery29).