Chelsea Peretti Reveals The Brooklyn Nine-Nine Scene That Was The Hardest To Film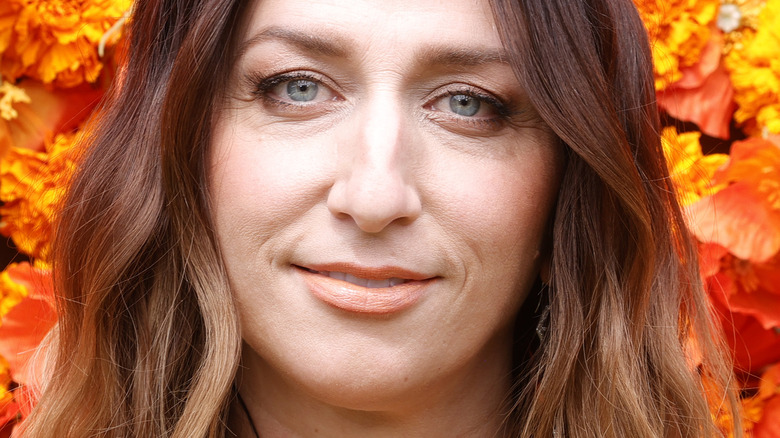 Frazer Harrison/Getty Images
Chelsea Peretti learned to be funny in junior high, when it became part of her social survival. In a 2021 appearance on Andy Richter's podcast "The Three Questions," Peretti explained that she had no choice but to figure out how to be funny when she was young. "I feel like I was weird, I was called weird–which is now to this day a word I really despise–until junior high at which point my survival instincts kicked in and I had to become extremely funny," Peretti told Richter. Later in the interview she went on to explain what she meant. "The junior high school that I went to ... I mean, first of all, people were hilarious, and they were always attacking each other, so you had to be ready, because you were always vulnerable." And thus her sense of humor developed as a defense mechanism.
In an interview with Heeb Magazine in 2011, Peretti explained that she basically got into stand-up because someone told her to. "Then after I graduated [college], I was temping, and this lady was like, 'You should do standup,' and it wasn't like it had been a lifelong dream of mine. This lady who I met temping just told me to do it," Peretti recalled. 
Thus, Peretti has great comic instincts that were honed out of fear of verbal attacks when she was young, making her someone people could recognize as a natural comedian. But in an interview with her "Brooklyn Nine-Nine" castmates in the early seasons of the show, Chelsea Peretti revealed that the hardest thing she ever had to film was a scene where someone who was fairly new to comedy made it hard for her to keep from laughing.
Andre Braugher's hard not to laugh at now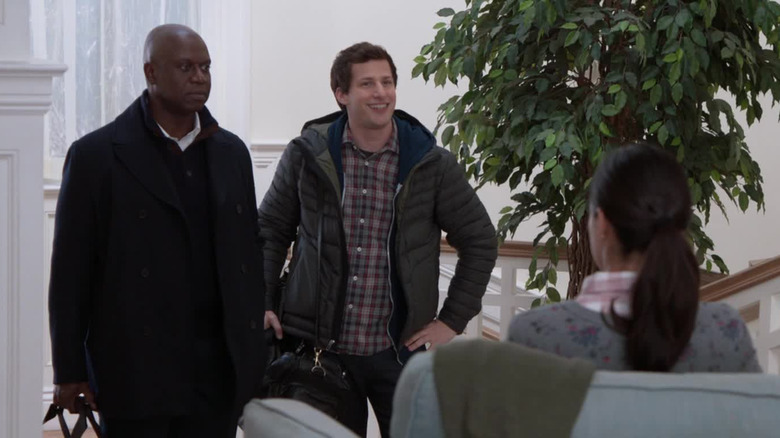 Fox/YouTube
In an interview with the full cast for the Screen Actors Guild Foundation, the cast was asked how hard it was to keep from laughing in the middle of jokes on the show, and Chelsea Peretti explained that she had a hard time not laughing at a scene with Andre Braugher in the Season 2 episode "Beach House." She recalled, "I will say, though, that the hardest I've ever laughed was when Andre in this 'Beach House' episode was supposed to be boring. ... I couldn't do it, and I feel like a lot of people had that experience."
In the episode, the characters are all looking forward to a vacation away from their boss, but after hearing Captain Holt (Braugher) tell a story about how he was so frequently excluded from social events as a young cop because he's gay, Jake Peralta (Samberg) invites Holt on the trip even though he's the boss the group was trying to get away from. In the scene Peretti mentioned, Holt is telling a boring story about seeing Blair Underwood in a grocery store, and the rest of the characters are trying to hide their boredom.
Braugher learned to make his co-stars laugh, but when he first started working on the show, he wasn't sure if he would ever be able to do that.
Andre Braugher started in serious drama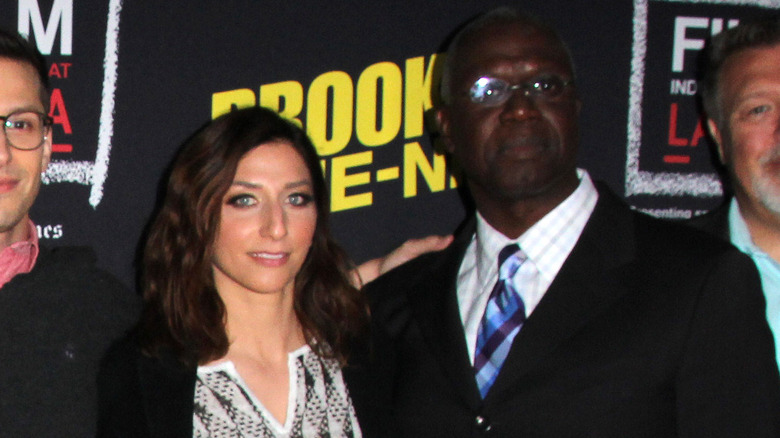 Kathy Hutchins/Shutterstock
Andre Braugher surprised a lot of people when the veteran actor made the jump from drama into a comedy series. When he made the switch, he had to learn everything again from scratch. In an interview with Variety, Brougher explained his thoughts early on. "Everything's new. I'd never done it before. Am I any good?" Braugher asked himself. "I remember turning to my wife and asking her, 'Is this funny?' And she said 'Yes, of course, you're not being deceived.'"
Despite not being able to gauge if he was actually being funny, his co-star Andy Samberg said in the same piece in Variety that Braugher has great comedic instincts. "He would have you believe he had [no comedic skills] before the show started, but we all know that's not true," Samberg told Variety. "That said, he has gotten even better as the seasons have gone on...and very often when he's concerned that a joke is sacrificing the greater good, his instincts are correct."
In 2019, Peretti tweeted a video of her and Braugher on the set of "Brooklyn Nine-Nine" sharing hand lotion, at which point Braugher started singing a little song, and she captioned the video with "HAHA ANDRE IS A VERY SPECIAL SPIRIT AND OBVIOUS NATIONAL TREASURE W MOIST HANDS." When someone asked why this made them so happy, Peretti tweeted "bc andre is smooth magic." So despite coming from different worlds of comedy and drama, it seems that the two actors found a common ground in comedy.