Sylvester Stallone Once Took A Gut-Busting Punch During The Casting Process For Rocky III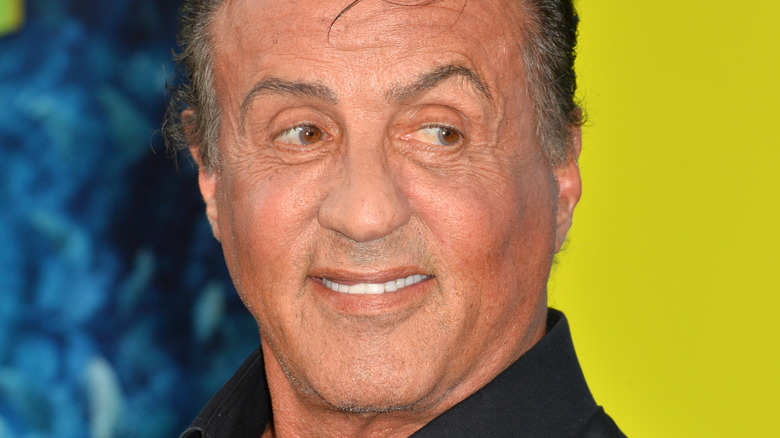 Featureflash Photo Agency/Shutterstock
We may receive a commission on purchases made from links.
"Rocky III" is where Sylvester Stallone's series of famous boxing films start to change. True, it's not the fanciful Cold War parable of "Rocky IV," but the grounded tone of the first two films is traded in for something a bit more outlandish and larger than life. As an example to hit that point home, the film was originally conceived as having Rocky fight in the Roman Coliseum, though that idea was thankfully nixed. Instead, at the center of this new outlandishness isn't so much Sylvester Stallone as it is one Laurence Tureaud, better known by his famous moniker Mr. T, who played the outspoken and flashy challenger James "Clubber" Lang.
This was Mr. T's breakout role. The casting director of "Rocky III," Rhonda Young, asked him to audition after watching an NBC program called "The World's Toughest Bouncer," which pitted bouncers and bodyguards against each other in a series of challenges, including a boxing match. Tureaud, who was already going by Mr. T and was then working as a bodyguard to championship boxer Leon Spinks, won that program two years in a row.
Today, it's difficult to image "Rocky III" without Mr. T's portrayal, giving Rocky a flash opponent in the ring. The gold jewelry and feathered earrings, the mohawk, the cocky trash-talking, are basically synonymous with Mr. T, and by association, Clubber Lang. But Mr. T was not the first choice for Clubber. Initially, Stallone – who also wrote and directed the film – wanted to be up against a real-world heavyweight boxer. The initial choice was the great Joe Frazier. But after Frazier flubbed his line readings, production moved on to their second choice. And if Stallone is to be believed, it very nearly ended him.
Stallone claims Earnie Shavers' punch nearly killed him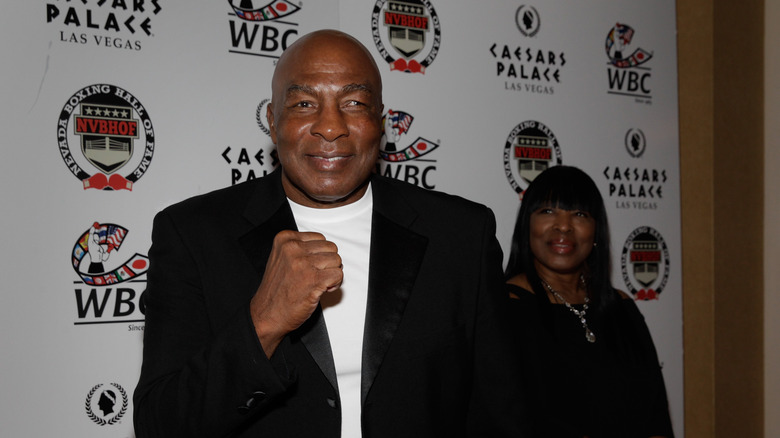 Steve Marcus/Getty Images
The second boxer considered for the role of Clubber Lang in "Rocky III" was Earnie Shavers. Shavers, who passed away on September 2, 2022, was well-known for the devastating force of his right-hand blow. Though he never won a title, he came close in 1977 when he faced none other than Muhammad Ali in a championship bout. Shavers gave Ali such a run for his money that, even after the legend ultimately won in 15 rounds, Sports Illustrated ran a cover story on the fight titled "Ali's Desperate Hour."
Five years later, when auditioning for "Rocky III," Shavers showed Sylvester Stallone just how much force he could pack into his punches. As Frederick V. Romano writes in "The Boxing Filmography," in entering the ring with Stallone, Shavers initially refused to hit him with anything more than a soft jab. Having gone through filming two boxing movies, Stallone seemed to think he could take on this bruising heavyweight. "C'mon Earnie, show me something real," he said.
Shavers showed him something real by punching Stallone at full force right in the liver. "That nearly killed me," said Stallone. "I went straight to the men's room and threw up." In the end though, it wasn't Earnie Shavers' punch that lost him the part of Clubber, but his voice. According to casting director Rhonda Young, Shavers' voice was simply too high to come off as the kind of tough and intimidating they needed for Clubber, and the rest is history.