The Truth About The Yellow Daisies Scene In Gilmore Girls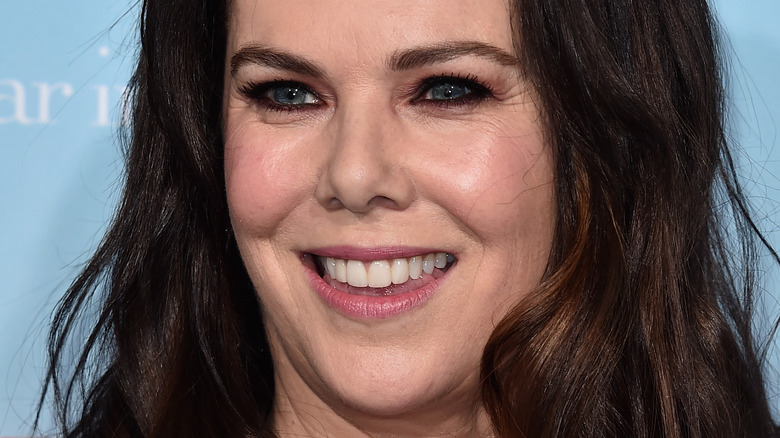 Alberto E. Rodriguez/Getty Images
For fans of "Gilmore Girls," the scene with a thousand yellow daisies stands out as one of the big moments in the first season of the show — so much so, that you can find several places online that sell clothing and other items related to it. The scene takes place during the show's first season finale when Lorelai's boyfriend Max takes her words to heart after a misguided proposal the night before. Max had gotten jealous of Lorelai's friend, Luke, and in a poorly thought out moment, he proposed.
Lorelai was quick to shut him down, saying, "There should be a thousand yellow daisies, and candles, and a horse, and I don't know what the horse is doing there unless you're riding it, which seems a little over-the-top..." Max took her words literally, and the following day a thousand yellow daisies were waiting for her at work.
But behind the scenes, there was a lot more that went into that whole scene than just those daisies.
It turns out there were a lot more than a thousand daisies
A measly one thousand yellow daisies would never do for the shot that was needed in that season finale fans learned in an interview with Show Creator Amy Sherman-Palladino and the Production Designer Sandy Veneziano by Entertainment Weekly. "A thousand yellow daisies actually sounds like a lot, but when you put a thousand yellow daisies in a big room, like our set, it's kind of like a table arrangement," said Sherman-Palladino in the interview. The crew had to be sent out several more times to get more daises and when they couldn't find fresh ones — they resorted to using fake flowers, but that still wasn't enough.
"We cheated a little bit on some of the shots. We would push the background daisies — if it wasn't a wide shot — further in and put some on apple boxes so they were a little higher and filled the space," said Veneziano. They wanted Lorelai swimming in the flowers when they shot her phone call with Max — which was an extremely well written soliloquy by Lorelai's soon-to-be fiancé. It was the kind of gesture that was to be expected from Max, who was Rory's English teacher at the prestigious Chilton Academy.
The shot was definitely a favorite among the crew, and Sherman-Palladino thought it might have been Lorelai actress Lauren Graham's favorite of the series as well.