Pauline Chalamet Dishes On Kimberly's Relationship With Nico In The Sex Lives Of College Girls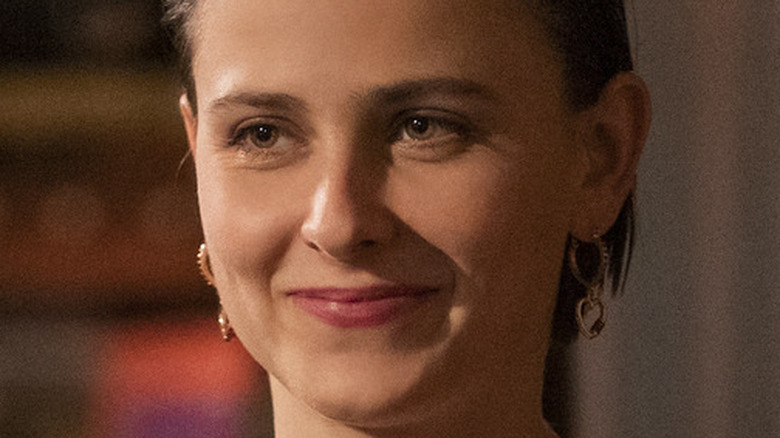 Courtesy of HBO Max
While Mindy Kaling's most famous onscreen role came in the NBC sitcom "The Office," she has remained a force in television after the show's end, and has been instrumental in bringing numerous shows to fruition, including the Netflix series "Never Have I Ever."
Her most recent series came on HBO Max. Titled "The Sex Lives Of College Girls," Kaling co-created the show with writer Justin Noble. The series follows the exploits of four freshman roommates as they experience college for the first time in varying ways. The show's success led to a quick renewal for a second season.
One member of the quartet was Kimberly Finkle. Played by Pauline Chalamet, Kimberly ended up falling for Nico Murray (Gavin Leatherwood), another student who was tutoring her in French. The two ended up in a relationship that caused Kimberly's grades to suffer before the revelation that Nico had a long-distance girlfriend, whom Kimberly learned about only when she made a surprise appearance at his birthday party.
Pauline Chalamet recently spoke about Kimberly's relationship with Nico. Here's what she had to say.
Chalamet said being with Nico was very educational for Kimberly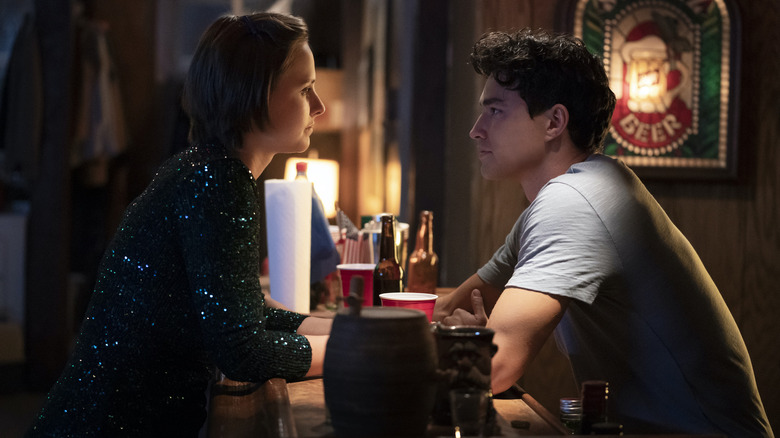 Courtesy of HBO Max
In an interview with Collider, Pauline Chalamet, who plays Kimberly, expanded on how the character's relationship with Nico in the show's first season shaped her journey.
Steering clear of spoiler territory, Chalamet noted that Nico is key to helping Kimberly realize how she wants to navigate the world, and especially deal with people like him. She pointed out that the way the relationship between the two develops shows Kimberly that not staying true to herself can only lead to trouble, and that's a lesson she learns only because of Nico.
Chalamet expanded that "the moment where you start veering from what you think is correct or how you want to be in the world, and behave, is the moment where things start to not go so smoothly," is a crucial lesson Kimberly learns from the relationship.
Chalamet expanded that she understood the allure of Nico to Kimberly, saying that "it's so incredibly impressive to Kimberly that someone of that social class, and those looks and the frat life and all that would be interested in a freshman girl from Gilbert, Arizona, and she lets herself kind of fall into that." However, Chalamet continued, her experience with Nico is key to teaching Kimberly about the type of person to look out for going forward.
Showrunner Justin Noble also spoke about the relationship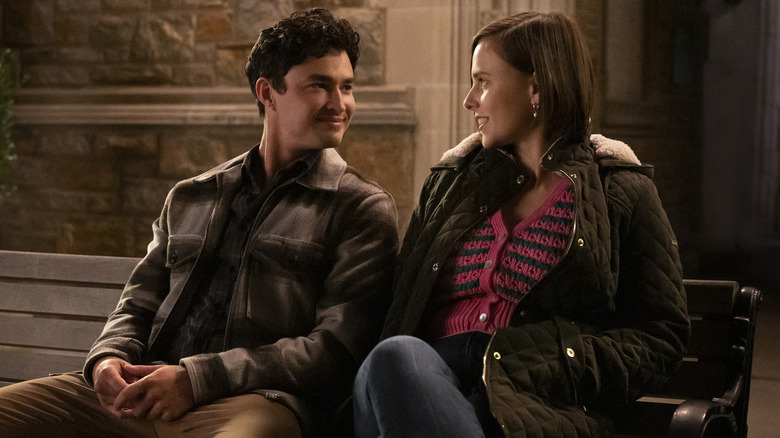 Courtesy of HBO Max
In an interview with Insider, "The Sex Lives Of College Girls" showrunner Justin Noble spoke about the relationship between Nico and Kimberly, looking at it from Nico's perspective.
While Chalamet spoke about what attracted Kimberly to Nico, Noble noted that Kimberly's excitement and optimism equally drew Nico to her. He also added that, despite his overall nature, Nico did have genuine feelings of affection towards Kimberly, finishing by saying that he was "an incredibly imperfect character."
Noble, however, did not shy away from addressing the fact that Nico was cheating on his girlfriend with Kimberly, noting that it invariably brings their moral character into question. He added that Nico would have to work to re-establish himself, because the possibility of him cheating again would always linger.
Noble did note that Nico giving up his fraternity's collection of stolen exams was further proof that he did care about Kimberly, and wasn't willing to simply discard her even after the end of their relationship.
Noble noted that it'll remain to be seen if Nico can come back from his actions. However, the likelihood of that now seems slim, as it has been announced that Gavin Leatherwood will not be returning to the show for its second season (per US Weekly).