What Happened To Justin Tennison From Deadliest Catch?
Discovery
The Time Bandit was one of the most popular ships on "Deadliest Catch" during its run on the show from Season 2 through Season 13. Run by brothers Neal, Jonathan, and Andy Hillstrand, Jonathan, the ship's captain, chose to retire at the end of Season 13. His retirement was short-lived, however, and he planned to come out of retirement for the next season until an accident got in the way (per Country Living). In 2018, captain Jonathan tweeted he would be missing crab season for the first time in 38 years due to the engine exploding. In 2019, TMZ reported that the boat (presumably now repaired) was up for sale for $2.88 million.
In Season 7 of "Deadliest Catch," the Time Bandit picked up a new deckhand named Justin Tennison, an experienced crab fisherman brought onto the crew with the help of his cousin, Eddie Uwekoolani. Introduced in the season premiere "New Blood," Tennison only lasted six episodes, his final one being "Mohawks & Madness, Goodness & Gladness." Despite his short stint on the show, Tennison became one of the most well-known names from the show for a very unfortunate reason.
A tragic loss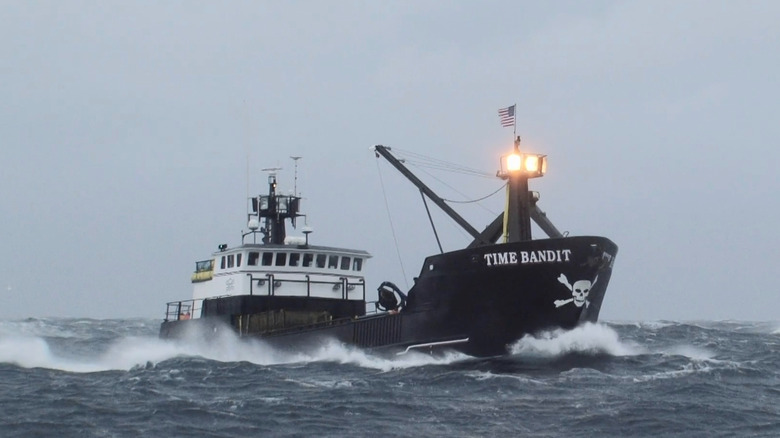 Discovery
According to a 2011 report by ABC News, Justin Tennison was found dead on February 22, 2011 in an Alaska hotel room. He was 33 years old when he died. While drugs and alcohol were found in his room, People later reported that the autopsy revealed his death was unrelated to drugs and alcohol but rather to complications related to sleep apnea.
Being in such a dangerous profession, Tennison had already discussed his last wishes with his cousin. "We've talked about ... how living in a high-risk job you never know," Eddie Uwekoolani told The Hollywood Reporter. "His last wishes were to be cremated and taken out to the water for one long trip. He loved Alaska. He loved hunting and fishing and everything about it. He loved his kids tremendously."
According to another article from The Hollywood Reporter, in a now-deleted message on the official Time Bandit website, the crew gave their heartfelt tribute to their lost crew member. "Justin was tough as a bull and was an all-around good hand," the statement read. "The captains and crew appreciated his hard work and many contributions this past year. We will miss him terribly and wish his family all the best during this most difficult time." According to Variety, Tennison was survived by two children, a sister, his father, and his grandparents.