The Actress Who Plays Julia Crichton From Fullmetal Alchemist: The Sacred Star Of Milos Is Gorgeous In Real Life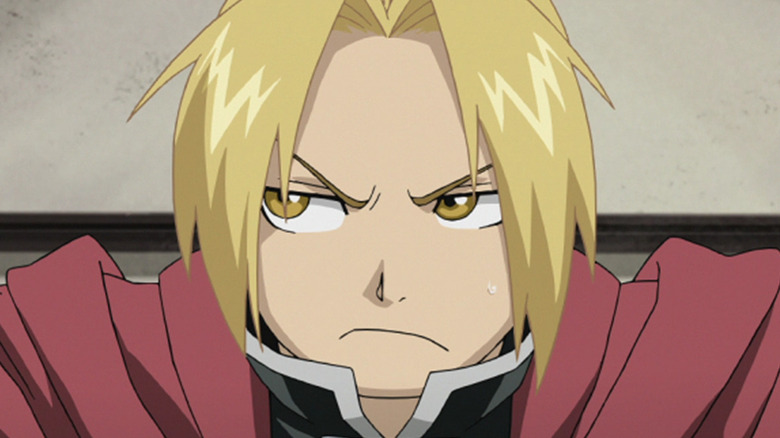 Bones
"Fullmetal Alchemist: Brotherhood" was always meant to be a course correction. Though the original adaptation of Hiromu Arakawa's manga series deviated highly from the source material over the course of its run, "Brotherhood" aimed to come closer to a faithful retelling of the beloved series.
The series capped things off with a movie: "Fullmetal Alchemist: The Sacred Star of Milos." The film follows Edward (Romi Park/Vic Mignogna) and Alphonse Elric (Rie Kugimiya/Maxey Whitehead) as they try to prevent a wide-scale armed conflict caused by criminal alchemists. Though the movie was well-received by critics and audiences alike (via Rotten Tomatoes), it did introduce a host of new characters for fans to keep track of across its runtime.
The most pivotal of these new characters is the alchemic healer and rebel, Julia Crichton (Alexis Tipton). However, who would have thought that the voice actor behind Julia could command the attention of a room in the same way her character does the Elric Brothers in the "Fullmetal Alchemist: Brotherhood" movie?
The charming Alexis Tipton plays Julia Crichton
Alexis Tipton is the actor behind the voice of Julia Crichton in "Fullmetal Alchemist: The Sacred Star of Milos" (via Behind the Voice Actors). You may also know her from her roles as Rika Suzuki in "The Devil is a Part-Timer!" and Mina Carolina in the powerhouse anime hit "Attack on Titan." She's also provided voices for major video games like "Nier: Automata," "Rune Factory 5," and the "Borderlands" spin-off "Tiny Tina's Wonderlands." Tipton has even received awards as part of ensemble casts for her stellar voice work in anime and video games (via IMDb).
On top of being a voice actor, Tipton is also an automated dialogue replacement (ADR) director. The accomplished performer is fairly active on Twitter as well, where she regularly drops snippets about her past roles and behind-the-scenes tidbits for fans to mull over. Either way, with over 200 credits to her name as of press time, if you haven't heard Tipton yet in one of her roles yet, you know doubt will be catching her soon in a future anime, movie, or video game project.