The Real Reason Nesta Cooper Took A Step Back From See Boot Camp Ahead Of Filming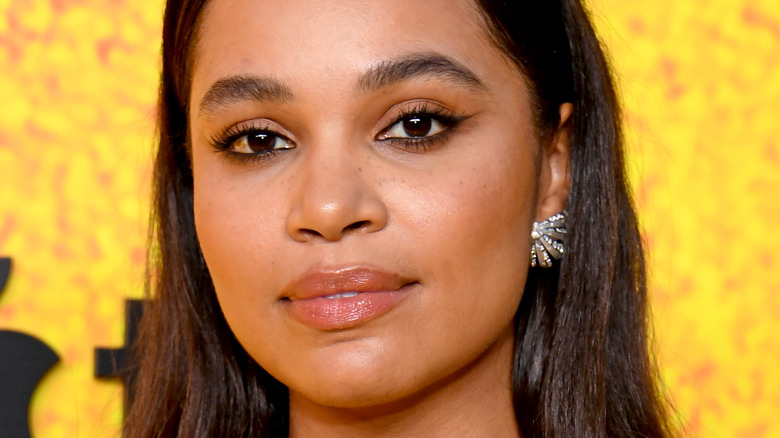 Jon Kopaloff/Getty Images
Anyone who has watched the Apple TV+ show "See," which is currently airing its explosive third and final season, would know that a lot of emphasis is placed on the actors' physicality. In a dystopian world where the sighted are the exception, most people have learned to traverse surrounding areas by using their whole bodies as a navigation tool. When the dwellers must discard the canes for one reason or another — usually because it's safer to adopt a stealthier approach — one must rely entirely on hearing and sense of touch, for the eyes are useless instruments.
One of the characters who best embodies this sneaky way of crawling around is Jason Momoa's fearsome yet loving Baba Voss, the twins' adoptive father and the head of the Alkenny tribe. We, the viewers, can easily detect that the actors put a lot of intensive work into helping the actors appear realistic in overcoming the mobility challenges that come with blindness. However, not everyone in the cast attended boot camp with the same regularity.
Haniwa was always the rebellious one
Haniwa (Nesta Cooper) has always been the most rebellious of the two sighted twins. While Kofun (Archie Madekwe) is complacent in the world's ways, Haniwa possesses a restless spirit that does not stop fighting for a rightful place in society for people like her. In a way, Cooper also swam against the current when preparing for the role.
Although both siblings can see, it still makes sense for Cooper and Madekwe to attend a boot camp to prepare for the role. They are both still part of the Alkenny and thus have learned their ways growing up. However, Cooper took a different approach to the training and had a valid reason, which she explained in an interview with Steve Weintraub for Collider. "For us," Cooper said, referring to herself and Madekwe, "we had the choice of whether we wanted to do it or not. We both participated; I didn't go as often as Archie went because it was an ongoing thing throughout the show. I kind of decided to take a step back so I could feel that little bit of being on the outside of it. But it was a tough thing to go through."  
Because of Haniwa's ability to see, it makes sense that she would have to embody both worlds in equal measure. On the one hand, she grew up as part of the Alkenny. On the other, she could always do things that no other member could. Therefore, it is reasonable not to partake in the boot camp as intensely as most of the cast.