Jeremy Renner Wraps Filming On Avengers 4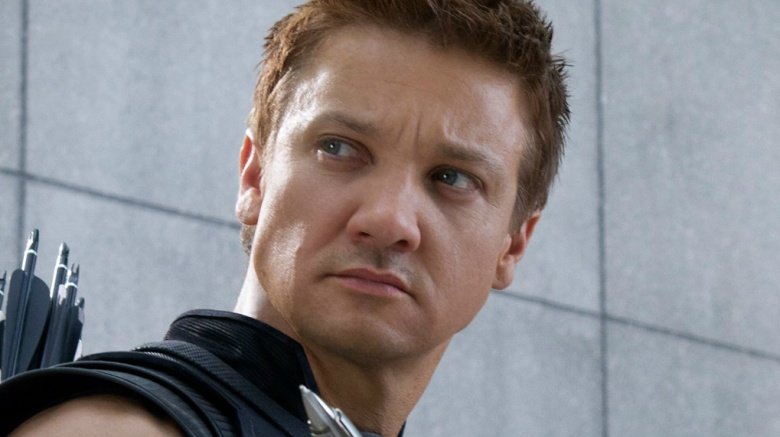 Hawkeye's work here is done.
Marvel Cinematic Universe star Jeremy Renner, who first portrayed Clint Barton/Hawkeye in 2012's The Avengers, confirmed Wednesday that he has officially wrapped filming on Avengers 4. "This is not a goodbye, only a 'see you later,'" the actor said in a video post on his Instagram. 
Renner also referred to the fast-approaching Avengers: Infinity War (launch date: May 4) and Avengers 4 collectively as Infinity Wars. It's likely that the actor and his cast mates know the official title of the fourth movie, which hasn't been named yet since its reportedly a spoiler for Infinity War, but has wisely kept his mouth shut on that subject so as to not upset the Marvel big whigs. Renner ended his announcement by saying that he can't wait to go home and "see his baby," his daughter Ava, whom he had with ex-wife Sonni Pacheco in 2013.
Renner's wrap marks the end of an almost year-long shoot, though his involvement with both Marvel installments has been kept especially hush-hush during that time. Hawkeye hasn't been featured much in marketing for Infinity War and was excluded from the jaw-dropping official trailer for the film, leaving fans relatively in the dark about what the character's role in Infinity War will be. All that's known for certain is that we'll see Hawkeye at some point and that the film will "do wondrous things" with the character. A hot point of speculation is that Hawkeye might assume a new persona come Avengers 4, which would explain his missing-in-action status in the Infinity War promotions. 
Avengers 4 directors Joe and Anthony Russo, who also helm Infinity War, teased that principal photography for the film had begun back in August of 2017. The filmmaking duo posted to their Facebook page a photo of a huge gloved hand (that many believe belong to the villainous time-traveler Kang the Conqueror) with the caption, "Beginning the end."
Marvel Studios president Kevin Feige told Collider last year that Infinity War is the apotheosis of a decade of Marvel cinema magic, and that Avengers 4 will be novel enough to catch even diehard fans by surprise. "Certainly as we get to Infinity War, there is a sense of a climax if not a conclusion... by the time we're at [the] untitled Avengers 4, the 22 movies... will have encompassed the first three phases of the MCU," explained Feige. "And what happens after that will be very different. I don't know if it's Phase 4, it might be a new thing."
Avengers 4 is slated to premiere on May 3, 2019, with Avengers: Infinity War arriving this year on May 4.