Colin Trevorrow Is Threatening To Make More Jurassic World Movies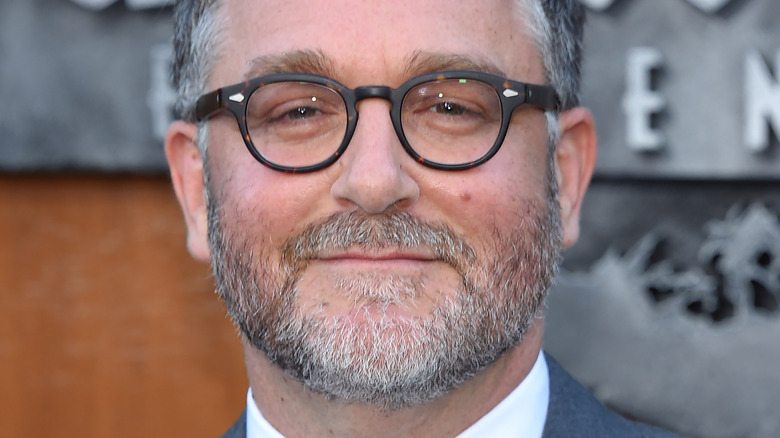 DFree/Shutterstock
When Colin Trevorrow unleashed "Jurassic World" on the blockbuster-loving masses in 2015, it proved a fun, fresh, but obviously flawed new chapter in the "Jurassic Park" franchise. It, of course, also earned solid notes from both critics and fans while raking in almost $1.7 billion at the global box office. Little did we know that success would open the door for a whole new franchise, with the Trevorrowless "Jurassic World: Fallen Kingdom" following in 2018, and Trevorrow returning to helm 2022's "Jurassic World Dominion."
As the critical responses to "Fallen Kingdom" and "Dominion" would seem to dictate, the returns in terms of quality have been very much of the diminishing sort with each new sequel. Still, the films more than held their own at the box office, and currently rank behind only "Jurassic World" as the top moneymakers in the "Jurassic Park" cinematic universe (via Box Office Mojo). Given that the marketing materials for "Dominion" essentially heralded the end of said universe, many believed there would be no more "Jurassic" flicks for the foreseeable future. It turns out that may not be the case, as Trevorrow recently teased that new "Jurassic World" movies may be on the horizon. 
Trevorrow thinks there's plenty of room to keep the Jurassic World franchise going
Depending on how you feel about the "Jurassic World" trilogy, and in particular, the franchise's divisive final chapter, "Jurassic World Dominion," that news may sound more of a threat than a reason to celebrate. Nonetheless, "Dominion" did strong enough box office numbers (per Box Office Mojo) that continuing the franchise likely seems a no-brainer to the bosses at Universal Pictures. And yes, according to his recent statements to Empire, "Dominion" helmer Colin Trevorrow would happily back another "Jurassic World" flick himself.
Indeed, according to Empire, Trevorrow is already talking to Universal about where the franchise could go in the wake of "Dominion," telling the publication, "This movie clearly takes a real interest in creating new characters that a new generation is going to latch on to." He later added, "There's more to come," alluding that future "Jurassic World" flicks could pick up with one of those new characters. As for the marketing campaign that tabbed "Dominion" as the end of the road for the franchise, Trevorrow claims simply, "I never knew that this was the ending of the franchise until I saw the marketing."
The director then argued there's obvious money to be made with another "Jurassic World" flick, eventually noting, "A new dinosaur fan is born every day. Kids deserve these movies, and young filmmakers grow up on these stories — much like 'Peter Pan' and 'The Wizard Of Oz' and worlds we've returned to constantly." Some might argue against his ranking the "Jurassic World" flicks among those classics, but it's easy enough to see his point about a built-in audience of dinosaur lovers — even if the franchise was mostly featuring made-up dinos by the time "Dominion" roared into action.