In Coolio's Career, One Project Stands Above The Rest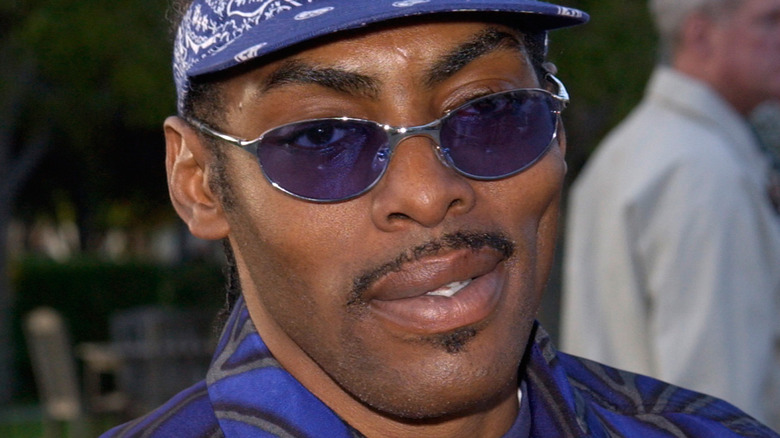 Featureflash Photo Agency/Shutterstock
Coolio had a long career in the rap industry that began when he became a member of WC and the Maad Circle in 1991. He then signed as a solo artist with Tommy Boy Records in 1994 and released his debut solo album, "It Takes a Thief." The song "Fantastic Voyage" shot him to rap stardom as it rose to number three on the Billboard 100. The fun and playful nature of the single contrasted the typical violent and serious nature of hip-hop and earned him his first Grammy nomination.
Coolio exuded a more playful and goofy nature than his contemporaries in hip-hop, which endeared him to young audiences and led him to find a broader fanbase that rivalled at its peak personalities like 2Pac and Notorious B.I.G.
All in all, Coolio picked up a total of six Grammy Nominations throughout his career, but one of his biggest hits sticks out as his crowning achievement. The song "Gangsta's Paradise" has been deployed to great effect in a variety films and TV series, but one soundtrack use still stands out from the rest. It's a classic film, worth revisiting in the wake of Coolio's devastating death.
The whole country world was in a Gangster's Paradise
What do you get when you bring together one of the top actresses in Michelle Pfeiffer, two of the top musicians in Coolio and Stevie Wonder, and a future top director in Antoine Fuqua? You get one of the most impactful hip-hop songs of the decade, and a music video to match. "Gangsta's Paradise" was released as part of the soundtrack for the 1995 film "Dangerous Minds," and it will forever be associated with that film.
When the song hit the airwaves, it rose on the charts and spent 38 weeks on the Billboard Top 100; three of those weeks, it was number one. The single went triple platinum and gained Coolio a Grammy nomination for Best Rap Album and a Grammy trophy for best rap performance. The song became the highest-rated and best-selling single of 1995 according to Music Outfitters, beating out both of TLC's songs from that year, "Waterfalls" and "Creep," Seal's "Kiss from a Rose" (another movie soundtrack song), and Boyz II Men's "One Bended Knee."
According to Story of a Song, "Gangsta's Paradise" almost wasn't. Stevie Wonder almost put a stop on the project at the sample clearance stage, since he was skeptical about lending the hook from his famous "Pastime Paradise" to a gangster rapper. After some negotiations and Coolio agreeing to remove any foul language, Wonder decided to sign off on the song and even performed on the track. The result was one of the most influential songs of the '90s and by far Coolio's biggest hit, and it all happened because of "Dangerous Minds."