Big Sky Fans Couldn't Get Enough Of This Emotional Scene In Season 3 Episode 2
"Big Sky" is one of those shows that takes sweeping and majestic landscapes and fills this idyllic forest with brutal crimes, dedicated investigations, kidnappings, and small-town living. Needless to say, "Big Sky" definitely has a lot going on for a drama television series. Taking place in Montana, "Big Sky" has an absolutely stacked cast of famous actors like Jensen Ackles, Ryan Phillippe, Reba McEntire, John Carroll Lynch, and Katheryn Winnick, to name a few. Now in Season 3, subtitled "Deadly Trails," "Big Sky" continues with a look into the lives of its characters and how they have grown.
The first two episodes of "Big Sky" in Season 3 have focused on a missing backpacker, which puts the kibosh on all sorts of plans, like having a nice family outing. Suppose that is bound to happen, though, considering that many events disrupt the relative peace of Lewis and Clark County. The second episode, which premiered on September 28, 2022, continues with the missing backpacker case, but it also contains several subplots, like Jenny (Winnick) realizing that she has a personal connection to another case and Sunny (McEntire) being concerned about her own hidden past. However, it seems like there is a particularly emotional moment in Episode 2 that has caused quite a stir among fans, and it definitely looks like the fans have some rather distinct feelings, but which scene is it, and why?
Fans love a moment between Beau and his daughter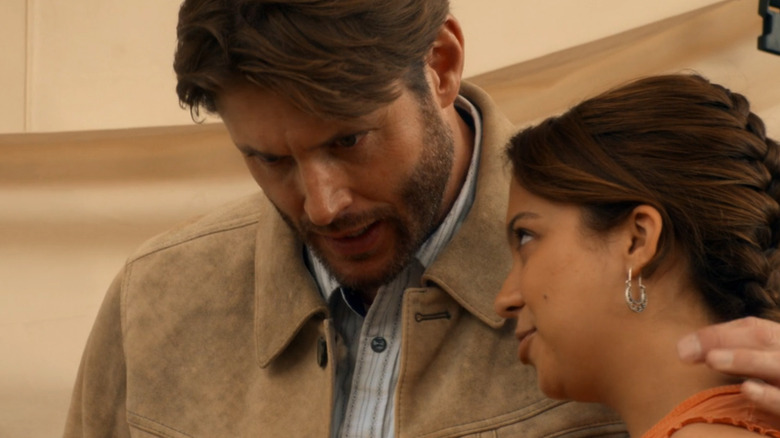 ABC
It turns out that fans can't get enough of a scene between Beau Arlen (Jensen Ackles) and his daughter Emily (Cree Cicchino), which starts off with Beau investigating the missing backpacker, and he comes across Emily, who is staying in an incredibly ornate tent which definitely invokes the term "glamping." Beau then jokes with his daughter and asks if she is happy before hugging her and continuing the search for the missing person. @bhorton314 kicked things off on Twitter by posting an image of Beau and Emily in a tender embrace and saying, "Beau and his baby girl. Seeing Jensen playing a dad hit me right in the heart. Whew." Others also felt the exact same way, with @dw_ackles also posting an image of Beau and Emily and stating that the dad version of Beau is absolutely lovely and that they got emotional while watching this particular scene.
Judging by their Twitter handle, @ackleism is a huge Ackles fan that also expressed enthusiasm for this scene by posting a collection of four images and adding that Beau is the cutest dad. @alwaysdeanw was also a big fan of this moment and said, "beau and emily moment. look at him, he is so happy to see her." Totally gushing over this particular performance, @esmecantsleep interjected, "THE BEST GIRL DAD I'M SOBBING." In other words, it seems as if "Big Sky" fans are absolutely enthralled with Beau being an effective and loving father and would like to see much more of that in the future if these comments are any indication.