Harley Quinn Nearly Sounded Completely Different On The HBO Max Series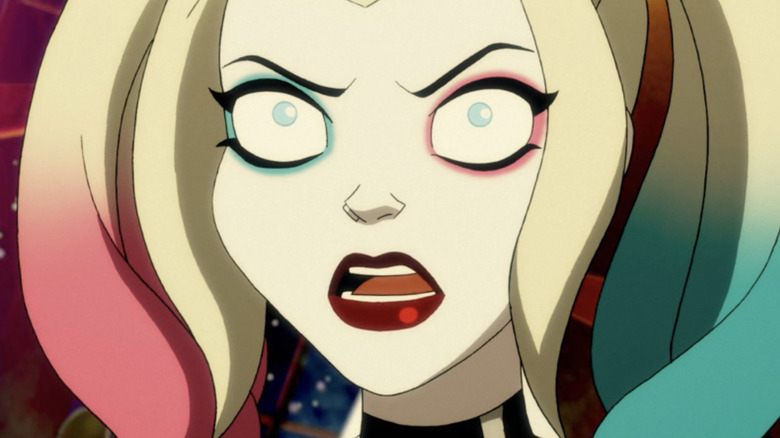 HBO Max
DC's animated comedy series, "Harley Quinn," was a bold new direction for its eponymous character when the show first launched in 2019. After multiple seasons and an HBO Max acquisition, the show has been well received by fans and critics alike, with the AV Club calling "Harley Quinn" Season 3 "one of the best shows of the year, easily." Other reviews have lauded the heartfelt friendships and queer romance, its rapid-fire comedic chops, and of course, its impressive cast (via Rotten Tomatoes).
Not only was "Harley Quinn" a bold new direction for DC animation with its adult-oriented humor and themes, but it also brought aboard a veritable cavalcade of voice talent. "The Big Bang Theory" alum Kaley Cuoco voices the titular clown princess of crime with a shrieking gusto while Lake Bell delivers an equally amusing performance as Quinn's partner in crime, Poison Ivy. Meanwhile, Alan Tudyk brings an unhinged charm to both Clayface and The Joker. Cuoco's sister, Briana, fills the role of Barbara Gordon, and the cast is rounded out by Tony Hale, Christopher Meloni, Jason Alexander, and Ron Funches, among others.
But, of course, Cuoco isn't the only Harley Quinn in town. Numerous actors have taken on the jumpsuit-wearing villain over the years, and since 2016, Margot Robbie has played the role in DC's live-action films, beginning with "Suicide Squad." Because of that, Cuoco's take on the character almost sounded completely different than the version that made it to air.
Kaley Cuoco was originally told to use a Boston accent for Harley Quinn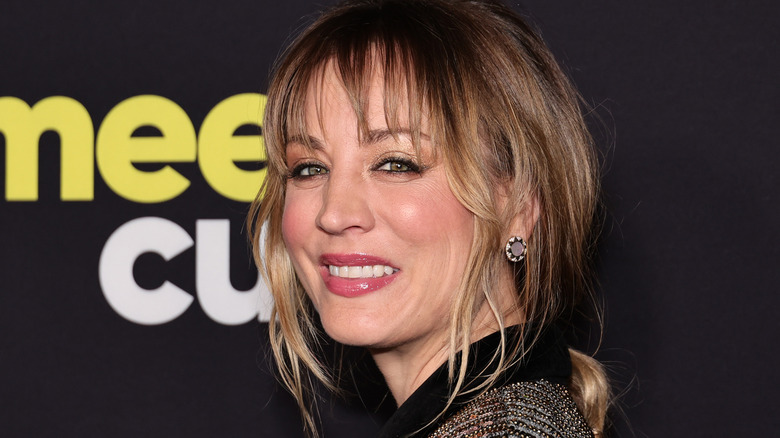 Jamie Mccarthy/Getty Images
In a 2020 interview with Entertainment Weekly, Kaley Cuoco revealed that the version of Harley Quinn she voices on the series almost sounded completely different. In an attempt to differentiate the animated character from the live-action version played by Margot Robbie, Cuoco was initially instructed by showrunners Justin Halpern and Patrick Schumacker to voice the character with a thick Boston dialect. "There have been so many Harley Quinns, and obviously with 'Suicide Squad,' Margot was playing her so incredibly well and so specific that I didn't want her to sound like anybody else," Cuoco explained. "They initially wanted me to do a strong Boston accent."
Although exaggerated accents have been a Harley Quinn hallmark in other depictions of the character, Cuoco wanted to bring her own personality to her spin on Harleen Quinzel. "I told Justin and Patrick, 'My voice is a little recognizable, and I think it's going to be silly if we pretend it's anything other than Kaley playing this role.'" Cuoco got her way and thus arrived at the excitable, cheerleader-esque portrayal of Harley we hear on "Harley Quinn."
A vocal history of Harley Quinn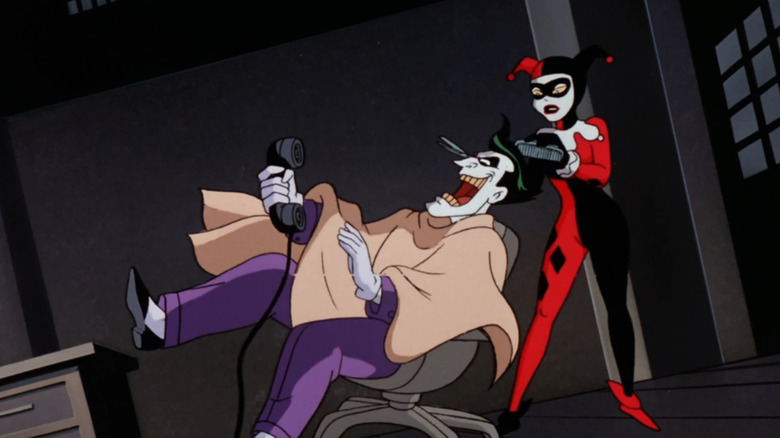 HBO Max
Harley Quinn's voice has always been an integral aspect of the character, but it has evolved over the years. While the clown princess of crime has come to be nearly as big a household name as her erstwhile lover, The Joker, she was initially meant to be a one-off character, invented by writer Paul Dini for an episode of "Batman: The Animated Series." But as Vulture recounts, Dini was inspired by a scene from "Days of Our Lives" featuring Arleen Sorkin. He invited Sorkin to voice Harley, and Sorkin delivered her performance in the Brooklynite accent that would come to define the character. Sorkin would go on to voice Harley in five more TV shows and four video games.
For the 2002 TV series "Birds of Prey," Harley was played by Mia Sara, who employed a much more toned-down speech for the character. Still, the Brooklyn accent would return with Hynden Walch, who voiced the character in the 2004 series "The Batman" and again in 2014 for "Assault on Arkham." But the most enduring vocal talent behind the red jumpsuit has been the legendary Tara Strong, who has voiced Harley over 30 shows and video games, from "DC Super Hero Girls" to Rocksteady's "Arkham" series of Batman games (via IMDb). Strong lays the patois on thick, making her a worthy successor to Sorkin.
While the East Coast accent still features in many versions of Quinn, such as in "Batman and Harley Quinn," where Harley is voiced by Kaley Cuoco's former "The Big Bang Theory" co-star Melissa Rauch, Margot Robbie has played it slightly closer to earth in her live-action renditions of the villain. Now, with Cuoco in the role, her unaccented take on the character is a break from tradition, but fans have grown to love it regardless.