The Major Futurama Character You Likely Forgot Coolio Played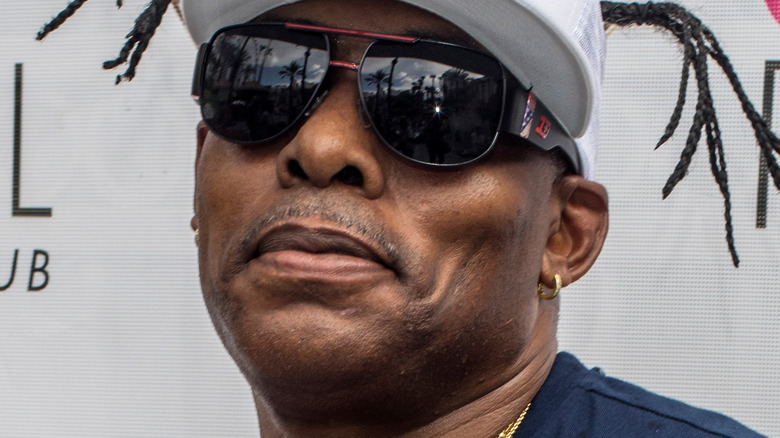 Joe Buglewicz/Getty Images
To say the world of entertainment has faced a tragic loss with the passing of rapper and producer Coolio would be an understatement. Coolio, real name Artis Leon Ivey Jr., is best known for his several hit hip-hop singles from the 1990s, including "Fantastic Voyage" and the Grammy-winning "Gangsta's Paradise" (via UPI).  He would also produce eight notable studio albums, including "It Takes a Thief," "My Soul," and "El Cool Magnifico," with several tracks from these albums ranking high on the Billboard charts during the height of his career. His colorful lyrics, riveting storytelling choices, and rich commentary on inner-city life continue to strike a chord with listeners to this day, all while encapsulating a different time in music history that's as immersive as it is fun to listen to. Suffice it to say, when the artist passed away on September 28, 2022 (via NBC News), a piece of hip-hop history went with him. 
Coolio's contributions to the entertainment industry don't stop with his music career. Along with contributing musically to shows such as Nickelodeon's "Kenan & Kel," Coolio also found himself starring in several projects. This includes parts in films such as "Batman & Robin," 2003's "Daredevil," and "Leprechaun in the Hood," and TV shows such as "Dangerous Minds," "Martin," "Static Shock," and "Gravity Falls." Coolio would also feature in a more substantial role in an equally notable television show. One of his most memorable roles would be on the Matt Groening-created adult animated science fiction series, "Futurama." 
Coolio plays Kwanzaabot in Futurama
Coolio lent his talents multiple times to "Futurama" to voice the character Kwanzaabot. First appearing in Season 4, Episode 2,  "A Tale of Two Santas," Kwanzaabot acts as a counterpart of the other holiday icons of the 31st century that include Robot Santa Claus (voiced by John DiMaggio) and the Chanukah Zombie (Mark Hamill). Rather than getting to enjoy his holiday, Kwanzaabot spends this time having to spread information about what Kwanzaa even is. In fact, Kwanzaabot's has been handing out "What the Hell is Kwanzaa?" books for the last 647 years. He also appears in the first "Futurama" movie "Bender's Big Score," where Robot Santa Claus recruits him and the Chanukah Zombie to help take over the Earth. His last appearance would be on Season 7, Episode 13, "The Futurama Holiday Spectacular"  where Kwanzaabot teaches the gang about the traditions of the holiday.
 In both these latter appearances, Coolio is able to showcase his musical chops, where he performs "This Trinity is Going to War" alongside his fellow evil holiday counterparts in "Big Score" and the "Kwanzaa Song" in "Holiday Spectacular." In both instances, Coolio's parts feel just like his classic raps from back in the day, with his usual level of charisma and energy. With the upcoming "Futurama" reboot nearing closer, it's unclear if Kwanzaabot will be reappearing, but if he does, it'll take quite a bit to replace the twisted magic that Coolio was able to bring.