A Character You Wouldn't Expect Is Getting Its Own Disney Feature Film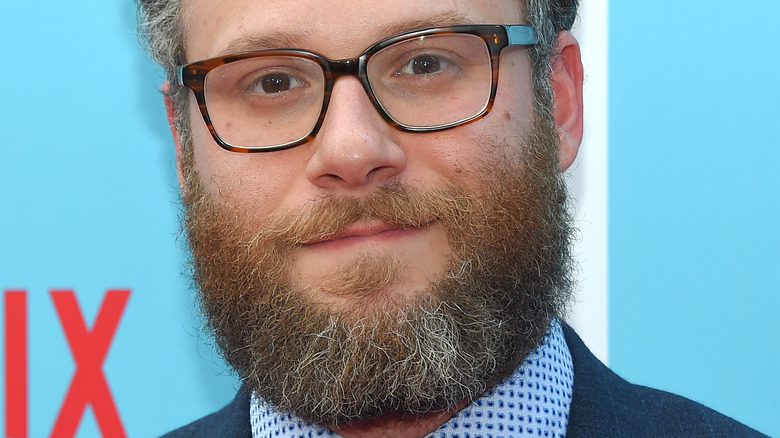 DFree/Shutterstock
Disney, the beloved film studio, has made a number of films based on attractions at its theme parks. Most notably, "Jungle Cruise" from 2021 starring Dwayne "The Rock" Johnson, Brad Bird's 2015 cult favorite "Tomorrowland," and the entire five-film "Pirates of the Caribbean" franchise were all based on rides or themed lands in the mega conglomerate's theme parks.
Even lesser-known fare like 1997's "Tower of Terror," 2000's "Mission to Mars," and 2002's "The Country Bears" have ties to rides at the most magical place on Earth. Seth Rogen, Dan Hernandez, and Benji Samit are bringing a lesser-known Disney park character to the big screen in a new feature film.
Seth Rogen will produce the new film through his Point Grey production company. He previously tap-danced into Disney territory with the spoof of Pixar-esque animated films in his very adult-oriented 2016 film, "Sausage Party." He also has the animated (for kids this time) "Teenage Mutant Ninja Turtles: Mutant Mayhem" in the works.
Writers Dan Hernandez and Benji Samit have previous experience working on existing properties, having worked on both "Detective Pikachu" from 2019 and the animated 2021 film "The Addams Family 2." This aforementioned new film is based on a character fans wouldn't expect to get its own movie.
A new film based on Figment is in the works
According to Deadline, Seth Rogen, Dan Hernandez, and Benji Samit have in the works a film based on the Disney park attraction character, Figment. Figment is the mascot of the Imagination Pavilion in Orlando's Epcot theme park. He's the small purple dragon who is the embodiment of imagination that first appeared in the ride "Journey Into Imagination" in 1983. The current ride at Epcot he is a part of is called "Journey Into Imagination With Figment."
Becoming the de facto mascot of Epcot, ala Mickey Mouse to Disney, Figment is so popular that any attempts to close down his ride have been met with outcries from fans of the park. According to Paste Magazine, in early 2022, fans waited in line at Epcot for up to seven hours to get a collector edition popcorn bucket featuring the likeness of Figment. After the park quickly sold out of the $25 branded merchandise item, the popcorn bucket began appearing on resale websites for up to $500 dollars a pop.
This new film will not be the first time the character Figment has been adapted for the big screen. He previously had cameos in two Pixar films, "Inside Out" and "Toy Story 4." According to Cartoon Research, in the 1980s, a series of now "lost" 15-minute animated/live-action hybrid films were produced by Disney that featured Figment in educational scenarios. A private collector is said to have the complete collection of short films, but they are otherwise unavailable. Fans won't have to wait too long to see their favorite Epcot character on the big screen as the new Figment film is currently in the works.