How Iron Fist Star Finn Jones Wants To Bring Danny Rand Back To The Screen
Samantha Burkardt/Getty Images
The six Marvel Netflix series — "Daredevil," "Jessica Jones," "Luke Cage," "Iron Fist," the team-up mini-series "The Defenders," and the spin-off "The Punisher" — were all canceled in 2018 when Marvel shifted its focus to making shows for its own streaming platform, Disney+ (per EW). However, at a SDCC panel in 2022, Marvel revealed plans for a new series called "Daredevil: Born Again," giving new life to the first hero of The Defenders. Additionally, Matt Murdock, aka Daredevil, made an appearance in "Spider-Man: No Way Home," and the original trailer for "She Hulk: Attorney at Law" teased the return of Daredevil in that series as well. With the return of Daredevil, many questions have been raised about the possibility of other characters from the Netflix Marvel shows returning. 
In an interview with ComicBook.com, Krysten Ritter said that she was not only willing to return as Jessica Jones, but eager to do so. "I absolutely love Jessica more than anything," Ritter said, showing much less nonchalance than her character. "And I loved those years playing her. If there was ever an opportunity for her to pop up anywhere, I would be the first [to say yes]." 
Then, in another interview on The Rich Eisen Show, Mike Colter said he wouldn't necessarily be opposed to returning as Luke Cage, but he wasn't sure how likely such a return would be. According to Forbes, Rosario Dawson, who appeared in every Marvel Netflix show except for "Punisher," said at the Chicago Comic and Entertainment Expo that Jon Bernthal would return as Punisher, then retracted her statement saying she heard it from fans.
As for the character of Iron Fist, actor Finn Jones has an interesting idea for how to bring back the character.
Finn Jones wants a Heroes for Hire series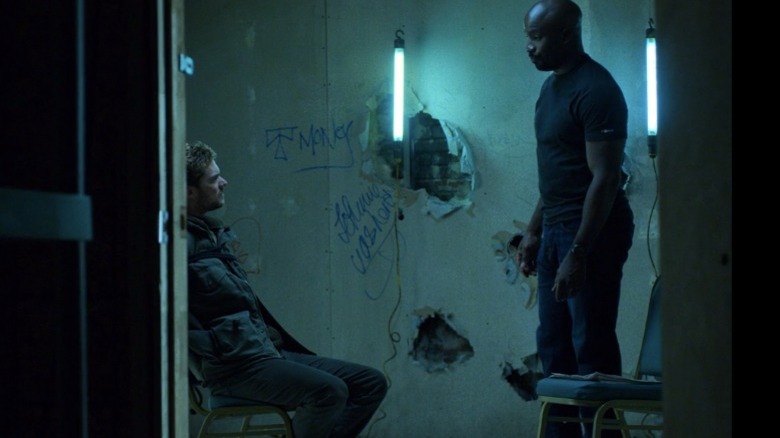 Disney+/Netflix
In an interview with ComicBook.com, Finn Jones talked about wanting to bring back the character of Iron Fist/Danny Rand. "I would love to continue playing that character," Jones told ComicBook.com "I think there's a lot of room for growth. Personally, where I would like to see the reintroduction of the character would be something like a Heroes for Hire TV series. I think that would be the most dynamic and fun way to reintroduce those characters. I loved working with Mike and I loved the on-screen chemistry between Danny and Luke." 
The Heroes for Hire are a team in Marvel Comics that is usually led by Iron Fist and Luke Cage, meaning that such a show would require both Jones and Mike Colter. Tying his character to Colter's character is probably a smart idea for Jones, as "Luke Cage" was considerably more popular than "Iron Fist." 
Deadline reported that the premiere of "Luke Cage" coincided with a Netflix outage that many speculated was caused by too many people trying to stream the Marvel series. While "Luke Cage" still has an 87% score at Rotten Tomatoes, "Iron Fist" has a score of just 37%. So it's possible that fans might be willing to put up with Danny Rand if Luke Cage is along for the ride.