How Yellowstone Fans Can Visit The Dutton's Lodge In Real Life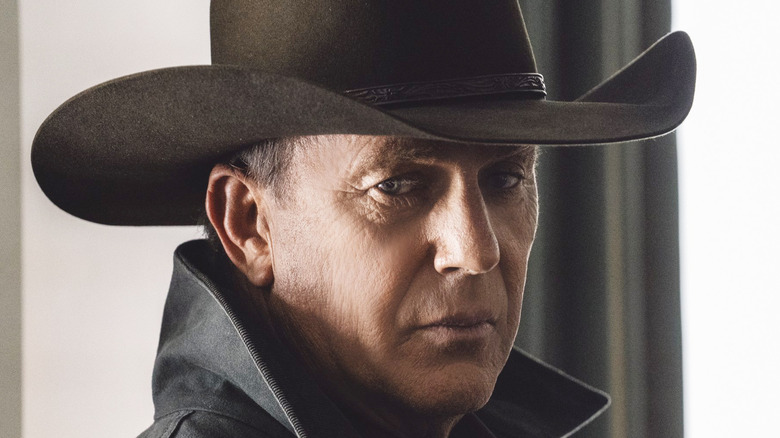 Danno Nell/Paramount Network
Since its premiere in 2018, Paramount Network's "Yellowstone" has become a cultural phenomenon. For its latest season, ratings skyrocketed beyond expectations, earning the largest cable ratings for a TV series since 2017 (via The Wrap). In the age of streaming, "Yellowstone's" massive same-day ratings are certainly a rarity.
In the age of streaming, the show's massive appeal has also translated into a genuine fanbase. At the "Yellowstone" shop, you can find anything from phone cases to glassware to cardboard cutouts of the characters. Even workwear brand Wrangler has created its own line of "Yellowstone" clothing and apparel. Beyond merchandise, the show has launched creator Taylor Sheridan's own TV empire, including the "Yellowstone" spin-offs "1883" and the forthcoming "1923."
The franchise has reignited interest in the American Western, but it's also generated interest in the cowboy lifestyle and the great outdoors again. Alongside the Dutton family and every other character on the show, most viewers would say that the Montana landscapes and the ranch itself are characters in their own right.
It thus comes as no surprise that fans have started to venture out to the real-life ranch where "Yellowstone" is filmed. The Yellowstone Dutton Ranch is actually the Chief Joseph Ranch, located in Darby, Montana. It's available for rent if you're willing to pay.
Visitors can book a cabin on the Chief Joseph Ranch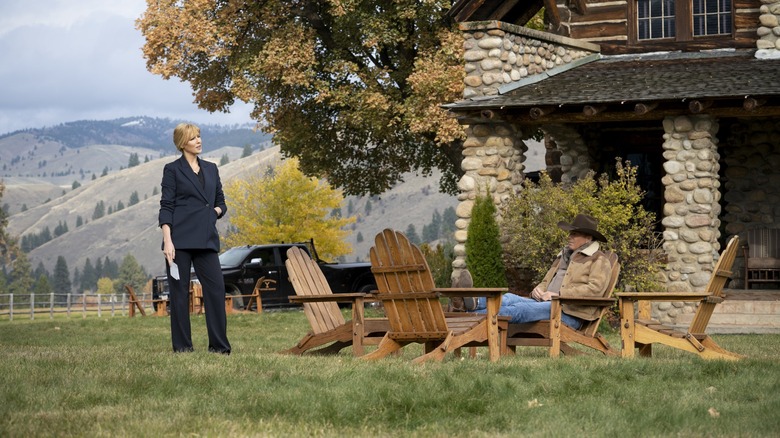 Danno Nell/Paramount Network
To stay at the Chief Joseph Ranch and see those breathtaking mountain views, the cost will be steep for the average person but may be well worth it for fans of the show. The Chief Joseph Ranch website lists two cabins available for rent, with bookings dependent on the "Yellowstone" filming schedule. For up to four guests, the Lee Dutton Cabin goes for $1,200 a night, meanwhile, Rip's Cabin — which fans will recognize as the foreman's cabin on the show — is $1,500 a night. Each cabin can be booked directly through the website, dependent on availability. All reservations also come with a tour of the ranch.
The Chief Joseph Ranch is still a working farm, and it has a storied history. The land the ranch sits on was once occupied by the Salish Native American tribe, but it derives its name from Chief Joseph of the Nez Perce. "Chief Joseph led his people across the ranch in his flight from the U.S. Army during the Nez Perce War in the summer of 1877," the website informs. Later, the land was homesteaded by settlers, where it became an apple orchard. When tycoon William S. Ford purchased the ranch, he built the main lodge that is best known today as the Dutton family headquarters. Many decades later, the ranch was eventually named after Chief Joseph, in honor of his and his people's fight across the land.