Who Did 2 Broke Girls' Beth Behrs Play On The Big Bang Theory?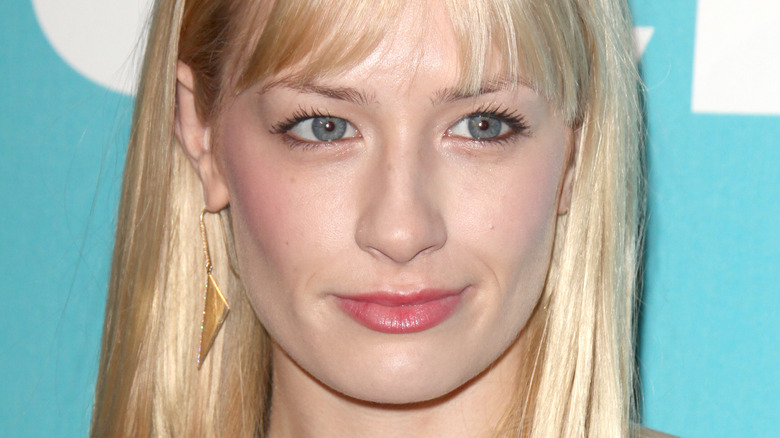 Kathy Hutchins/Shutterstock
Beth Behrs of "2 Broke Girls" started her career as a real broke girl. In an interview on The Drew Barrymore Show, the actress explained that she wore cowboy boots to her audition, but when she was called in for her final screen test, she was asked to dress more like her character, Caroline. Unfortunately, she couldn't afford the kind of clothes that Caroline wears on the show, so she kept all the tags on through her screen test so she could return everything.
Behrs has remained busy since "2 Broke Girls" ended. In 2018 she started playing Gemma on "The Neighborhood," where she and Max Greenfield portray husband and wife. In addition to that, she has a podcast called "Harmonics with Beth Behrs." In an interview with On With Mario Lopez, Behrs explained the idea behind her podcast was to interview music artists to ask how they wrote their songs from a mental health perspective. Guests have included Jewel, Belinda Carlile, and Kristen Chenoweth.
But, in the short time that passed between the finale of "2 Broke Girls" and the premiere of "The Neighborhood," Behrs made a guest appearance on "The Big Bang Theory" that you might not remember.
Beth Behrs' character has a fling with Raj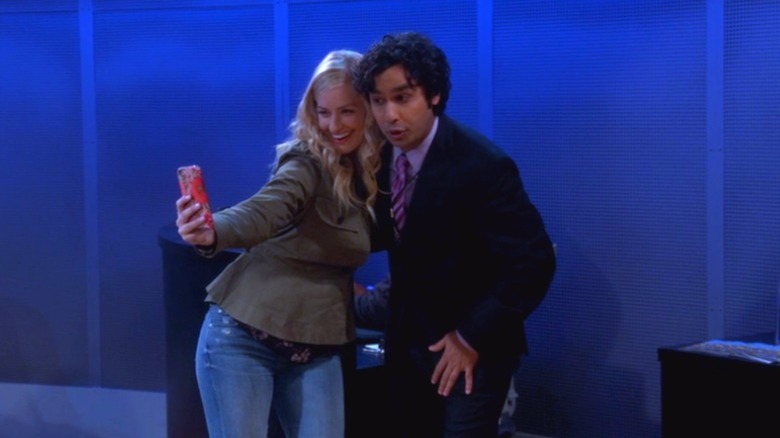 CBS
Beth Behrs plays the role of Nell in the "Big Bang Theory" Season 11 episode "The Separation Triangulation." In the episode, Nell compliments Raj (Kunal Nayyar) on his presentation at the planetarium, and the two strike up a conversation and hit it off. However, after sleeping together, Nell informs Raj that she's only two weeks separated from her husband, Oliver (Walton Goggins). Raj is able to calm down an angry Oliver, who finds him, and the two become friends. But Raj has trouble continuing the relationship because he feels guilty about the situation. Nell decides that, compared to Raj, Oliver isn't that bad, and she returns to her husband.
The episode was seen as a pretty average episode by fans. A thread about the episode in the "Big Bang Theory" subreddit shows viewers were less than enthused. "The blonde Beth...it seemed like she was the same character from 2 Broke Girls, just turned down a few decibels," wrote u/_krank. Others had more cynical takes on Behrs, such as u/Meowmeowsuplex, who responded to someone recognizing Behrs from her sitcom by saying, "How could anyone not notice? She lost her claim to fame after the TBG cancellation last year, so now she needs to take whatever guest-starring role comes her way to bring home the bacon." This didn't end up being true, of course, as the actress had a very short period of unemployment between her first starring role on a sitcom and her second.