The Walking Dead Producer Addresses Ratings Decline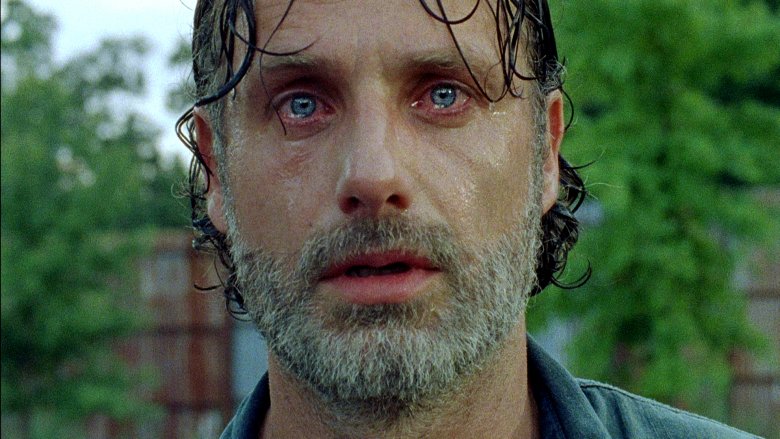 Contains spoilers for The Walking Dead season 8
Things have been pretty bleak with The Walking Dead this season, and we aren't talking about the plot.
The ratings have been way down in season 8, and it doesn't look like they're getting better anytime soon. The season premiere brought the least viewers in five years and the ratings for the midseason finale, "How It's Gotta Be," were the worst they've been at midseason since the show began in 2010. The previous low was held by the season 2 midseason finale "Pretty Much Dead Already."
But producer David Alpert isn't worried. He told Variety the numbers are misleading. "I don't think in any way the brand has lost its relevance in general," he said. "I think we're just seeing a decline in urgency across all media to consume something at a specific time."
In other words, Alpert blamed the ratings decline on fans' ability to watch episodes after they air, whether by using On Demand or digitally recording the episode. 
He does have a point. If you add the number of people who watched The Walking Dead's midseason finale on their DVR, the ratings go up by more than 4 million viewers. But it's also worth noting that the critical reception to season 8 has also gone downhill. 
Maybe it's because AMC hyped the "All Out War" storyline as intense action and it's mostly been more of what we've seen in the past few seasons. While the characters aren't as geographically scattered as they were before, the momentum isn't exactly driving fans to the next episode. 
The midseason finale had one of the biggest deaths in the show's history when Carl Grimes (Chandler Riggs) was surprisingly killed off, and while that move could intrigue fans about the future of the show moving forward, it also could've been the last straw for many. There was a pretty substantial backlash last season when Negan (Jeffrey Dean Morgan) killed two fan-favorites in Glenn (Steven Yeun) and Abraham (Michael Cudlitz). 
We'll find out more when season 8 returns on Feb. 25, but either way, AMC still has confidence in the series. The CEO of the cable network said he thinks The Walking Dead has the legs to be around for decades.