TV Kisses That Were Worth The Wait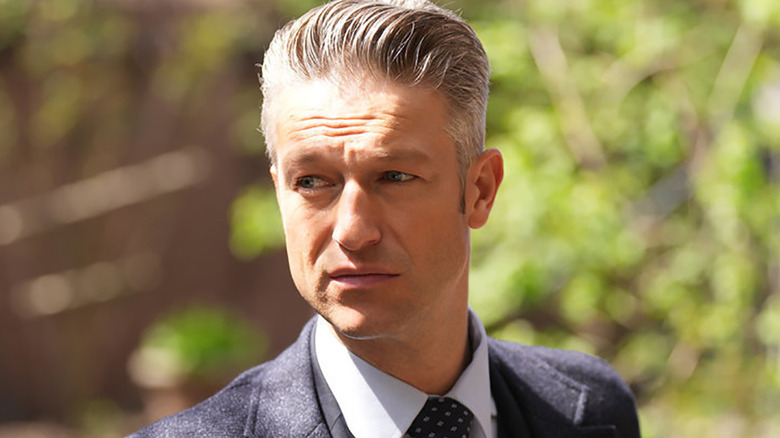 Craig Blankenhorn/NBC
TV fans love a good romance, and the medium is eager to oblige. In fact, one of the most enduring of all TV tropes is the will-they-won't-they romance, wherein two characters have clear chemistry, but, for whatever reason, fail to act upon it. Audiences root for these couples through many seasons, weathering close calls and third-party interference in the hopes that their favorite pair will get together. Some series make fans wait longer than others, but even one season can be painful for die-hard devotees. 
Cementing these romances is tricky, and has even been known to ruin the dynamic of a show — but it can also reinvigorate it. The first kiss of a long-teased couple ranks among the most anticipated moments in all of episodic TV. When done well, such a smooch brings long-simmering tension to a thrilling boil, creating moments fans remember for years. Today, we're taking a look at the best examples of such climactic lip-locks. These are the TV kisses that were well worth the wait.
Gilmore Girls: Luke and Lorelai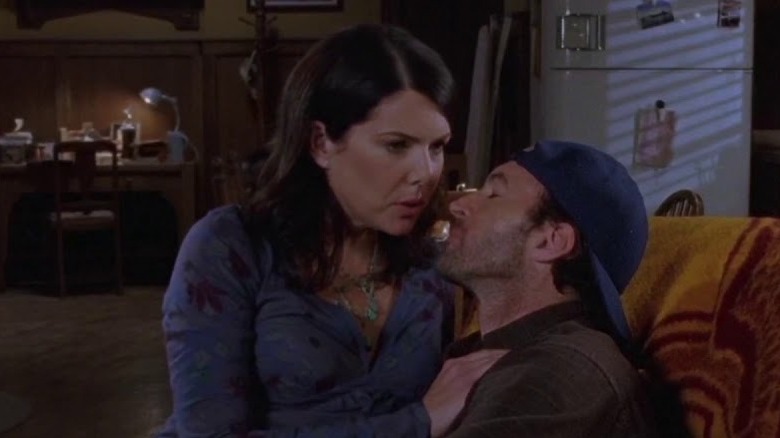 The WB
Though the most important relationship on "Gilmore Girls" is the one between Lorelai Gilmore (Lauren Graham) and her daughter Rory Gilmore (Alexis Bledel), a few romantic bonds are also central to the show's success. For Rory, there is Dean Forester (Jared Padalecki), Jess Mariano (Milo Ventimiglia), and Logan Huntzberger (Matt Czuchry). For Lorelai, there is Rory's dad Christopher Hayden (David Sutcliffe), Rory's teacher Max Medina (Scott Cohen), and the one and only Luke. Luke Danes (Scott Patterson) is introduced as Lorelai's friend — or maybe acquaintance, given how cantankerous he is towards her. But as the show goes on, it quickly becomes clear that there are major sparks between them.
Despite the sexual tension, Luke and Lorelai don't have their first kiss until the Season 4 finale, "Raincoats and Recipes." As you might expect, this lip lock comes hot off the heels of a classically quick-draw "Gilmore Girls" argument with seemingly thousands of words. The kiss itself is intensely passionate, taking place on the porch of the Dragonfly Inn. "We were nervous, and then we both realized that's exactly how the characters should feel," Patterson told Entertainment Weekly in 2021. "Because the nervousness we were having as actors was, 'We don't want to screw this up.' It's a big moment, and everybody knew it was a big moment and it felt like a big moment."
Friends: Ross and Rachel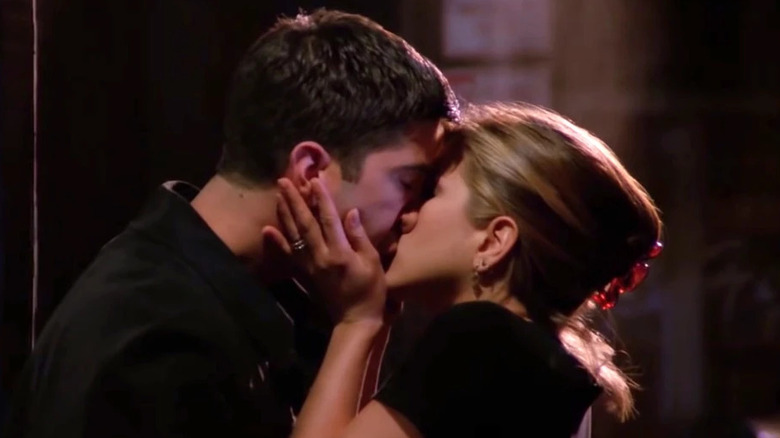 NBC
Few TV couples are as beloved as Ross Geller (David Schwimmer) and Rachel Green (Jennifer Aniston) of "Friends." Though they end up together, a Ross-and-Rachel finale doesn't look likely throughout huge swaths of the series. They have to deal with many obstacles, from third parties (Mark, Emily, Mona, Julie, Paolo — even Joey) to bad timing to that whole "we were on a break" debacle. Even after they have their baby, Emma, Ross and Rachel seemed destined for the friendzone ... until they aren't.
The only reason that the finale's last-minute re-coupling of the pair works is because of the long history they share and the sizzling chemistry between Schwimmer and Aniston. This is palpable at many points throughout the show, but it's never more blistering than when they share their first kiss in Season 2's "The One Where Ross Finds Out." This is the episode where Rachel drunkenly confesses to Ross — on his answering machine — that she is over him (spoilers: she's not). Ross storms off after they fight in a closed Central Perk, but quickly returns to find Rachel crying on the couch. She turns, sees him standing in the rain, walks to the door, unlocks it, and embraces him. As Phoebe (Lisa Kudrow) would say, he's her lobster.
Cheers: Sam and Diane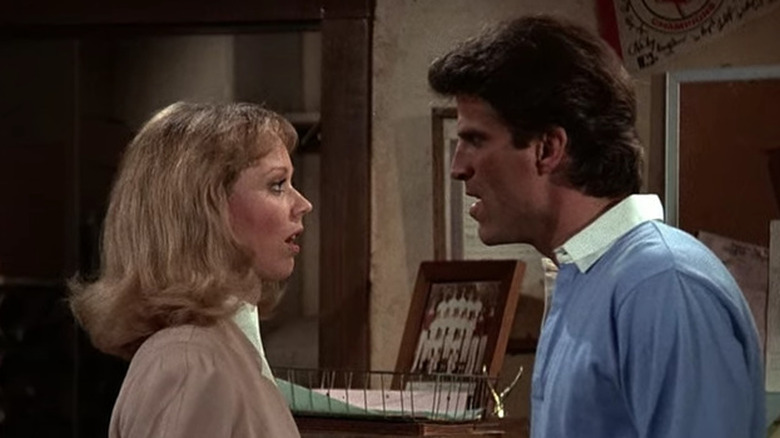 NBC
Okay, so we don't have to wait that long for a kiss between bartender Sam Malone (Ted Danson) and waitress Diane Chambers (Shelley Long). But we do have to wait until the very end of Season 1, despite the obvious flickers of attraction between them. And then, when Sam and Diane do kiss in "Showdown," it's left as a cliffhanger, like some sort of cruel TV joke. The couple ends up having an on-again, off-again romance until Long leaves the show after Season 5. At that point, Rebecca Howe (Kirstie Alley) becomes Sam's romantic foil.
Sam and Diane's first kiss arrives in the aftermath of Diane's fleeting affair with Sam's brother, Derek Malone. When Diane announces she's going on a trip with Derek (after just coming back from their first one), a jealous Sam fires her. That leads to their classic kiss scene, wherein the pair fights passionately in the back office, then confesses their mutual feelings for one another. Though Diane rebuffs Sam's first attempt at a kiss, the season ends with them locking lips for real — but not before they jab each other with a few insults.
Superstore: Amy and Jonah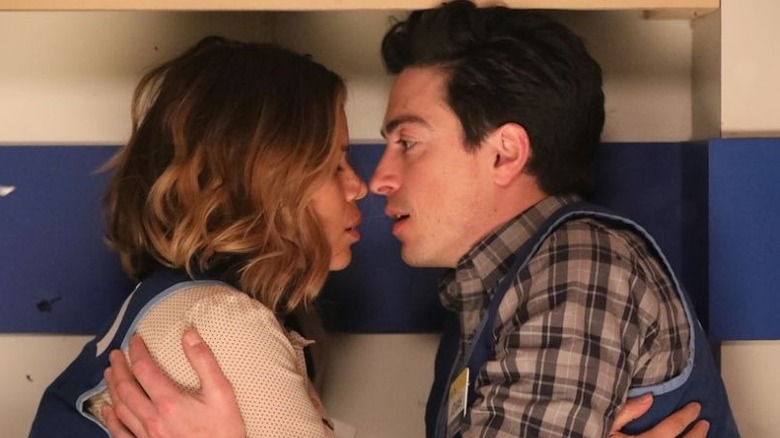 NBC
"Superstore" might not have the widespread cultural recognition of "Friends" or "Cheers," but it's a fantastic show with an awesome cast of characters. Among these characters are Amy Sosa (America Ferrera) and Jonah Simms (Ben Feldman), who start off as friends but eventually date, break up, and finally wind up together for good. Even though Amy is married when "Superstore" begins, it never really stops her from flirting with Jonah. And Jonah absolutely can't hide his crush on Amy, even after he finds out about her husband. Amy's marriage troubles in Season 2 open up the door for an Amy-and-Jonah romance, but it takes a natural disaster for them to cross the line officially in Season 2's "Tornado."
Their first kiss occurs during the titular twister, which forces the employees to hunker down. The kiss is treated as a heat-of-the-moment thing, and the pair doesn't get together for a while. But once they do, it proves to be worth the wait. Also worth the wait? That first kiss, which rumbles almost as vividly across the screen as the surrounding tornado.
Parks and Recreation: Ben and Leslie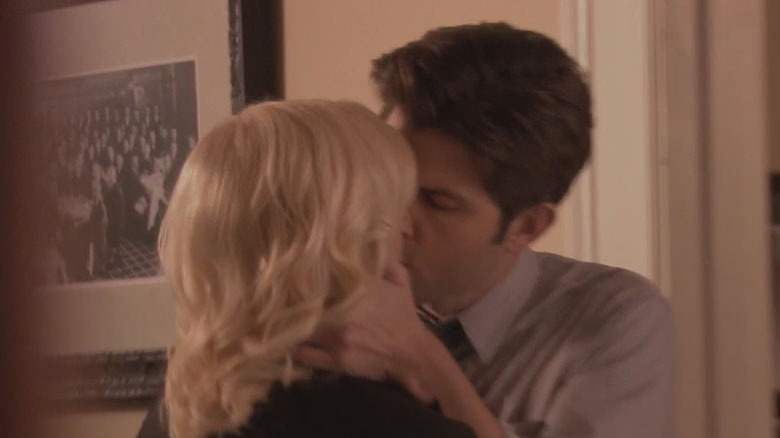 NBC
"Parks and Recreation" star Leslie Knope (Amy Poehler) is so focused on her work in the show's early seasons that a romantic partnership never even enters viewers' minds. The driven, passionate, somewhat annoying Leslie seems to be solitarily interested in work. Then again, we can't imagine that Pawnee, Indiana is a singles hotbed, so who can really blame her?
When Ben Wyatt (Adam Scott) and Chris Traeger (Rob Lowe) arrive at the end of Season 2 to assess the parks department's budget, it's immediately clear that Ben could be a potential partner for Leslie. He's similarly committed to his work, similarly dorky, and similarly thoughtful, even bringing Leslie homemade soup after she lands in the hospital. The two almost don't date because of Chris' policy on inter-office romance, but luckily, love finds a way. Their first kiss arrives in Season 3's "Road Trip," wherein the two go on a tension-filled trip to Indianapolis and pucker up upon their return. This kiss overcomes Leslie's many doubts, Chris' awkward interruption, and a strange night on the couch, and is all the sweeter for it.
True Blood: Sookie and Eric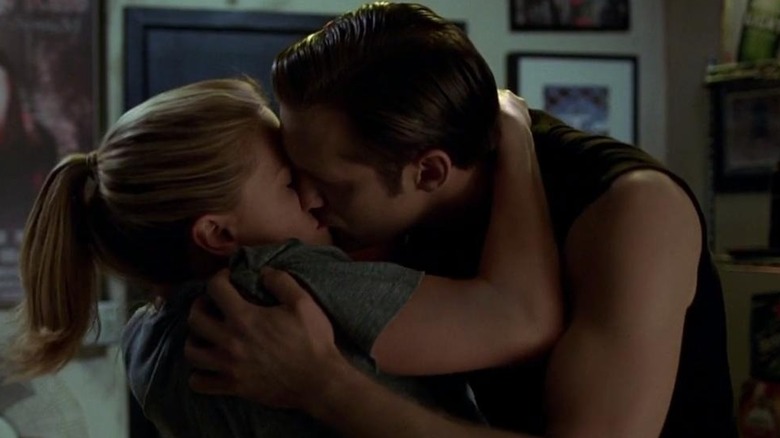 HBO
When it comes to the dating game, Sookie Stackhouse (Anna Paquin) of "True Blood" elicits much heated debate. Many fans wanted Sookie to end up with Bill Compton (Stephen Moyer), the vampire she spends much of the series in a romance with, who is played by Paquin's real-life spouse. But others liked her with Eric Northman (Alexander Skarsgard), who's far more upfront about his evil deeds than Bill but also bursting with chemistry. Still others liked Alcide Herveaux (Joe Manganiello) for Sookie, but the werewolf never really stands a chance next to Sookie's two great vampire loves.
In the end, Sookie doesn't choose any of these men. But that doesn't stop us from remembering her best romantic moments with each, and none can top Sookie's first kiss with Eric. Viewers must wait until Season 3's "I Smell a Rat" for the couple's first kiss (not including dream kisses). Eric and Sookie lock lips in the Fangtasia back office, spurred by the belief that Eric is going to have his "true death." This passionate smooch certainly wouldn't be a bad one to go out on. They don't sleep together until Season 4, but the heat from this kiss is enough to tide viewers over until then.
House: House and Cuddy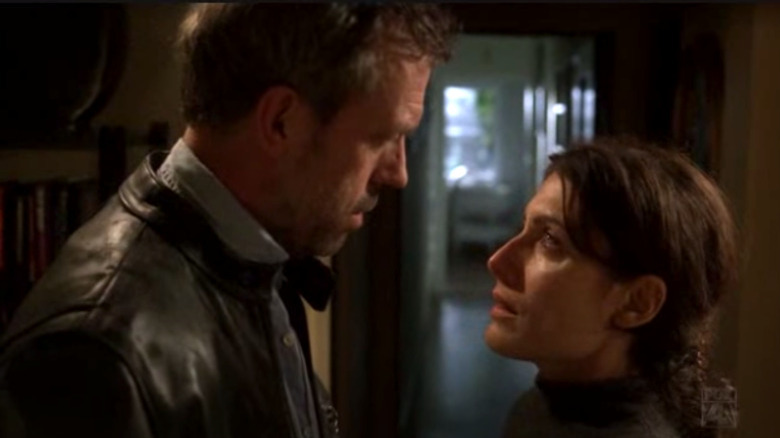 Fox
"House" does a great job building a will-they-won't-they story without ever really giving viewers too much romance. Dr. Gregory House (Hugh Laurie) is a thorn in Dr. Lisa Cuddy's (Lisa Edelstein) side, but their back-and-forth arguing is driven by more than workplace issues and House's controversial methods. Over the years, it becomes clear that they're attracted to each other, though viewers might rightfully wonder if they'll ever cross that line. House isn't exactly the relationship type, after all.
But cross the line they do in Season 5's "Joy," when they kiss is the midst of an argument about Cuddy's ability to be a successful parent. Though the kiss itself is hot, House immediately walks out the door as soon as it's over. They eventually try the relationship thing, but alas, "Huddy" is simply not meant to be a long-term thing — and we're okay with that, because Cuddy deserves something more than House can provide. Not everyone's on board with the kiss either, as evidenced by a scathing article published by Entertainment Weekly. "Not only was [the relationship] unnecessary, it ruined 'House' by becoming the central focus of the show," wrote Chancellor Agard. He continued, "Once House and Cuddy got together, the show went from Sherlock-solving-medical-mysteries to 'Sherlock's Anatomy.'"
Frasier: Daphne and Niles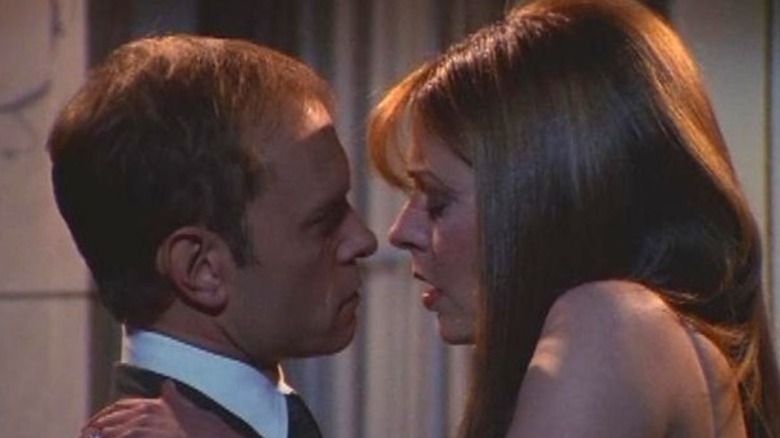 NBC
For 11 seasons, "Frasier" follows Dr. Niles Crane (David Hyde Pierce) as he lusts after his father's physiotherapist, Daphne Moon (Jane Leeves). His crush persists through both of his marriages, and is always under the surface of any interaction between the two characters. On many series, such a crush would remain unrequited, especially since much of the joke comes from Daphne's ignorance of Niles' feelings. But "Frasier" goes the other route and gets the pair together.
Even though Daphne doesn't give Niles so much as a second look for years, she and Niles find each other in Season 7's "Something Borrowed, Something Blue." Niles finally declares his love, and he and Daphne lock lips — even though Daphne is about to get married, and Niles is already married. From there, the duo becomes an actual couple and goes on to tie the knot, making Daphne an official member of the Crane family. In the series finale, they have their first child, a baby boy they name David.
All American: Spencer and Olivia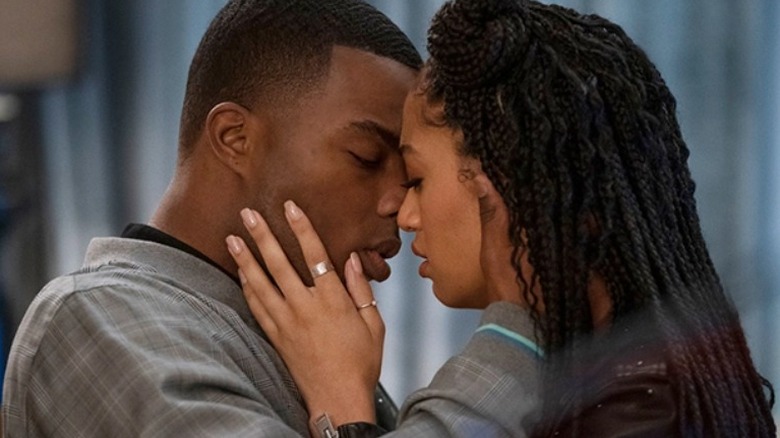 The CW
The attraction between Spencer James (Daniel Ezra) and Olivia Baker (Samantha Logan) of "All American" is immediately apparent, but it still takes them a while to get together. This is partially because Olivia's father, Coach Billy Baker (Taye Diggs), basically moves Spencer in so that he can play football at Beverly Hills High School. It's also down to Spencer's friendship with Olivia's brother, Jordan (Michael Evans Behling). For those reasons and more, Spencer and Olivia enter friend territory in Season 1. Spencer goes on to date Layla Keating (Greta Onieogou), Olivia's best friend, and Olivia dates Asher Adams (Cody Christian), further complicating their story.
By the time Spencer and Olivia finally kiss in Season 3's "Roll the Dice," we're all in on their romantic chemistry. After they kiss, Olivia tearfully asks, "What about Layla and Asher?" But Spencer makes it clear that his love for her is more important than his feelings for anyone else. As with any teen show, "All American" couples and uncouples its characters at will, but we have a feeling Olivia and Spencer are endgame. Together, they weather everything from Olivia's addiction to Spencer's injury to a near-deadly shooting. And somehow, even Layla and Asher seem on board with their romance, so who are we to object?
The X-Files: Mulder and Scully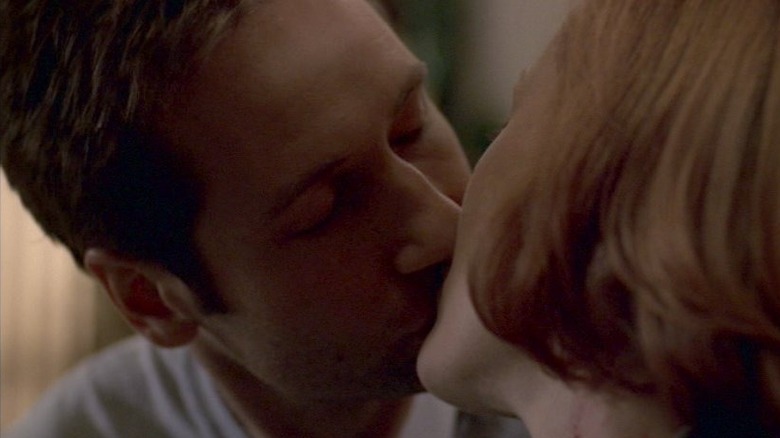 Fox
Not everyone wanted Fox Mulder (David Duchovny) and Dana Scully (Gillian Anderson) to end up together on "The X-Files," but given the amount of fanfiction that exists online, it's fair to say that the pairing was welcomed by many. The fateful lip lock takes place in Season 7's "Millennium," and though it's sweeter and more tender than expected, it also delivers on the chemistry teased in previous seasons. It's New Year's Eve, and as the ball drops in Times Square and 1999 becomes 2000, the couple decides to celebrate by smooching. It's both very low-key and absolutely enthralling.
Many romantic moments between Mulder and Scully happen off-screen, with viewers left to fill in the blanks. For instance, in Season 7's "all things," Scully is seen getting dressed in Mulder's bathroom while Mulder lies in bed. Viewers naturally assume they've slept together, but when it comes to "The X-Files," who really knows? "The X-Files" initially ended after Season 9, but was revived for two seasons in 2016 and 2018. Mulder and Scully aren't a couple in Season 10, though they sleep together in Season 11. In the finale, Scully is implied to be expecting Mulder's baby, which showrunner Chris Carter confirmed as the truth to The Hollywood Reporter.
Law and Order: SVU: Rollins and Carisi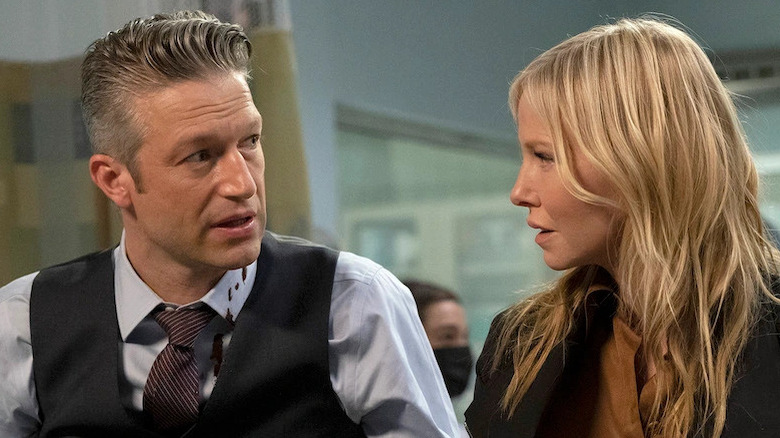 NBC
While the sexual tension between "Law and Order: Special Victims Unit" characters Olivia Benson (Mariska Hargitay) and one-time partner Elliot Stabler (Christopher Meloni) has been much discussed, that pair remains ambiguous. But one of the series' other teased couples — Amanda Rollins (Kelli Giddish) and Dominick Carisi (Peter Scanavino) — has officially become an item.
Rollins and Carisi demonstrate feelings for each other from the moment Carisi joins the show in Season 16. They first kiss in Season 22's "Wolves in Sheep's Clothing," at their colleague Odafin Tutuola's (Ice-T) wedding. It's a magical moment that's well worth the wait — even the actors were pumped about it. "I like the direction that they went in. It didn't feel forced to me. It felt very earned," Scanavino told TVLine. "So, yeah ... it's something that you get to focus on, you know, in the relationship outside of the squad." By the end of Season 23, they seem like a very solid pairing. Watching Carisi step up as a father figure for Rollins' two daughters is especially sweet.
The West Wing: Josh and Donna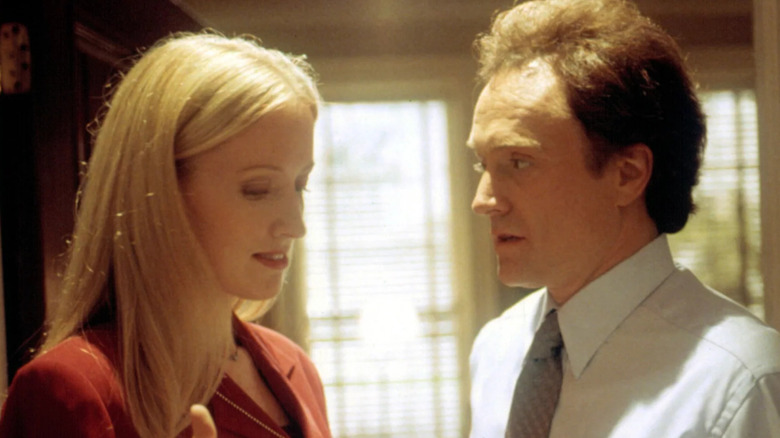 NBC
"The West Wing" has no shortage of dynamic and unique characters. Two of the best are White House Deputy Chief of Staff Josh Lyman (Bradley Whitford) and his assistant Donna Moss (Janel Moloney). The sparks are there from the start of the series, but it takes a whopping seven and a half seasons for them to kiss. Luckily, the climactic lip lock does not disappoint.
It happens in Season 7's "The Cold," after good political news brings them together in an embrace. The first kiss happens as a celebratory surprise, soon followed by a more meaningful and passionate smooch. They proceed to spend weeks sleeping together without defining their relationship, though they do end up together in the end. While the journey is long, the destination is satisfying. It helps that this couple has no shortage of memorable scenes, even before they lock lips.
The Resident: AJ and Mina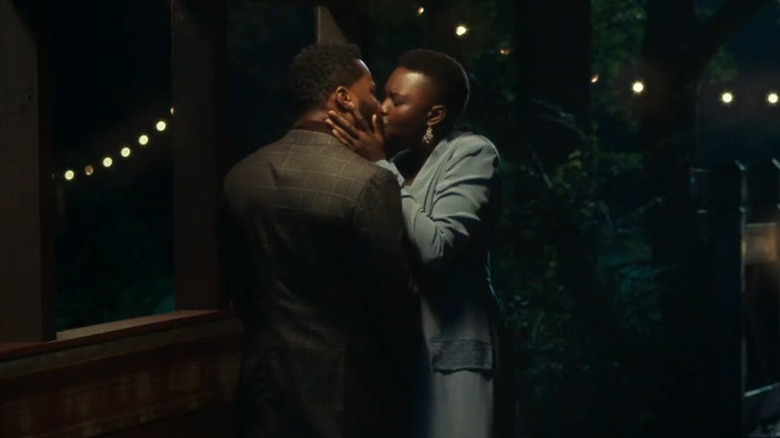 Fox
Though viewers hoped for a connection between Dr. A.J. Austin (Malcolm-Jamal Warner) and Dr. Mina Okafor (Shaunette Renee Wilson) of "The Resident," it never felt guaranteed. A.J. and Mina have obvious chemistry, physical attraction, and a mutual respect for each other's medical genius. However, A.J.'s status as Mina's superior is a major conflict, and Mina herself doesn't seem interested in making time for a social life, let alone a relationship.
It's kind of a surprise, then, to watch the couple kiss in Season 4's "A Wedding, A Funeral." "We were tired of them dancing around each other," co-creator Amy Holden Jones told TV Insider. "We wanted to see what happens when they become a couple, and we had some trepidation ... if you put the two leads together sometimes in these long-term relationships where they've been apart, sometimes it doesn't work, but in this case, it really does work." Unfortunately, the pairing is short-lived, as Mina leaves Atlanta for Nigeria later that season. But watching Mina throw caution to the wind and dive into that first kiss remains a magical moment. Here, they are finally completely honest with each other — a trait that characterizes their entire relationship, as A.J. sweetly points out.
The Office: Jim and Pam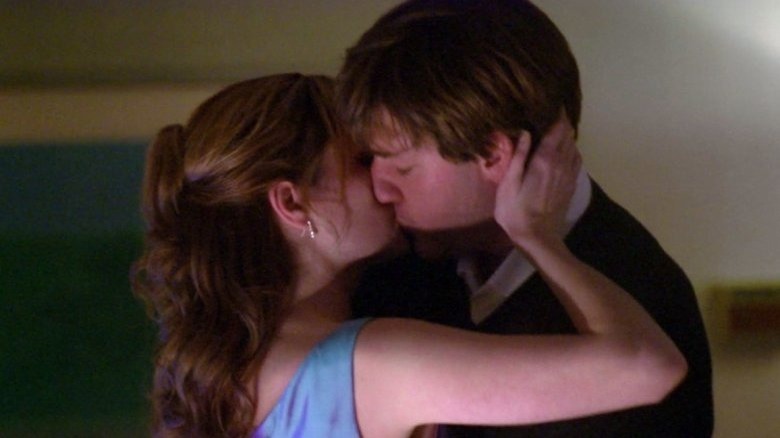 NBC
Even non-viewers of "The Office" are aware of the relationship between Jim Halpert (John Krasinski) and Pam Beesly (Jenna Fischer). The two take things slowly, though many characters — including Pam herself — know about Jim's crush before things get taken to the next level. Even when they do finally kiss (we're not counting the drunken one Pam plants on Jim at the Dundies), it doesn't immediately signal a relationship. Pam is engaged at the time, and not even Jim's admission of love can convince her to call things off.
But what a kiss it is. It arrives in Season 2's "Casino Night," after Jim confesses his feelings for Pam. Though she turns him down, she's rattled, and retreats into the darkened office to call her mom. Then Jim walks in and wordlessly kisses her. Pam can't help but kiss him back. Though the road is rocky — another full season goes by before they start dating — this kiss is absolutely perfect.