What It Was Really Like Filming Living Single In Front Of A Live Studio Audience
lev radin/Shutterstock
The hit 1993 Fox sitcom "Living Single" stars Queen Latifah as Khadijah, an independent-minded New York magazine editor. Khadijah lives in a Brooklyn brownstone and the show explores her life and the lives of her close friends, Synclaire (Kim Coles), Regine (Kim Fields), Overton (John Henton), Kyle (Terrence C. Carson), and Maxine (Erika Alexander). With the show now streaming on multiple services, such as Hulu and HBO Max, it's easier than ever for fans to go back to "a nineties kind of world." 
The show is considered groundbreaking for its positive onscreen representation of its all Black cast  (via TV One), which helps the series feel less dated. The multi-camera sitcom setup, however, is definitely from a different era. According to Mashable, no shows "sweetened" with audience laughter debuted during the fall 2021 season, citing that "The Big Bang Theory" may have been the last mainstream sitcom with canned laughter.
When a series is filmed in front of a live studio audience, à la "Cheers" and "All in the Family," the effect can sometimes be electric. Look at how Kim Coles felt taping "Living Single" before a real crowd.
Having an audience made the Living Single cast even funnier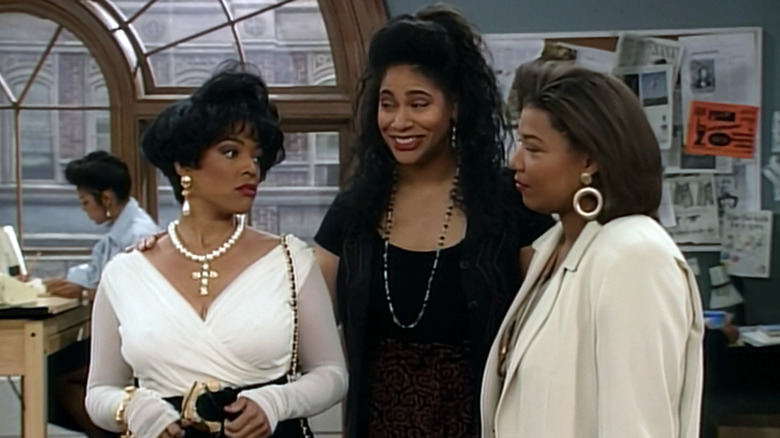 Fox/Hulu
Actress Kim Coles treasured playing the daffy Synclaire James-Jones on "Living Single." But the biggest perk for her wasn't just working with other talented and contemporary black actors, or being on a progressive, feminist sitcom (via Entertainment Weekly). One of the things Coles really loved was rehearsing and taping performances before a real-life studio audience.
The actress acknowledged that having a crowd right by the stage isn't too common anymore for sitcoms. But having some people there to play up to also made the ensemble much stronger. "There was another level that would pop when we had an audience in front of us. It was special. It was magical. The live audience was truly part of the show," Coles said (per Entertainment Weekly).
Similarly, co-star John Henton remembers having fun with the cast and studio onlookers even when the camera was off. The actor told The Atlantic, "The stuff that we did in between takes would be funnier than anything we could put on [camera] or, like, sometimes somebody would hit the line so hard that the audience would just clap and laugh so long that we couldn't even use that take." Whether you were looking on or performing on stage, it sounds like the "Living Single" studio was a blast to be a part of.