How Sadie Sink Landed Her Stranger Things Role Thanks To Pure Chemistry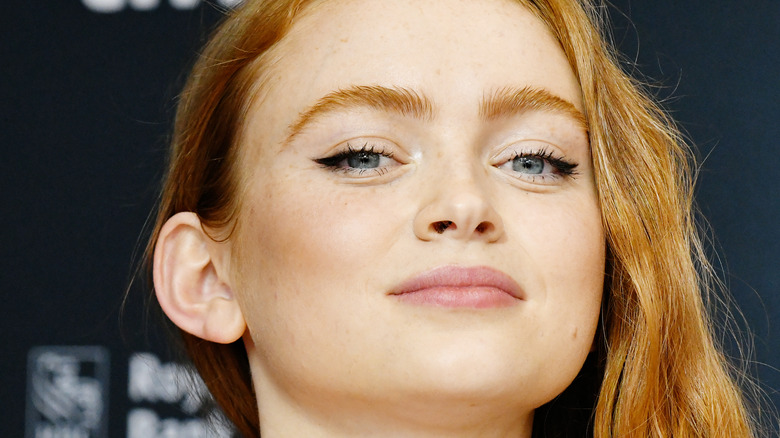 Rodin Eckenroth/Getty Images
Max Mayfield's (Sadie Sink) role in Season 4 of "Stranger Things" is a key one. Yes, the other two interwoven plot lines revolve primarily around the actions of Eleven (Millie Bobby Brown) out west and Hopper (David Harbour) and Joyce (Winona Ryder) in the Siberian hinterlands. But back in Hawkins, Max's actions profoundly shape the choices made by the rest of the gang.
It's Max who offers herself up as a decoy at the end of the season so the rest of the Hawkins gang can have a chance to defeat Vecna (Jamie Campbell Bower). Her struggles with the trauma and guilt left by the death of her brother Billy (Dacre Montgomery) and letting Lucas (Caleb McLaughlin) back into her life provide crucial material for the plot and themes of Season 4. And of course, without Max, we wouldn't have spent the entire summer with Kate Bush's "Running Up That Hill" stuck in our heads.
No doubt, a big reason that Max came to be so quickly accepted into the lore of "Stranger Things" is down to Sadie Sink's performance. Just as an example, Sink listened to Bush's song probably more than any other person in the world through repeated takes, and yet according to an interview she did with Vulture, she never got sick of it. Max is such an essential part of the gang in Hawkins that it's difficult to imagine "Stranger Things" without her. It's similarly hard to believe that Sink almost didn't get the part to begin with.
Sadie Sink begged for casting directors to give her a screen chemistry test
Initially, casting directors for "Stranger Things" were concerned that Sadie Sink was too old to play the role of Max. This might seem a quizzical concern to have, given that Sink is only a few months older than Finn Wolfhard and Gaten Matarazzo (who play Mike and Dustin, respectively), and is even a bit younger than Caleb McLaughlin. Whatever their rationale, Sink pleaded until they gave her more material so she could convince them she was right for the part.
"I just begged and pleaded with them to give me more material so I could show them something fresh," she told Fashion Magazine. Sink felt that she was the perfect fit for the role of Max, and wouldn't take no for an answer. Casting directors relented, bringing McLaughlin and Matarazzo to do a chemistry read with Sink. As the term implies, this is when the actors read the script together to see how well the auditioner vibes with other actors (via Backstage.com).
Sink clearly showed the casting directors what they were looking for because the next day she got a phone call from them telling her she had landed the part of Max.