The Real Reason Three Of Hocus Pocus' Main Stars Aren't In The Sequel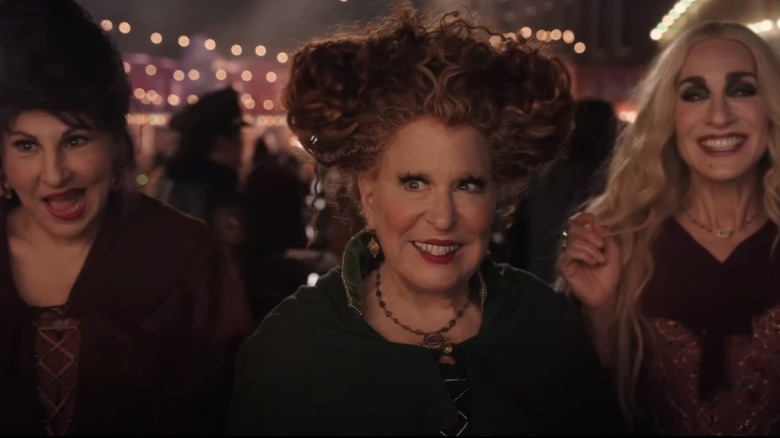 Disney+
When "Hocus Pocus" was released in 1993, it didn't take the world by storm. The response was quite the opposite. Overall, critics weren't fond of the movie. Roger Ebert, one of the most respected critics of all time, gave the film only one star. You might say that critical opinion isn't everything, and you'd be right. However, the box office numbers also painted a picture of a movie that wasn't attracting an audience. Against a budget of $28 million, the movie only managed to gross $45 million worldwide (via the Numbers). 
Today, that goofy flick about three over-the-top witches (and a bizarre focus on a teenager's virginity) is a Halloween classic. As the film's popularity has skyrocketed over the years, fans have been begging for more Sanderson Sisters. Thankfully, Disney was listening, and we're finally getting a sequel. "Hocus Pocus 2" reunites Winifred Sanderson (Bette Midler), Sarah Sanderson (Sarah Jessica Parker), and Mary Sanderson (Kathy Najimy), but what about the original youthful stars of the first movie?
In March 2022, Entertainment Weekly reported that Thora Birch, who played little sister Dani Dennison, would not be returning. According to EW's source, Birch was approached to play adult Dani, but could not sign on because of scheduling conflicts with her previous commitment to Netflix's "Wednesday."
Director Anne Fletcher explains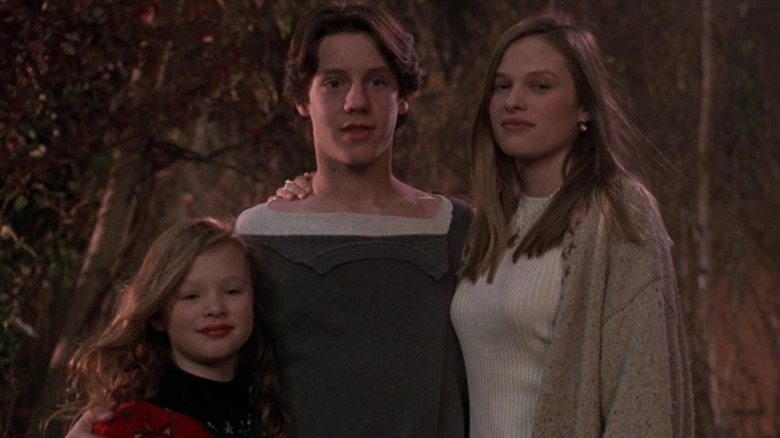 Buena Vista Pictures
Recently, "Hocus Pocus" fans were dealt more sad news when EW also confirmed that Omri Katz, who played Max, and Vinessa Shaw, who played Allison, would not be returning. With this disappointing development, we now know that the three young leads from the first flick will be absent for our reunion with the witchy siblings. Understandably, fans want to know why. 
Director Anne Fletcher had an explanation for EW. While conceptualizing the sequel, the team considered bringing in the three leads from the first movie but simply couldn't fit them in. "We wanted to weave in all of the people that the fans loved, and when you sat back with all the ingredients and story, you're like, how do we make this work?" Fletcher explained. "It was very difficult to try to have them be a part of it because we did talk about it — painstakingly. You're trying to stay on track with [the] story even if they came in as a cameo." 
While it could have been possible to insert them into background cameos, Fletcher believes that fans would be pretty unhappy with that choice. "People would say, 'They could be in the background!' and I'm like, really? You're going to put the leads of the first movie in the background and be satisfied? You're not going to be satisfied, you're going to be angry." It's a fair point. Fletcher didn't want to do a disservice to the original characters or make the fans angry. 
The actor who played Allison loves Hocus Pocus and its legacy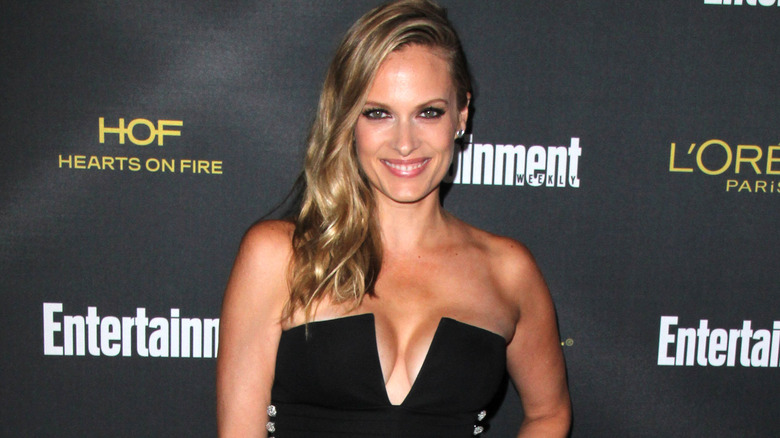 Kathy Hutchins/Shutterstock
It seems that the writing was on the wall even back in October 2021. In an interview with Comicbook.com, Vanessa Shaw confirmed that after the sequel was announced in March 2021, she couldn't share anything because she simply didn't have any information. "I would love to know more about it. I haven't heard anything. So it may be just that it's way [early] in pre-production, or it's maybe something entirely different than the original" 
Despite the early warning signs that she would be excluded from the sequel, Shaw had nothing but praise for the original and its legacy. "I just love that people continue to love this from basically watching it as a kid with their family, and then, they have kids, and it just becomes this multi-generational film that everyone adores," Shaw said. "I couldn't ask for anything more because I personally grew up watching Disney movies ... That's the kind of imprint that a movie like 'Hocus Pocus' or most Disney movies have on children because you're watching it so young, and it becomes part of your life and your family's life. And for me, there's no better thing than that."