13 Horror Shows To Watch If You Liked Devil In Ohio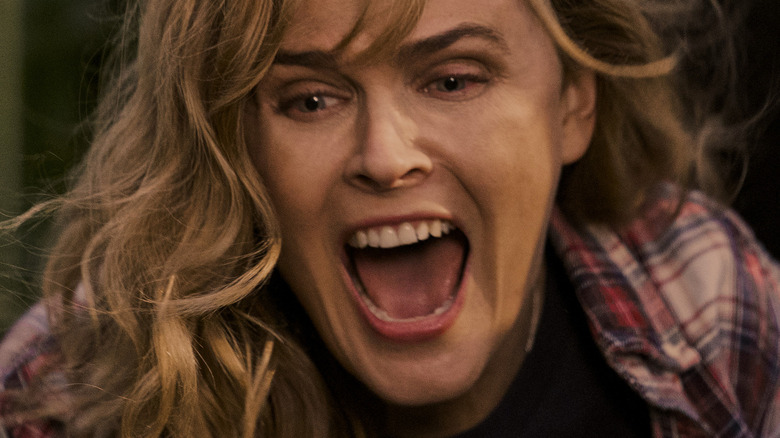 Netflix
Netflix's "Devil in Ohio" ticks a lot of boxes if you love a spooky thriller. It's a limited series about a young girl with a mysterious past, an unsuspecting family that's just trying to do their best, and an ominous force that's threatening the entire operation. When Mae (Madeleine Arthur) turns up under suspicious circumstances as an escapee from a devil-worshiping cult, Dr. Suzanne Mathis (Emily Deschanel) takes her into her home and under her wing. But the cult isn't so eager to let Mae walk away and soon starts tormenting the family — in some pretty creepy ways.
If you're all about the spooky, twisty, creepy, and nasty, then you'll need just more than one limited series to tide you over. Of course, there's always the classic scary movie night, but where's the fun in that when you can have so many more viewing hours of scary content in a show? Here is our list of shows you should binge if you liked "Devil in Ohio."
The Haunting of Hill House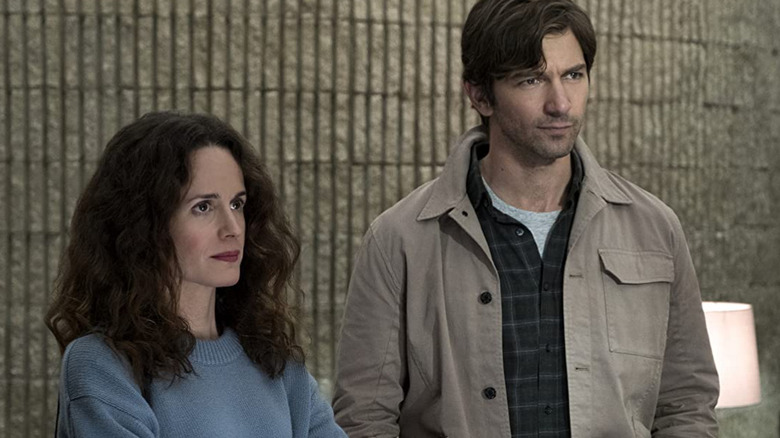 Netflix
Based on Shirley Jackson's gothic novel of the same name, "The Haunting of Hill House" is among Netflix's most popular horror shows. It's one of two shows in a bubble universe with its adjacent sister series, "The Haunting of Bly Manor," but we'll get to that one in a second.
"The Haunting of Hill House" follows the Crain family through years of dealing with the fallout of a short-lived summer at a crazily haunted mansion. One of the show's unique features is watching two timelines unfold at once — the time when the Crain family were still living at the house with a plethora of ghosts and their time some 20 years later when things from their past still haunt them.
While "The Haunting of Hill House" differs from "Devil in Ohio" in that there are actual ghosts involved, it manages to satisfy the hungry horror fanatic in you if you're looking for spooks. Jump scares, twisty episode endings, and death around every corner are in perfect balance, making this Netflix hit a favorite with horror junkies everywhere.
The Haunting of Bly Manor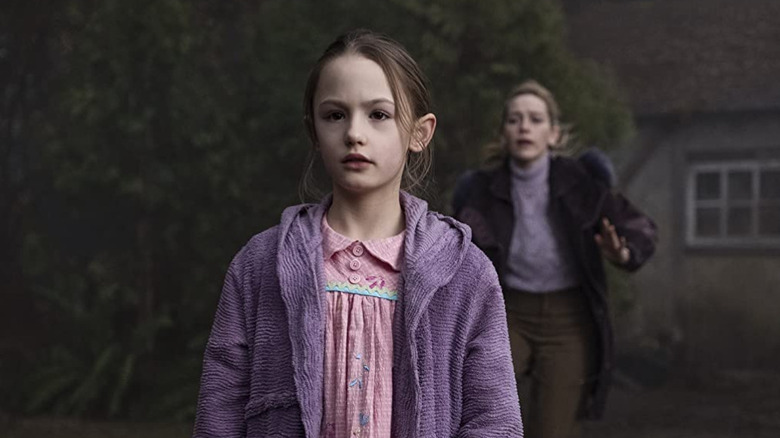 Netflix
As previously mentioned, "The Haunting of Bly Manor" is related to "The Haunting of Hill House." Both Netflix horror dramas were written by Mike Flanagan, a well-established name in the genre (he's helmed feature films like "Oculus," "Ouija: Origin of Evil," and the Stephen King adaptation "Doctor Sleep").
The two shows have nothing in common when it comes to plot, characters, or setting. You'll see the same actors, like Victoria Pedretti (as Nell Crain and Dani Clayton), Oliver Jackson-Cohen (as Luke Crain and Peter Quint), Henry Thomas (as Hugh Crain and Henry Wingrave), and Kate Siegel (as Theo Crain and Viola Lloyd). Some behind-the-scenes creators also worked on both shows, but apart from that, the two are separate. But that's exactly why they both have a place on this list.
"The Haunting of Bly Manor" is about a new nanny named (Pedretti) who is hired to care for a pair of young children in their home (the titular manor) after their long-term nanny suddenly dies. A series of strange occurrences begin plaguing the children, their caretaker, and other residents of the house. "The Haunting of Bly Manor" is what you're looking for if you like the creepy faces that appear in the mirror before an unsuspecting victim. It's got some jump scares, more ghosts for the road, and so much more to make your skin crawl.
Dark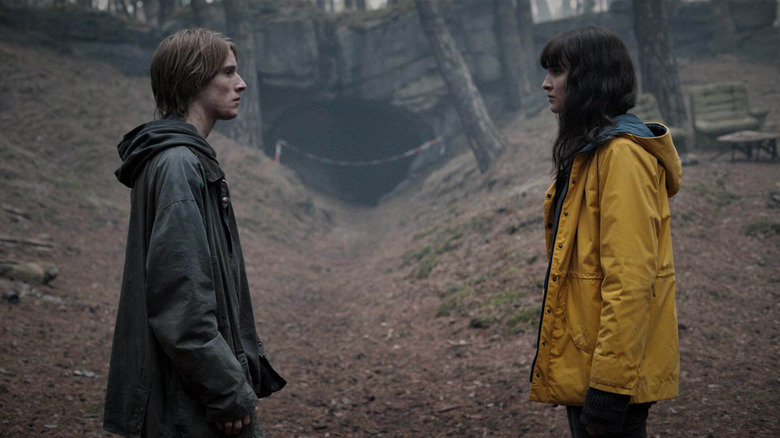 Netflix
Netflix's "Dark" sits on the science fiction side of the horror scale, but it's still a super creepy show with an abundance of twists and turns. Set in a small German town over a 100-year period, "Dark" is all about the mind-bending paradoxical mess that time travel can cause. As such, it probably won't surprise you to learn that "Dark" is not told in neat, chronological order. It's easier said than done but try not to let your brain melt with all the time jumps and mixed character ages.
The story starts in 2019 and repeatedly jumps back and forth between the 1980s, 1950s, and, eventually, the 1920s. You'll convince yourself that your parents are actually your kids — but that they're also from the past — once you're done with this show. These are some of the unimaginable twists that are all too familiar to the story of "Dark," which has a score of 95% on Rotten Tomatoes. Murder, time travel, an impending nuclear apocalypse, and familial drama make up this fascinating and original show.
Midnight Mass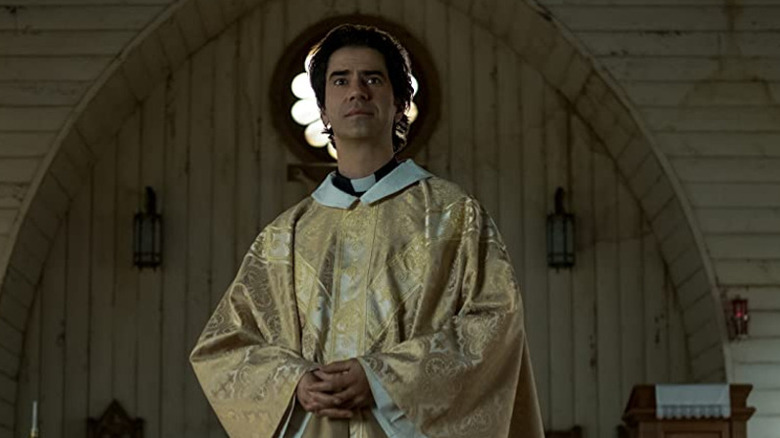 Netflix
If the push and pull of religion is the aspect of "Devil in Ohio" you enjoyed, then Netflix's "Midnight Mass" will be right up your alley. While there is a distinct lack of jump scares and flashy spooks that might be present in other horror-themed shows, "Midnight Mass" makes up for that with all the supernatural forces lurking in the subplot. This cult-like drama also comes from the mind of Mike Flanagan, and he manages to outdo himself here.
When a new, mysterious priest named Father Paul (Hamish Linklater) joins the small community of Crocket Island, his flock soon starts exhibiting strange and toxic behavior. Around the same time, a former resident, Riley Flynn (Zach Gilford), returns to the island after serving time for killing a young woman in a drunk driving accident.
This show is packed with biblical symbolism, and the dichotomy between a man of unwavering faith and a man with none at all sets the stage for much of the story. You'll find that the horror aspect of "Midnight Mass" comes from the intertwined relationships of the island's residents and an unsettling secret the new priest has to share.
The Forest
Netflix
Netflix's limited series "The Forest" is a good way to get back to the frightening basics of horror. One should expect a chilling setting and a search for someone who has disappeared under unexpected circumstances. This French series ("La Forêt" in French) has all the makings of a suspenseful crime drama, but it's far more unsettling than your average procedural, and the production values are a lot higher.
When 16-year-old Jennifer (Isis Guillaume) goes missing from her small town, accusations, rumors, and fear run amok. Investigating detective Virginie Musso (Suzanne Clément) enlists the help of a local loner named Eve (Alexia Barlier) to solve the mystery. It's similar to "Devil in Ohio" in that it falls in the missing-girl-surrounded-by-mystery arena, and if that's the aspect of "Devil in Ohio" you enjoyed, "The Forest" will definitely scratch the itch.
As the series continues, more girls go missing and the tensions escalate to near unbearable levels. "The Forest" is one show for audiences who might enjoy the truer, less supernatural aspects of the horror genre.
Katla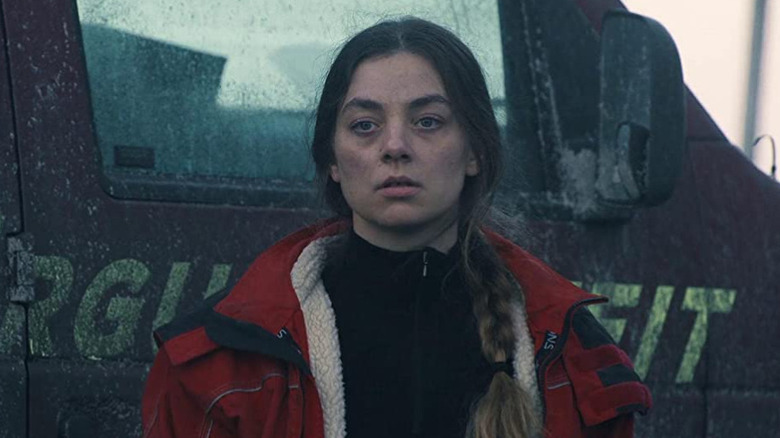 Netflix
Foreign horror shows always seem to have an extra element of creepy. It's probably because a new language will add an extra layer of mystery for American viewers, making those watching Stateside feel like they're entering the unknown. Netflix's "Katla" is a fantastic Icelandic horror show, and it falls into the genre.
A year after a disastrous volcanic eruption, a small community in Iceland tries to grapple with rebuilding and the grief of losing several people in the incident. When a woman who had presumably fallen victim to the natural disaster, Ása (Íris Tanja Flygenring), appears caked in ash from the glacier on which the Katla volcano sits, the town is shaken to its core. Local folklore and superstition soon get the best of everyone involved. As more victims of the eruption start to emerge, all hell threatens to break loose.
"Katla" has a unique perspective on the horror genre in that it encapsulates a perfect blend of volatile human emotion and the impending destruction of natural and supernatural phenomena. The series has a perfect 100% rating on Rotten Tomatoes, enthralling critics in America and beyond.
The Patient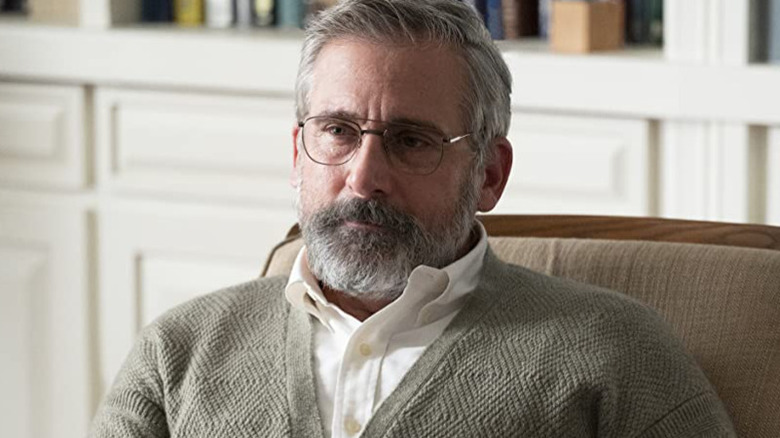 Hulu
Psychological thrillers often veer into horror territory, and "The Patient" is no different. The show puts an unusual twist on the psychology surrounding serial killers and their long-investigated behaviors. With a phenomenal cast, "The Patient" is a show that should already be on your watch list.
Sam Fortner (Domhnall Gleeson), a violent and prolific serial killer, decides to seek help for his urges to kill and places his trust in the hands of therapist Alan Strauss (Steve Carell). The catch? He's kidnapped the therapist and is holding him as a prisoner until the homicidal urges subside. As the two start to dig into each other's past and personal problems, secrets emerge and the drama starts to escalate.
What some viewers might find especially interesting are the casting choices. Steve Carell has long been established as a comedic actor. There is no doubting his talent in that arena, but to see him excel in a suspenseful setting is a sight to behold. Likewise, Domhnall Gleeson is known for lighter projects like "About Time" and "Peter Rabbit." He played a villain in the "Star Wars" sequel trilogy, but his turn here is far more real, a lot rawer, and way scarier.
The X-Files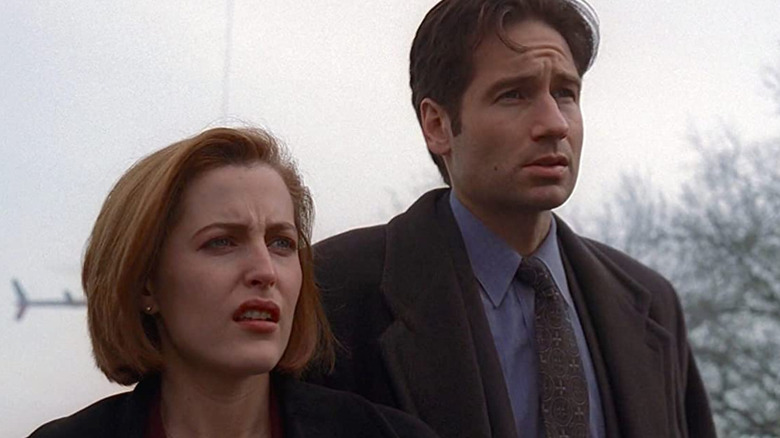 Fox
The term an oldie but a goodie certainly applies to "The X-Files," one of the most renowned supernatural shows of the 1990s. If you're unfamiliar with the premise, it follows FBI agents Fox Mulder (David Duchovny) and Dana Scully (Gillian Anderson) as they set out to solve seemingly unexplainable supernatural phenomena. Spooky crosses over into the paranormal and loops back around to downright wacky in this show. Mulder and Scully tackle the most outlandish creatures you can think of, including a soul eater, a humanoid lizard, and more.
Despite the original show's end in 2002, it got a long-awaited return from Fox in 2016 and lasted two seasons. Since "The X-Files" blends into the science fiction genre, it's a good way to expand your television horizons if you've spent a little too much time in the horror landscape. There's a nice balance in the show of both worlds to give you shivers down your spine and keep you at the edge of your seat — as wacky as it can be at times, there's no denying that "The X-Files" knows how to get scary.
Chilling Adventures of Sabrina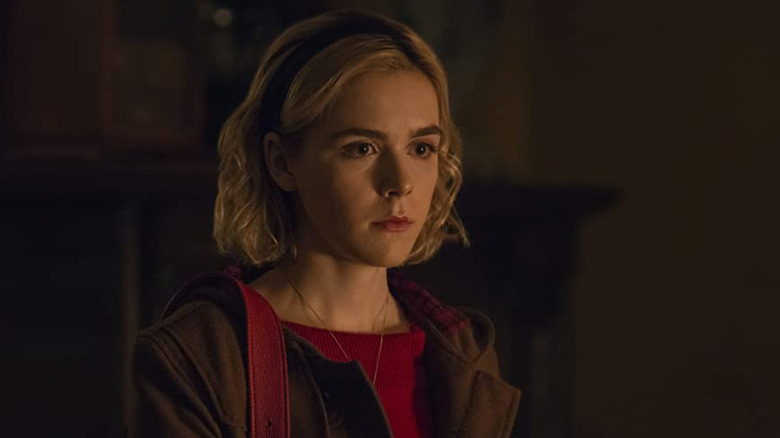 Netflix
If you're looking for a show with the mystery and magic of cults then you might want to give "Chilling Adventures of Sabrina" a try. Netflix's revival of "Sabrina the Teenage Witch," the classic '90s tween show, is way darker than the original and we love it for just that reason. As the title of the original show suggests, Sabrina is a high school-aged witch. She lives with her two aunts, and that's still the case in the remake, though Hilda and Zelda are a lot more real here, as is Sabrina herself.
In Netflix's version, Sabrina Spellman is played by Kiernan Shipka. With the help of Zelda (Miranda Otto) and Hilda (Lucy Davis), she learns to navigate the dangerous art of witchcraft, her unusual family dynamic, and the dark consequences that come with practicing magic. We were all over the witchy vibes this show throws around, and so were the majority of critics. "Chilling Adventures of Sabrina" has surprising depth in both story and character development for a show that shares a universe with The CW's "Riverdale." Demons, ghosts, and ghoulish creatures play a much bigger part than they ever did in the original sitcom, and the title becomes glaringly apt once you sit down to watch it.
Marianne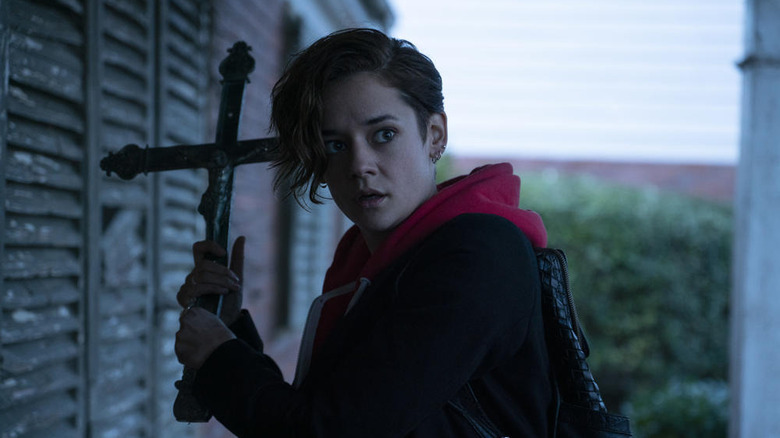 Netflix
Dreams are a tool that have been used by horror creators for decades. Psychological thrillers let audiences know that there's no escaping their fears, even in places that are supposed to be safe havens. Netflix's "Marianne" plays on that idea, and it does so brilliantly.
This version of dreamland terror is a French show and it tackles some pretty gruesome themes. The story follows a talented author named Emma (Victoire Du Bois), who has found success in crafting novels from her own nightmares. The demon that haunted her childhood dreams, who she calls Marianne, is the antagonist of her books. She wrote her heroine, Lizzie Larck, as a means to keep Marianne at bay.
She all but has her fears under control until an old friend from Emma's hometown commits suicide after claiming that a very real Marianne came to fruition and possessed her mother. Emma is forced to return home to keep Marianne from unleashing an even worse hell on everyone she loves. Netflix tags "Marianne" as mind-bending and chilling and from the looks of the demon creature alone, those descriptions are right on the nose.
If you or anyone you know is having suicidal thoughts, please call the National Suicide Prevention Lifeline​ at​ 1-800-273-TALK (8255)​.
Superntural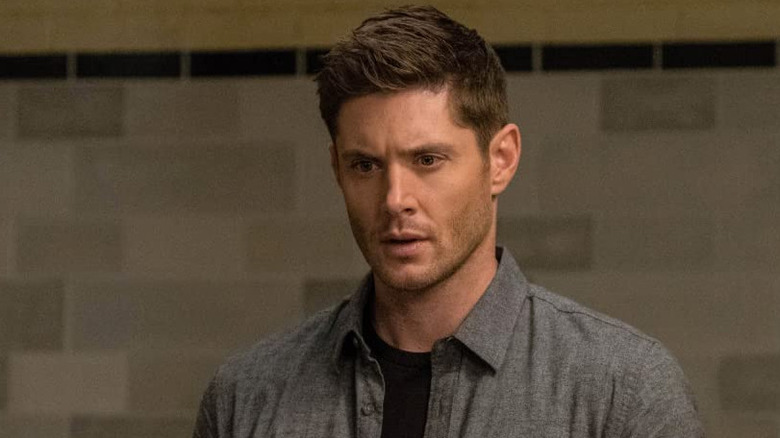 Netflix/CW
The CW's "Supernatural" earned a cult following during its 15 season run. Viewers were glued to the screen as the Winchester brothers, Sam (Jared Padalecki) and Dean (Jensen Ackles), traveled back roads and small towns hunting down monsters and demons.
"Supernatural" errs on the side of fantasy but the horror elements are there. Jumps scares, ghosts, cults, murders, and more are regular happenings throughout the show. Cut with refreshingly witty filler episodes and a bromance between Dean and his angel bestie Castiel (Misha Collins), "Supernatural" earns its place on this list of recommended horror shows. The cast is packed with household names: Jeffrey Dean Morgan (as John Winchester), Jim Beaver (as Bobby Singer), Kim Rhodes (as Jody Mills), Felicia Day (as Charlie Bradbury), and so many others add all kinds of extra spice to the Winchester's journey.
One of the greatest aspects of this fantasy series is the overarching theme of family and love. You'd be hard-pressed to find another show that manages to envelope horror, the occult, and brotherly love together so seamlessly.
The Unsettling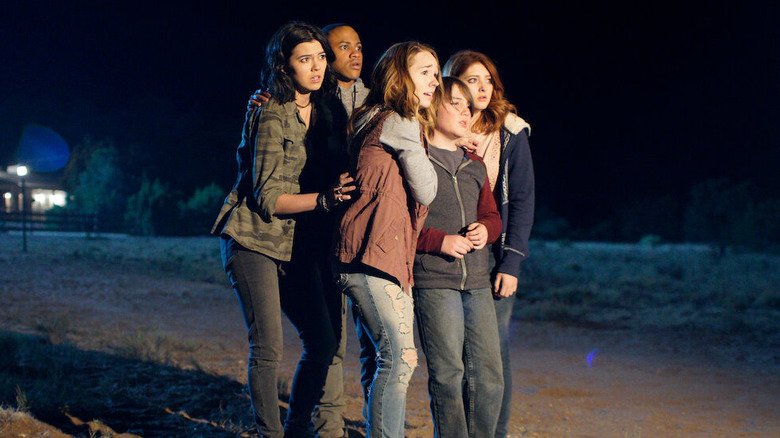 Netflix
What makes "Devil in Ohio" so enthralling is the trope it plays with. The mysterious girl is dropped into normalcy and chaos ensues as said normalcy is shattered. Netflix's "The Unsettling" has a similar perspective on that trope, with some distinctive adjustments.
Becca (Holly Taylor), a relatively typical 16-year-old, is dropped off with a new foster family and all seems fine until unexplainable and horrific things start to happen. The Werners, Jason (David Clayton Rogers) and Fia (Marguerite Moreau), play host to three other foster children along with their own biological child, Dominic (Noah Grismer). Becca soon doubts her safety and sanity when ghosts and disembodied voices start making appearances. It turns out that the Werners are members of a sadistic cult known as New Purity. To make it out alive, Becca enlists the help of her fellow foster siblings and they unravel the horrifying truth about New Purity.
"The Unsettling" is almost a "Devil in Ohio" in reverse, with a few ghosts sprinkled in for a scare factor. Since "The Unsettling" is told from the point of view of teenagers being dropped into a cult landscape, teens may resonate with the characters more than older viewers. Don't be fooled, however — this show is scary for people of all ages.
Kingdom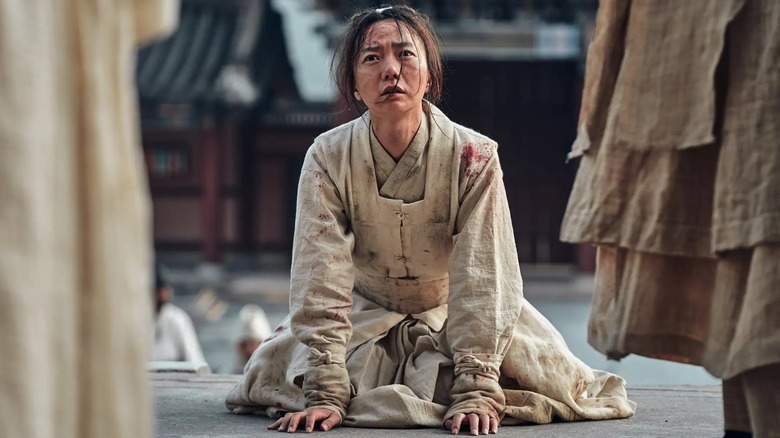 Netflix
Zombie flicks are another subgenre of horror that sway to the side of science fiction. However, a convincingly scary zombie series, ironically, depends on how well creators can make it realistic. Netflix's "Kingdom" is what a relatively realistic zombie apocalypse looks like.
Set in the Joseon period of Korea's history, the young Crown Prince Lee Chang's (Ju Ji-Hoon) life is turned upside down when his father, the king, is rumored to have died from illness. Before long, it's discovered that a plague is turning the dead into reanimated corpses hellbent on taking the living with them. A political agenda threatens the safety of the living and the prince is stretched thin as he tries to keep a progressing disease and power-hungry bureaucrats at bay.
Set against a backdrop of political unrest, this horror narrative provides a new and creative take on the classic zombie thriller. "Kingdom" should definitely be high up on your watch list if you're looking for an ominous story about the undead.