Gillian Anderson Would Consider Returning To The X-Files On One Condition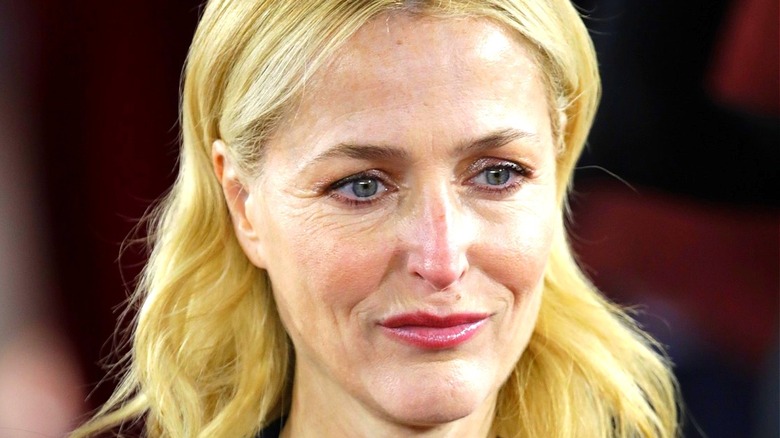 John Phillips/BFC/Getty
Beginning in 1993 during its initial nine-season run, "The X-Files" was a pop culture phenomenon (via IMDb). The show followed Gillian Anderson and David Duchovny as FBI Special Agents Dana Scully and Fox Mulder, respectively, assigned with solving mysterious cases that took them into the realm of the paranormal. From freakish aliens to horrifying monsters, the duo took them all on through the structure of a police procedural drama. It was a formula that turned out to be massively successful, and the "monster of the week" format even inspired multiple other shows, including "Buffy the Vampire Slayer" and "Supernatural."
Although its initial run ended in 2002, the show remained so prominent in cultural memory that Anderson and Duchovny both returned for "The X-Files" movie in 2008, and again when Fox rebooted it for Season 10 in 2016. The reboot garnered massive viewership numbers, with its premiere topping out at 20 million viewers in Nielsen's three-day estimates (via Variety). However, viewership dropped by the end of that season. When Season 11 debuted in 2018, the hype seemed to finally have dissipated, leading Fox CEO Gary Newman to announce "no plans" for the network to order another season (via Vanity Fair).
Since then, Anderson has moved on to other successful projects, most notably playing former British Prime Minister Margaret Thatcher in "The Crown" and taking on the role of sex therapist Dr. Jean Milburn in "Sex Education." In a recent interview with Variety, she revealed the one condition under which she would return for "The X-Files" in the future.
Anderson would return to The X-Files if the baton were passed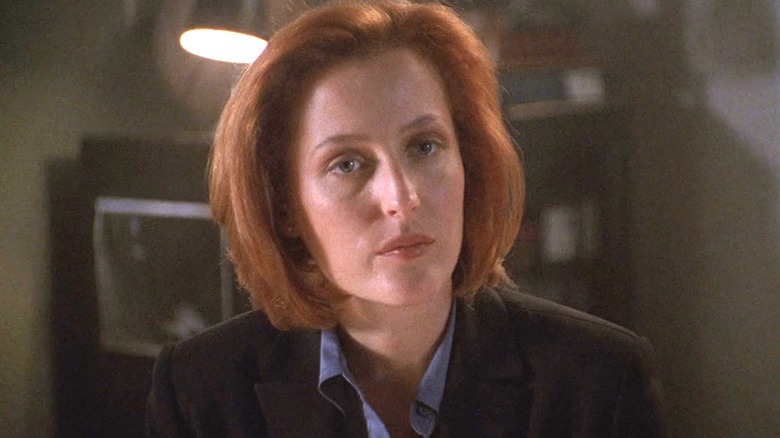 20th Century Fox Television
Speaking with Variety at the Cannes International Series Festival, Gillian Anderson made clear that she has no current plans to return to "The X-Files," and that she considers it a relic of the past. "It just feels like such an old idea," she explained. "I've done it. I did it for so many years."
Beyond that, she's not happy with the way Season 11 wrapped up with a reveal that Scully is pregnant with Mulder's child — after which, the show's villain insinuates the child may actually be his. The episode repulsed critics and feminists alike with its insinuation that Scully may have been assaulted, a twist that TV critic Kelly Connolly called "baffling" and "irresponsible" in a review for Entertainment Weekly. Anderson called it an "such an unfortunate note" to end on.
However, Anderson revealed that she would consider returning to "The X-Files," provided the show hires a new team of writers and promises a more modern vision that would allow the show to evolve. As she put it when asked about another season: "In order to even have that conversation there would need to be a whole new set of writers and the baton would need to be handed on for it to feel like it was new and progressive."
Meanwhile, Anderson is busy portraying famous women throughout history, including the controversial politician Margaret Thatcher, as well as Eleanor Roosevelt in the upcoming "The First Lady."