Harry Styles' Don't Worry Darling Look Took A Lot Longer Than You Would Expect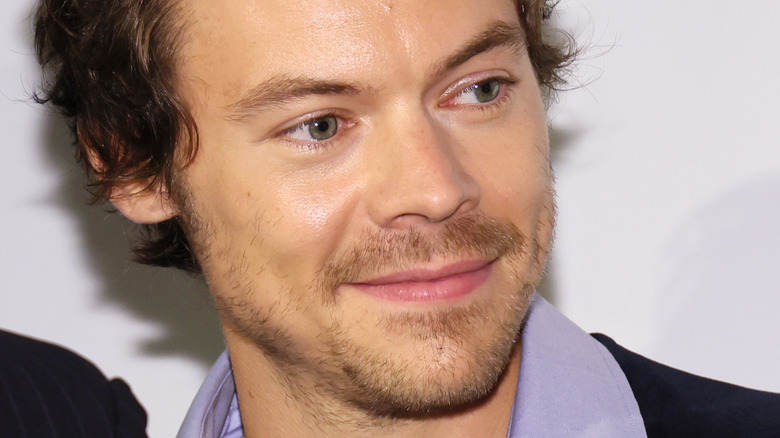 Dia Dipasupil/Getty Images
For her sophomore directorial effort, Olivia Wilde has turned to the 1950s for inspiration. 
Sure, the film itself takes place in the 1950s, but the delightfully messy press cycle has a retro sheen of its own. Young starlets sipping on Aperol spritzes in Venice, a pop star courting an acting career, and reports of on-set feuds give "Don't Worry Darling" an inadvertent Old Hollywood boost. The eyebrow-raising comments and drama – more of which seems to surface every day for "Don't Worry Darling" – hasn't been enough to woo critics, however. Indeed, the critical response for "Don't Worry Darling" has been lackluster.
Despite — or perhaps because of — the film's ceaseless whirlwind of rumors, "Don't Worry Darling" is, so far, a draw at the box office, earning over $19 million in its opening weekend (via Deadline). Certainly helping matters is the presence of Harry Styles, whose star power is a magnet for his scores of stans. In Wilde's "Stepford Wives" redux, Styles plays Jack, who works at the mysterious Victory HQ along with the other men in his insular desert community. 
Here's the surprisingly long process behind Styles' transformation into Jack.
Turning Styles into Jack took two hours
For those who have seen the trailer or clips from "Don't Worry Darling," it doesn't seem like Harry Styles required a drastic makeover to portray the clean-cut, smartly dressed Jack. The real transformation, though, occurs in the film's dizzying second act, when (spoilers abound, folks) it is revealed that "Don't Worry Darling" takes place in a virtual reality program in the present day. The real-life Jack isn't a dapper leading man. Rather, he's a greasy-haired, acne-prone outcast who forces his "wife" Alice (Florence Pugh) into the simulation.
Transforming the dreamy pop star into a sinister couch potato was no simple task, according to hair department head Jaime Leigh McIntosh and head of makeup Heba Thorisdottir. The pair told Variety that the entire transformation took about two hours. For McIntosh, the main challenge was sucking the life out of Styles' thick mane of hair. "I wanted to make it lank and more lifeless," she said, ultimately capitulating to his voluminous locks and fashioning a wig. Thorisdottir enlisted the special effects makeup artist Jason Collins to create acne scars for Styles.
The pair insists that they weren't aiming to turn Styles into a cartoonish, insofar as his hair and makeup was concerned. "It was about finding that balance and a fine line of pushing him in a different direction, but not so far," says McIntosh. Thorisdottir concurred. "We were not trying to make Harry look bad," she said. "We were explaining his insecurities and why Jack is the way he is."