Where You've Seen The Cast Of Smile Before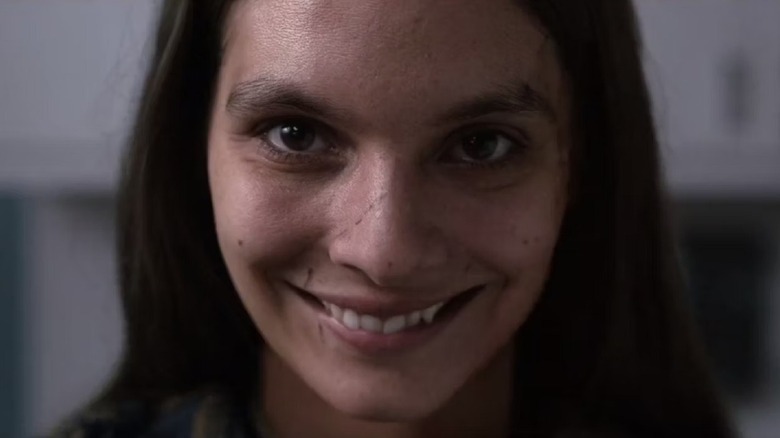 Paramount Pictures
"Smile" is a supernatural horror film with supernatural elements that will mark the debut of Parker Finn. Adapted from his earlier short "Laura Hasn't Slept," the movie will see Dr. Rose Cotter begins to experience a series of terrifying events after witnessing a horrific incident involving a patient at her hospital. Expectations for the film are high, especially after the source material it is based on won a Special Jury Recognition Prize at South by Southwest (via Deadline).
There are plenty of reasons to be excited about "Smile" of course but one of the main reasons is the dynamic cast of actors that are portraying the various characters. These include some rather well-known names, such as Kal Penn and Sosie Bacon, as well as a few relative unknowns that many viewers will not be completely familiar with. The trailer has already given us a glimpse of many of the faces involved, but here's a breakdown of the cast of "Smile" and where you might have seen the actors before.
Sosie Bacon (Dr. Rose Cotter)
Despite her relatively young age, having been born in 1992, Sosie Bacon, who stars as Dr. Rose Cotter in "Smile," is an experienced actor. It's possible that she was destined for stardom as the daughter of Kevin Bacon and Kyra Sedgwick, two Hollywood heavyweights who are familiar faces around the world. Although her parents did everything they could to give her an everyday life and even attempted to dissuade her from a career in show business, her father cast her in the film "Loverboy" in 2005, explaining to the New York Magazine that he felt she was a good fit for the minor role and that the youngster found the experience fun.
Shortly after this, Sosie was cast in "The Closer" alongside her mother as Charlie in Season 5 of the police procedural. After leaving school, she studied at Brown University and participated in musical theater productions while at college (via the Wall Street Journal). The actor went on to portray Skye Miller in "13 Reasons Why" and was one of the lead cast members in the 2018 HBO drama series "Here and Now." More recently, she has had roles in both "Mare of Easttown" and "As We See It."
Kyle Gallner (Joel)
Kyle Gallner, who plays Joel in "Smile," initially had no interest in acting. As a young boy, he had followed his sister to an audition at a local talent agency and was asked to take part himself by one of the agents (via Neptune Pirate Radio). He quickly landed roles in shows such as "Judging Amy" and "Third Watch" before being cast as Bart Allen in "Smallville" in 2004, a role that he reprised twice in subsequent seasons. However, his big break came when he played Cassidy Casablancas in "Veronica Mars" and became a series regular from Season 2.
The actor has also appeared in a variety of films and is no stranger to the horror genre. He had parts in the 2022 remake of "Scream" along with the likes of "A Nightmare on Elm Street," "The Haunting in Connecticut," and "Jennifer's Body." In 2020, he won praise for his performance in the coming-of-age comedy "Dinner in America," with RogerEbert.com noting how expertly portrays the punk rocker Simon. Viewers may recognize him from the drama series "Outsiders" where he appeared alongside David Morse, Joe Anderson, and Gillian Alexy.
Caitlin Stasey (Laura Weaver)
Caitlin Stasey appears as the chilling character Laura Weaver in "Smile," and the young actor had her first taste of the entertainment world when she toured around the world as part of the Australian Girls Choir in 2000 (via Empire Online). Her first major role came in the Australian children's show "The Sleepover Club," where she portrayed the main character Frankie. Like many of her compatriots, she rose to prominence in "Neighbours" as Rachel Kinski. She held the role from 2005 until her departure in 2009 so she could concentrate on her school exams (via the Herald Sun).
While still part of the soap opera cast, she starred in Stuart Beattie's war drama "Tomorrow, When the War Began" The actor has since had recurring parts in television series such as "Reign," "Please Like Me," and "APB," along with parts in the horror movies "All Cheerleaders Die" and "Fear, Inc." Stasey is a talented singer who has covered various songs but reportedly turned down the offer of a record deal with Tom Nichols to concentrate on her acting career.
Jessie T. Usher (Trevor)
Jessie T. Usher has appeared on television screens since a young age, landing his first acting gigs by appearing in a number of television commercials (via the Tribune). Just a few years later, he was cast in the CBS crime show "Without a Trace," portraying the character of Malcolm in a single episode. His career then began to take off in 2007 when he appeared in "Hannah Montana" and a number of other television shows in the next two years.
By the year 2010, he had established himself as a talented actor in the industry and had parts in "Beautiful Boy," "Inappropriate Comedy," and "When the Game Stands Tall." He went on to appear in the sequel "Independence Day: Resurgence" alongside the likes of Liam Hemsworth, Jeff Goldblum, and Maika Monroe. In 2019, he played John Shaft's son JJ Shaft in "Shaft" with Samuel L. Jackson and in the same year joined the cast of Amazon's "The Boys" as the speedster hero known as A-Train.
Rob Morgan (Robert Talley)
Rob Morgan is probably best known for his performance as Turk Barrett in Netflix's various Marvel television series. These include "Daredevil," "Jessica Jones," "Iron Fist," and "The Punisher," where he is largely depicted as a comic relief character who struggles to put together functional plans. This has meant he has been unable to put his own martial arts skills to good use in fight scenes.
The actor will also be familiar to fans of another hit Netflix franchise as he plays Officer Calvin Powell in "Stranger Things." He works alongside Hopper and Callahan to investigate the various mysterious events that take place in Hawkins and takes on a more significant role in the fourth season when he takes over as chief of police following Hopper's disappearance.
Morgan, who has also had high profile roles in "Mudbound" and "Don't Look Up" had received widespread praise for his acting ability and in 2020 was named by the New York Times as being among the 25 best actors since the year 2000.
Kal Penn (Dr. Morgan Desai)
Kal Penn has had something of a strange career. One of his earliest roles came in "Buffy the Vampire Slayer" and he went on to have roles in the likes of "Sabrina, the Teenage Witch" and "Spin City" in the early 2000s. In 2004, he first played Kumar Patel in "Harold & Kumar Go to White Castle" and went on to film two more entries in the franchise. He rose to further prominence after joining David Shore's medical drama "House" with Peter Jacobson and Olivia Wilde as one of the new members of the diagnostic team.
Penn, who worked under his birth name Kalpen Modi, departed "House" in 2010 after accepting a position at the White House under the Obama administration (via CNN). He worked as an associate director of the White House Office of Public Engagement and Intergovernmental Affairs and later joined the President's Committee on the Arts and Humanities, according to The Hill. Since 2012, he has returned to acting, with roles in everything from the Netflix series "Designated Survivor" to the action film "Once Upon a Time in Venice."
Robin Weigert (Dr. Madeline Northcott)
Robin Weigert was more well known for her work in the theater prior to 2001, with roles in productions such as "Twelfth Night" and "Noises Off" (via Broadway World). However, her fame rose following her casting in "Deadwood" as Calamity Jane. She appeared in 30 episodes of the critically acclaimed Western series and won praise for her performance, going on to be nominated for a Primetime Emmy Award and a Screen Actors Guild Award.
Before that, Weigert had guest appearances in the likes of "Law & Order" and "Without a Trace." in 2007, she played Lt. Karen Davis in 11 episodes of "Life" and had a small role in "Lost" as Rachel Carlson. Later, the actor portrayed a lawyer who works for the motorcycle group in "Sons of Anarchy" on FX and had a recurring part in "Marvel's Jessica Jones" along with "Big Little Lies." In terms of films, Weigert has appeared in "Pushing Dead," "Please Stand By," and "The Undying" and was widely praised for her performance in the 2013 release "Concussion."
Judy Reyes (Victoria Munoz)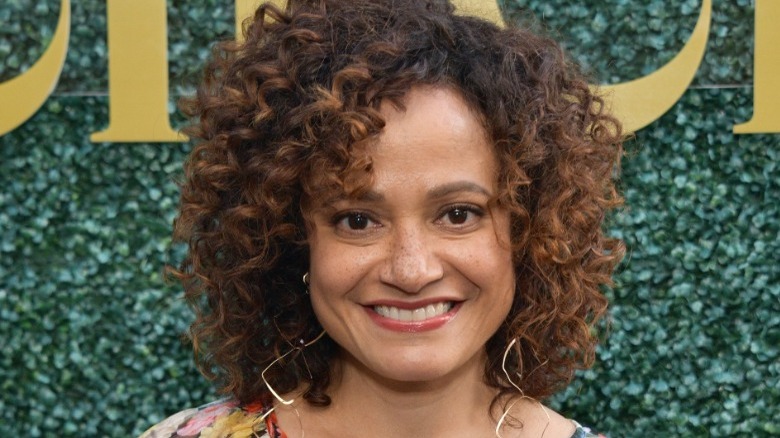 Araya Doheny/Getty Images
Having grown up in New York to parents who had immigrated from the Dominican Republic, Judy Reyes, who plays Victoria Munoz in "Smile," began performing on stage while studying at Hunter College. She made minor appearances in shows such as "Law & Order" and "NYPD Blue," as well as the hit HBO series "The Sopranos." However, she rose to attention as the nurse Carla Espinosa in NBC's comedy series "Scrubs," playing the character throughout the first eight seasons of the show.
Following her departure from the medical comedy, Reyes continued to appear in television series that included "Law & Order: Special Victims Unit," "Castle," and "iZombie" before having a recurring role in "Jane the Virgin." The actor was also a major character in "Devious Maids" as Zoila Diaz  — a  part that saw her nominated for a number of awards — and later was a member of the main cast of TNT's comedy-drama "Claws" across all four seasons of the show. With a limited film career, some highlights include "The Circle" with Tom Hanks and Emma Watson and the 2015 movie "My Name Is David."
Gillian Zinser (Holly)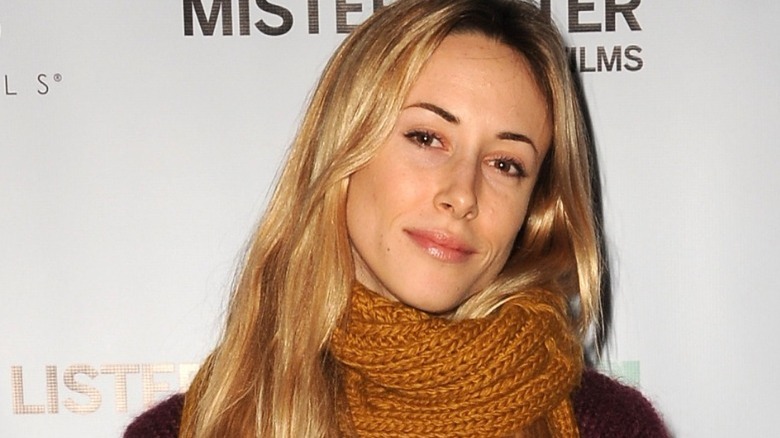 Ron Adar/Getty Images
In "Smile," Holly is portrayed by Gillian Zinser, an actor who is most famous for portraying the tomboyish surfer Ivy Sullivan in "90210." The character was introduced in the second season of the teen drama series and became a regular from Season 3 until her departure at the end of Season 4. Before that, Zinser made her television debut on "Cupid" and had a small part in "Cold Case." More recently, she has made guest appearances in "Stumptown" and "Blindspot."
Most of her work has been in movies since leaving "90210." Her first film role came in the Scott Glosserman-directed thriller "The Truth Below" but she has also been part of the cast of "Hallway," "Band Aid," and "The Guilty." Zinser also directed the short film "Bad Habits," which examined The Sisterhood of Perpetual Indulgence, a charity and protest group that has been involved in AIDS education and political activism (via Interview Magazine).
Dora Kiss (Mom)
According to We Audition, Dora Kiss is a Hungarian-born actor who was born in Budapest but now lives in Los Angeles. A member of the Actor's Gang Theatre Company under the leadership of Tim Robbins, she has performed in "We Live On" and a number of other productions (via Broadway World). Before working in acting, she was a professional tennis player with the highest career singles ranking of 1054 according to the International Tennis Federation.
On-screen, Kiss appeared in the short films "Eye Wide Open," "Monty," and "Faith Healer" from 210 to 2016 and then had a recurring role in the miniseries "Lifelike" as Indigo alongside a cast made up of Mashka Wolfe, Stephanie Lee, Ryan Burke, and Elias McCabe. The actor had a role in "Pam & Tommy" and will play "Theresa in the upcoming television series "The Idol." In 2021, she co-wrote and directed the short film "Bitter Hope."
Kevin Keppy (Nightmare Mom)
In "Smile," Kevin Keppy plays the character of Nightmare Mom. Actors Access lists Keppy as having experience across a range of acting experiences, ranging from theatrical performances to music videos. Standing at an impressive 6 feet and five inches, he has also found work as a creature actor and is no stranger to SFC makeup and prosthetics.
His first on-screen credit came in the 2009 film "The Sky Has Fallen" where he played various characters and creatures, which was followed up with the part of a zombie in "Redneck Carnage." By 2013, he had been cast as The Hollow One in the horror miniseries "Shadow Bound" and then portrayed Detective Horace in five episodes of the 2014 show "Devil's Circus."
Since then, he has appeared in "The Raven's Prey," "Strange Happenings," "Death Hair 2," and "Something in the Woods." Most recently, he played the Serpent King and the Witch in two different episodes of the Disney+ fantasy reality TV show "The Quest."
Nick Arapoglou (Greg)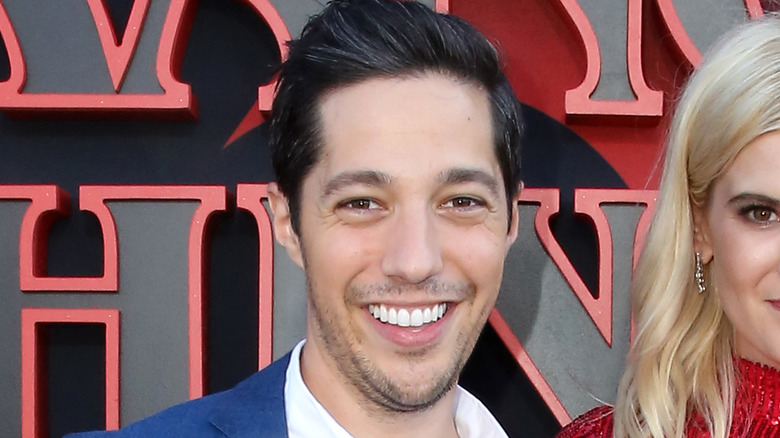 Rachel Murray/Getty Images
Nick Arapoglou, who plays Greg in "Smile," got his first acting credit came in 2009 when he appeared in the short film "Married Sex" as a frat guy. Two years later, he made a single appearance in the television series "Single Ladies" and followed that up with a role in "Let's Stay Together" in 2012. In total, he boasts more than two dozen roles since his debut, with credits ranging from "Saints & Sinners" to "Swamp Murders" and "The Vampire Diaries."
One of his most prominent roles was in the "Do Not Send Us Astray" episode of "The Walking Dead" on AMC, where he portrayed the medic of the Kingdom known as Kurt and was turned into a walker after being attacked by Tobin. In 2018, he portrayed Mark Lewis in the comedy-drama show "Lodge 49" across two episodes. More recently, Arapoglou has played Nurse Jason Brooks in Fox's medical drama "The Resident." He also briefly appeared as Corey in the HBO miniseries "The Staircase" and is set to appear in several episodes of Netflix's "Florida Man" later in 2022.
Sara Kapner (Stephanie)
Growing up on Long Island, New York, Sara Kapner portrays the character of Stephanie in "Smile." Broadway World confirms that Kapner has appeared in a number of theatrical productions, including Broadway plays such as "Hollywood Arms" and "The Band's Visit." According to Baltimore Jewish Living, the actor started her career aged just 11 and has appeared in commercials, television shows, and films since making her Broadway debut when she was 12 years old. Her official site reveals that the actor is also a co-founder of the Voiceover Workshop NYC, which helps aspiring actors find work and develop the skills for working as voice actors.
As a longtime stage actor, Kapner's screen credits are quite limited. She made her film debut in 2010 in "A Little Help" and voiced characters in "Grand Theft Auto V" and "Grand Theft Auto Online" in 2013. She went on to have roles in "Ascent to Hell," "The Murder Pact," and "Twisted Sisters" but is probably best known for playing Ana in "The Next Four Years" and Jessica in "Royally."
Matthew Lamb (Jackson)
At just 10 years of age, Matthew Lamb has a rather limited resume when it comes to television and films. According to his official website, he is a multi-talented performer who can dance, sing, and act. Hailing from Iowa City, Iowa, Lamb has performed with the Kansas City Ballet and the Miller Marley School of Dance and Voice. The Des Moines Register reported that the youngster has attended the Broadway Artists Alliance in New York, where he studied under the noted Broadway actor Rob McClure. He has also had roles in a number of local theater productions.
Along with his role in "Smile," Lamb had an uncredited appearance in "My Sweet Holiday" in 2020 but is probably best known for his role in "Only Murders in the Building." In the Hulu series, he played a younger version of Steve Martin's character for the episode "Framed," although he didn't get to meet the rest of the main cast due to the COVID-19 protocols being used at the time. He will also have a role in the upcoming film "Manodrome" with Ethan Suplee, Adrien Brody, and Jesse Eisenberg.