David Bowie's Spongebob Fandom Landed Him In The Sound Booth And On Broadway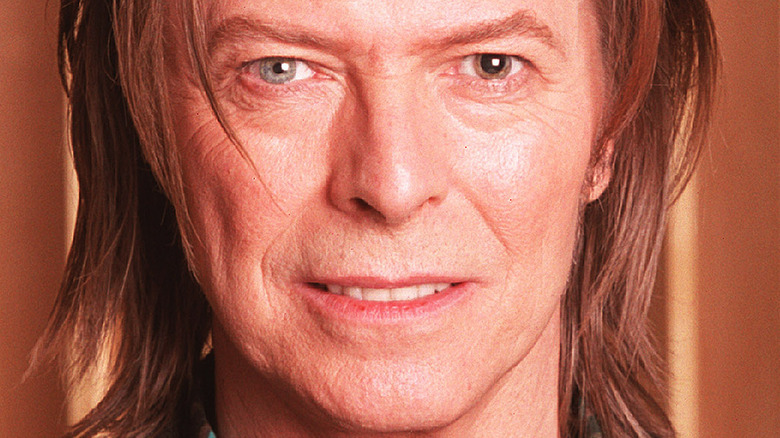 Dave Hogan/Getty Images
Since its debut in 1999, "Spongebob Squarepants" has grown into one of the most recognizable and beloved cartoons in recent memory. The show, which follows the misadventures of a happy-go-lucky undersea sponge (Tom Kenny) and his grab bag of colorful companions in the fictitious underwater city of Bikini Bottom, quickly became Nickelodeon's flagship series, with over 300 episodes and 13 seasons. Although the show's late creator, Stephen Hillenburg, was largely against the idea of celebrity cameos, "Spongebob" would see its fair share of famous voices make appearances over the years, from Johnny Depp to Scarlett Johansson. Amongst the endless sea of quirky cameos encountered by Spongebob and friends, one of the most memorable was when the cast met with the eccentric rock star, David Bowie, in the Season 5 episode, "Atlantis SquarePantis."
The special episode sees Spongebob and friends venture to the lost city of Atlantis after Spongebob and Patrick (Bill Fagerbakke) reunite the two halves of an ancient medallion. Upon reaching the city, they encounter Atlantis' king, Lord Royal Highness, voiced by Bowie, and cause chaos as they explore the lush location. While it may seem like an odd place to find the famed British singer-songwriter, Bowie's enthusiasm for the show is one to match any cartoon fan. And even after appearing in the show, Bowie's connection with "Spongebob" would continue on in some surprising ways. 
David Bowie has followed Spongebob on both screen and stage
David Bowie's casting as Lord Royal Highness in "Atlantis Squarepantis" may seem out of the blue, but the artist was a big fan of the show. After getting cast in the special, David Bowie announced on his blog, "It's happened. At last. I've hit the Holy Grail of animation gigs. Yesterday I got to be a character on.... tan-tara... SpongeBob SquarePants. Oh Yeah!! We, the family, are thrilled. Nothing else need happen this year, well, this week anyway." Despite the colorful array of musical numbers featured in the episode, Bowie never sings nor are any of his songs featured. The show instead homages Bowie by giving Lord Royal Highness the singer's trademark differing eye colors. 
Although he did not sing in his episode, Bowie's musical talents would make it into the franchise in another way. After the artist's death in early 2016, the "Spongebob" team would pay their respect to Bowie (via Facebook) and an altered version of his 1995 song "No Control" would be featured in "Spongebob: The Broadway Musical." Debuting in June 2016 at Chicago's Oriental Theater (via Variety), the show featured songs from various artists including Panic! at the Disco, John Legend, There Might Be Giants, and more. The musical garnered multiple Tony nominations and ran on Broadway until 2018 (via Playbill). It seems that Bowie's talents and the colorful world of "Spongebob Squarepants" were two creative forces that audiences didn't know they needed, but nevertheless complement each other perfectly.