Deadliest Catch Narrator Mike Rowe Argues The Show Isn't Really About Fishing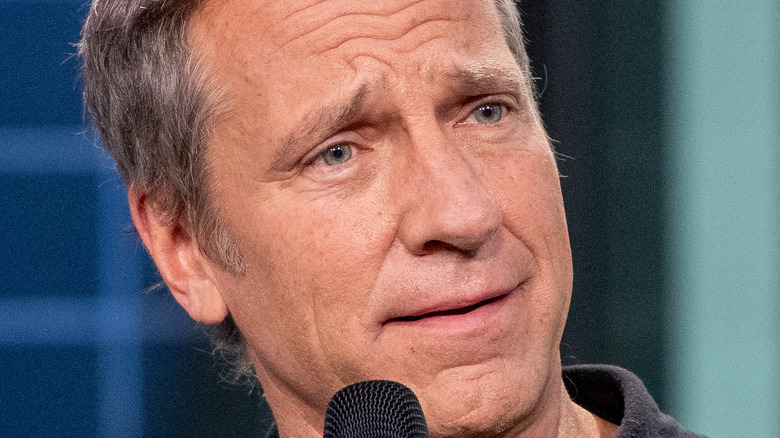 Roy Rochlin/Getty Images
When people hear the name "Deadliest Catch," their first thought usually goes to a television show about fishing. With a name that has "catch" in the title, why wouldn't you? Well, narrator and Emmy-winning television host Mike Rowe has a different idea about the nature of the hit Discovery show that has been on the air for 18 seasons.
Rowe realizes the series takes place on a handful of crab fishing boats in the Bearing Sea while massive and freezing waves pummel the ships. But he thinks of "Deadliest Catch" as more of a show about everyday life. "It's really very mundane in a way, the common everyday challenges that these guys deal with," Rowe told GamerStuff. Mundane may be a slight understatement — especially when the dangerous conditions of "Deadliest Catch" can send a man overboard. However, Rowe dug deeper into how the men working on the ships in the series deal with the same things people watching the show might be.
Everyday life on the Bearing Sea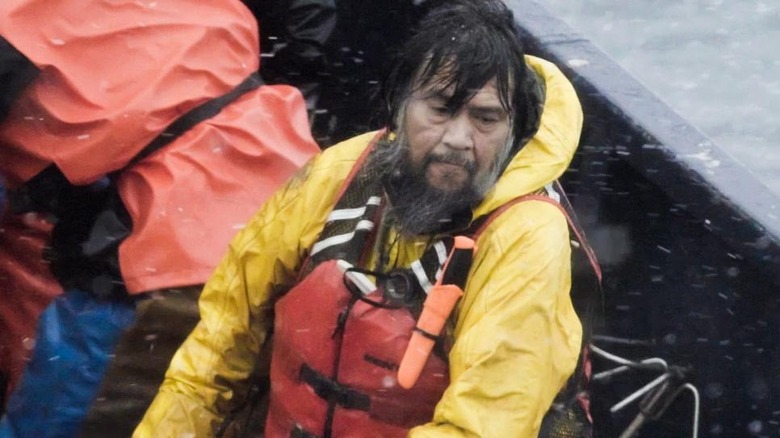 Discovery Channel
Even though the main premise of "Deadliest Catch" is following captains and their crew as they fish for Alaskan king crab on the Bearing Sea, Rowe points out that the hunt for crab is not unlike your average day job. "You see guys struggling with the same sort of thing we all struggle with," he continued. "Trying to raise your kids, trying to make the payments, trying to get somewhere on time, trying to beat a deadline, trying to deal with a situation at home long distance."
All of that tracks with what we see on-screen in the series. The captains and crew on the show deal with realistic daily struggles. This part of the show is illustrated best by the Harris family — a father trying to raise his two sons while he captains a ship where they both work. Phil Harris — who later died from a stroke and heart failure during the show — would have confrontations with his sons on multiple occasions, including when he caught one of them stealing his pain killers. Even though he had a stressed relationship with his kids, his sons still honored him.
Rowe tells the stories of people, not professions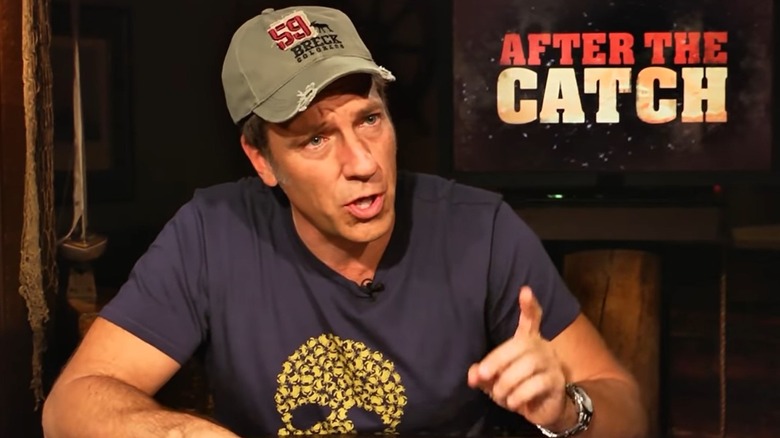 Discovery Channel
If you've seen other shows hosted by Rowe, you'll probably realize that he doesn't tell stories about people's jobs. He tells stories about people through their jobs. You can see this regularly on Rowe's "Dirty Jobs" as he highlights the people who work in professions that are hard and overlooked. Rowe not only highlights the jobs on each episode of the show but the people that do the work. He's done this approach with several shows, including "American Chopper," which on the surface is a show about custom motorcycles, but also the story of a father and son whose feud caused Discovery channel to cancel the series.
While he barely appears in later seasons of "Deadliest Catch," Rowe worked alongside season 1's fishermen. Rowe pointed out that he was "removed" from the show after they shot the first season because the series was better when it focused on the captain and crew without Rowe hosting. Rowe concludes his chat with GamerStuff with a poignant point: "It's that day-to-day stuff [while] there is a 40-foot wall of water coming at you, or tens of thousands of dollars coming over the rail, or a friend dying... The stakes are high, but in the end, it is just life."