Deadliest Catch Narrator Mike Rowe Was Completely Freaked Out By His First On-Board Experience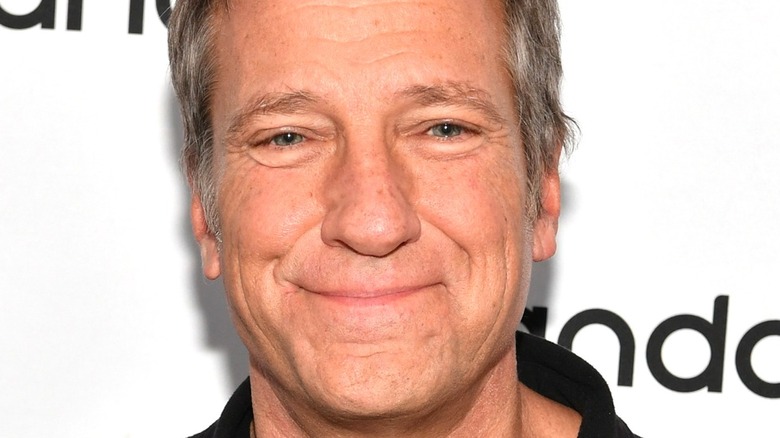 Slaven Vlasic/Getty Images
"Deadliest Catch" is Discovery's hit reality show that follows various commercial crab fishing crews who brave the harsh Bering Sea. The show doesn't hold back from showing just how terrifying and tough the job of crab fishing can get. Anyone on board the fishing vessels is not in for the easiest time, and that even goes for the show's camera team. However, the unflinching look at this profession has kept fans around during the show's 18-season run. And all along the way, fans have become accustomed to hearing one man's voice narrate the high sea ventures featured on the show.
Mike Rowe is the narrator for "Deadliest Catch," at least for those who don't watch the show in the U.K. But his voice is familiar to any viewer constantly tuned into Discovery's other well-known shows. Rowe's narration also includes "American Chopper," "Airplane Repo," and "Shark Week." The narrator and host is such a staple of "Deadliest Catch" that we've even seen him chop it up with the show's captains on the supplemental series "After The Catch." Yet, believe it or not, Rowe has gone beyond just hanging out with captains in the studio. The narrator once joined a crew for a complete crab-fishing experience, which completely freaked him out.
Rowe's first time with a crew informed him of their dangerous profession
While keeping mum about the specific crew he joined, Mike Rowe noted in an interview for GamerLive.TV that his first onboard experience had him working alongside everyone with the gigantic crab pots. The constant onset of humongous waves made an already tricky task dangerous. And the situation quickly informed Rowe of the brutal working conditions for the crew. If he was hoping for any comforting words from the captain, it would have been better if Rowe sought that encouragement elsewhere. Instead, he said in the interview that the captain's words only made him extremely more careful of his time at sea.
As Rowe recalled in the interview, "He said, 'Son, I'm the captain of a crab boat. My job's not to get you home alive. My job is to get you home rich. You want to go home in one piece? That's on you.'"
It turns out that in commercial crab fishing, everyone pulls their weight when it comes to personal safety, even in the most treacherous waters. No doubt Rowe would have had to constantly put himself on high alert if his potential "Deadliest Catch" hosting gig hadn't transformed into narrating. He later added in the same interview that test footage for what would eventually become "Deadliest Catch" ultimately revealed that he was better suited for recounting the show's high sea adventures from the confines of a studio instead of hosting at sea. He's not exactly devastated about the change. Rowe once humorously mentioned on a Facebook post that he's grateful to skip out on joining the captains and crews in the Bering Straight.
Rowe almost hosted a Comedy Central show
Besides keeping Mike Rowe safely on shore, the decision to have him narrate "Deadliest Catch" afforded him another worthwhile opportunity. His other most well-known Discovery Channel gig is hosting "Dirty Jobs," a show where he works some of the strangest and toughest professions. It's an eye-opening premise, spotlighting numerous jobs many would probably never consider, especially when a task lives up to the show's title. After all, no one is exactly fighting to get in line to become a sludge recycler or a sewer inspector. In addition to each episode's intriguing job subject, Rowe's welcome humor is on hand. However, if things had turned out differently for Rowe, he would have given his comedic touch elsewhere.
During a fan response on his website, Rowe talked about how he auditioned twice for Comedy Central's "The Daily Show." And according to him, he came close to nabbing the hosting duties both times. The first, he lost to Craig Kilborn, which must have been a hard rejection to take. But his details on his second audition are heartbreaking to hear. Rowe noted that he seemed for sure to get it after Kilborn left unless Comedy Central at the time was able to afford a bigger name. Well, as we all know, Comedy Central found some extra bills under the couch and was able to get Jon Stewart after Kilborn's departure. 
It's impossible to picture "The Daily Show" without Stewart's memorable run. Still, it would have been interesting to witness Rowe behind the desk.