Why Cheryl Ladd Felt Indescribable Pressure When Joining Charlie's Angels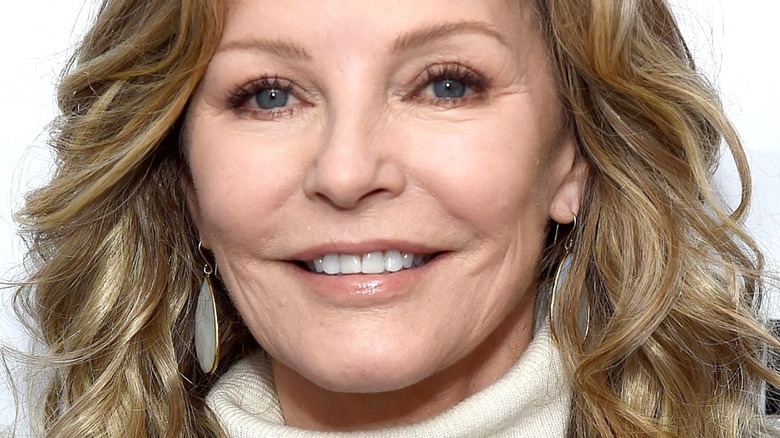 Jamie Mccarthy/Getty
In 1976, TV experienced a new phenomenon, known as "Charlie's Angels." The show follows the exploits of an unseen Charlie Townsend (John Forsythe) who leads a band of three women detectives, known as the "Angels," who go on a variety of death-defying adventures. Created by Ivan Goff and Ben Roberts, the series was a major hit for ABC and ran for five seasons from 1976 to 1981 with 110 episodes (via IMDb). Its success would help spawn "Charlie's Angels" into a budding media franchise with a TV reboot in 2011 and three feature films released in 2000, 2003, and 2019. 
"Charlie's Angels" made a habit out of replacing cast members throughout its run — Kate Jackson, who portrayed Sabrina Duncan, was replaced by Shelley Hack and eventually Tanya Roberts. But the first of the show's cast members to be replaced was Farrah Fawcett, who played Jill Munroe in the show's first season. After wanting to depart from the show to pursue a film career, Fawcett became locked in a heated battle with ABC over her contract. Following the dispute, which she eventually won, Fawcett would go on to only make a handful of guest appearances from then on (via ABC News). Taking her place in the series was Cheryl Ladd who was cast as Jill's sister, Kris Munroe. Stepping into such a successful show in such a major role is not something most could do easily, so how did Ladd deal with the pressure?
Ladd took a lot of convincing to be on the show
In an interview with Fox News, Cheryl Ladd talks about how she felt stepping into Farah Fawcett's stylish shoes on "Charlie's Angels." "Well, that was pretty daunting when Aaron [Spelling] asked me to do it the first time," she confessed. "I said, 'No thank you.' ... So he called me in and he said, 'Why don't you want to do it...?' And I said, 'Well, first of all, what would I play? Because nobody can walk in there and try to be Farrah Fawcett.' Nobody can do that." Ladd needed some more convincing to take on the Emmy-nominated show, but when Spelling recommended that she take on a more comedic approach, the two began imagining her character as a rookie-type, with Ladd rationalizing that " ... Americans really pull for the underdog ... And then Aaron's genius was when he said, 'Well, why can't you be Jill's little sister then you're part of the family already?'"
Ladd finally got the opportunity to act alongside Fawcett in Season 3 of the show, thanks to the original Angel's series of guest appearances. The memories Ladd shared with Fawcett, who passed away in 2009, were always positive. "She was really happy to see the girls," Ladd said in an interview with TV Insider. "She said, 'I'm here, and I'm going to do the best work I can and make this work.'"