Why Marienne From You Season 4 Looks So Familiar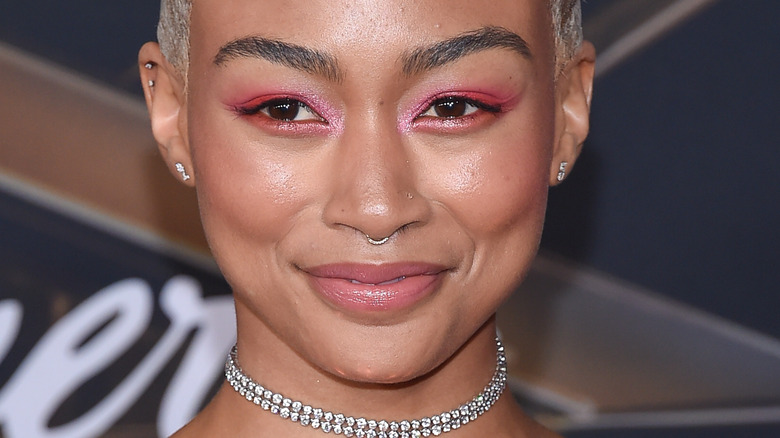 DFree/Shutterstock
With Netflix announcing the premiere date of Season 4 of "You," fans were treated to yet another reboot of Joe Goldberg's (Penn Badgley) character, this time an academic and lecturer living in London. Though Joe claims that his extracurricular activities are no longer personal, fans weren't surprised to find that Marienne Bellamy will be appearing in this upcoming season.
In Season 3, Joe begins another love affair with Marienne, a librarian and mother whose checkered past has her fighting a custody battle against her ex-partner Ryan Goodwin (Scott Michael Foster). Unsurprisingly, Marienne becomes Joe's latest obsession, for which Joe murders Ryan to help solve her problems. The last we saw of Marienne was in the season finale of episode 3 during a confrontation between her and Love Quinn (Victoria Pedretti), Joe's murderous ex-wife. After informing Marienne that Joe was responsible for Ryan's death and his particularly dangerous proclivities, Love advises Marienne to flee to a place where she can't be found. As expected, Joe pursues Marienne.
With "You" returning to Netflix in 2023, fans are undoubtedly anxious to see what exactly became of Joe's search. However, we need not look too far to learn more about the actor who plays Marienne, Tati Gabrielle, whose explosive career will have you pointing at the screen in recognition.
The Bay Area native (via Elite Daily) first began her acting career in the 2014 short "To Stay the Sword," going by the name Tatiana Hobson. Under the Hobson stage name, she starred in another short film the following year entitled "Tatterdemalion" and the following year, a TV film called "Just Jenna."
You may recognize Tati Gabrielle from The 100
Once Gabrielle started booking larger roles in bigger productions, she started to use her real name instead of her stage name. In 2016, she landed a one-off role as a clown named Wackie Jackie in the Disney Channel spy comedy led by Zendaya, "K.C. Undercover." In that same year, Gabrielle followed "K.C. Undercover" with a small role on Nickelodeon's superhero sitcom "The Thundermans," in which she plays Hacksaw, the daughter of thief and owner of Games of Scones coffee shop, Chainsaw.
However, fans would likely recognize Gabrielle from her breakout performance as the recurring character Gaia in the sci-fi CW series "The 100." Her long stint on the show began in Season 4 of the series in the role of Flamekeeper, the guardian of a precious A.I. known as the Flame. As part of a cult known as the Grounders, the Flame held the collective memories of all of their previous leaders. Gabrielle played Gaia from Season 4 through to the series finale in Season 7, in which her character is one of the few who remain alongside series protagonist Clarke Griffin (Eliza Taylor) after the Transcendence.
While playing Gaia, Gabrielle continued keeping busy with a one-off role in an anthology series called "Dimension 404" and a four-episode stint in Season Two of the Hulu survival horror series "Freakish." The show centers on a group of high school students who must band to survive a zombie infestation following a nearby chemical plant explosion. Gabrielle plays Birdie, a teenager who was a part of an experiment before being rescued.
From a witchy Netflix show to the big screen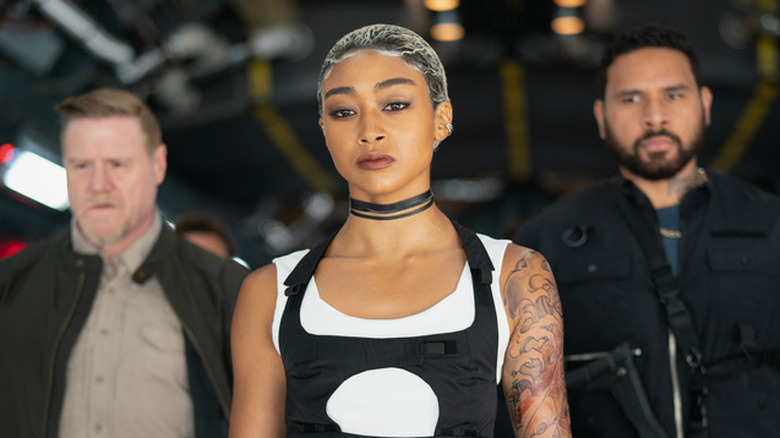 Clay Enos/Sony Pictures
Starting in 2018, Gabrielle would end up doing double duty as part of two hit shows. While she continued recurring on "The 100," Gabrielle landed the role of cruel and arrogant Prudence Blackwood in Netflix's "Chilling Adventures of Sabrina." As Prudence, Gabrielle played witchy-mean girl turned frenemy to the series protagonist Sabrina Spellman (Kiernan Shipka). In the show, Prudence begins as a witch desperately seeking the approval of her father Faustus Blackwood (Richard Coyle), but after he attempts to destroy her coven, Prudence sets her sights on murdering her father, demonstrating how cruel she can be.
While playing in both highly popular series, Gabrielle made time for her live-action feature-length debut in Sony's "Uncharted," the 2022 film adaptation of the video game series of the same name. There, Gabrielle plays the deadly mercenary Jo Braddock, who, under the employment of Santiago Moncada (Antonio Banderas), works against Nathan Drake (Tom Holland) and Victor Sullivan (Mark Wahlberg) to claim Magellan's lost treasure. In a triumphant twist, Braddock betrays Moncada and seeks the legendary riches for herself.
Alongside her ongoing role in Disney's "The Owl House" and her reappearance in the upcoming Season 4 of "You," Gabrielle is going to remain ever present on our TV and streaming sites. Considering her massive role in the blockbuster "Uncharted," we're sure we'll probably end up seeing her on the big screen again and again.