Spirited - What We Know So Far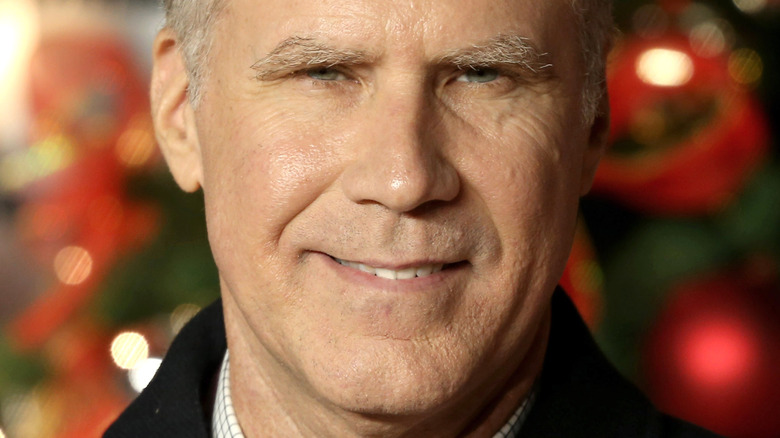 Fred Duval/Shutterstock
Believe it or not, the 2022 holiday season is almost upon us, and perhaps by some eager estimations, it's already basically here. That means another slate of holiday films and television shows, which has proven to be one of the most dependable genres of all. Some Christmas movies always make us cry, while others aim for the funny bone. And it seems safe to assume that the upcoming project "Spirited" will be in the latter category — at least if the personnel involved aren't preparing to throw us one of the most unexpected curve balls in recent memory.
"Spirited" is a new take on one of the most adapted stories of all time, and one that has become a certified Christmas classic in more than one form: "A Christmas Carol" by Charles Dickens. This isn't even the first time the story in question has gotten an irreverent, modern-day comedy adaptation (think "Scrooged" starring Bill Murray). And it gives comedy fans something to look forward to this holiday season.
What is the plot of Spirited?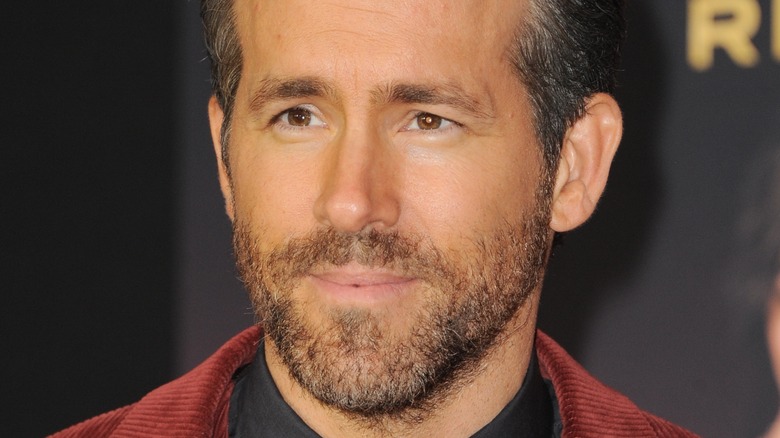 Tinseltown/Shutterstock
This question verges on redundancy, since "A Christmas Carol" by Charles Dickens is easily among the most familiar plots in western literature. But even if you've never cracked open a page of one of the most famous Christmas stories ever written, you must still be familiar with the basic plot, thanks to the myriad of screen versions that have been made over the years. 
Basically, it goes like this: grumpy, miserly Ebeneezer Scrooge (or some surrogate thereof) is taught the true meaning of Christmas by three specters that haunt his dreams: the Ghosts of Christmases Past, Present, and Future. Together they show him that the holiday season is a time of charity and kindness, and the old skinflint ends up becoming a softie in the final scene, giving his clerk Bob Cratchit a raise and taking the ailing Tiny Tim under his wing. 
As a 2022 musical comedy, you can expect "Spirited" to put some new twists on that familiar story. But the basic idea will likely remain unchanged.
Who is starring in Spirited?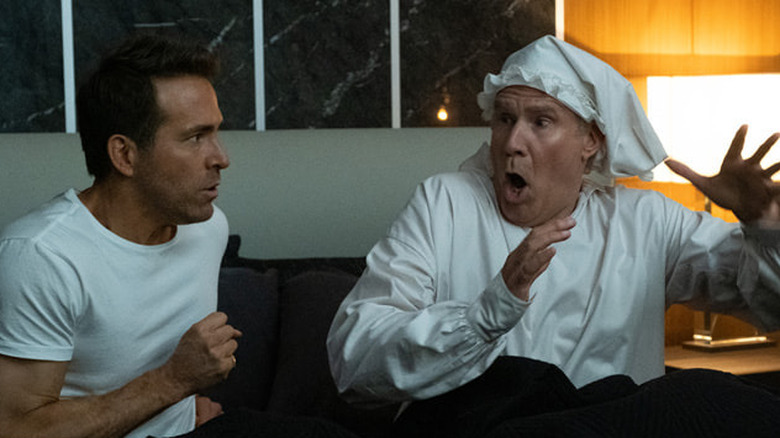 Apple TV+
The Hollywood Reporter has the news that "Spirited" is an upcoming "Christmas Carol" variant that stars Ryan Reynolds in the Ebeneezer Scrooge part, while Will Ferrell will appear as the Ghost of Christmas Present. Octavia Spencer is also in the cast in an unspecified role, while the rest of the cast is rounded out by names like Patrick Page, Sunita Mani, Loren Woods, Joe Tippett, Marlow Barkley, and Jen Tullock.
With Reynolds and Ferrell in two of the main roles, it's safe to assume this will be an irreverent take on the Ebeneezer Scrooge story, possibly in the vein of "Scrooged." And a quick look at the project's IMDb page reveals another charming tidbit that will keep this cast on their toes: the movie is purportedly a "musical version of Charles Dickens's story of a miserly misanthrope who is taken on a magical journey" — meaning we could be hearing Reynolds and Ferrell showing off their pipes very soon.
What's the release date of Spirited?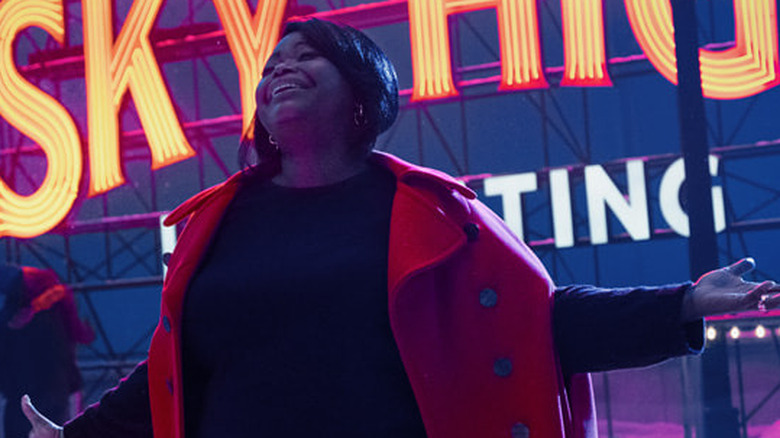 Apple TV+
"Spirited" is an Apple TV+ production, and it's set to be one of the platform's higher profile theatrical releases before it heads to streaming. It's set to hit select theaters on November 11, 2022, and then it will be available to stream on Apple TV+ a week later on November 18.
As The Hollywood Reporter points out, that could put a damper on the film's theatrical performance, since it can both limit the audience interested in paying a premium to watch a movie they'll be able to watch basically for free a week later, and limit the exhibitors interested in carrying such a film. But "Spirited" will have counter-programming potential as a family-friendly comedy up against the hotly anticipated "Black Panther" sequel "Black Panther: Wakanda Forever," which is also opening in theaters on November 11.
In any case, the movie is scheduled to come out right before Thanksgiving and will act as a signal of sorts that the holiday season has truly begun in earnest.
Who is directing Spirited?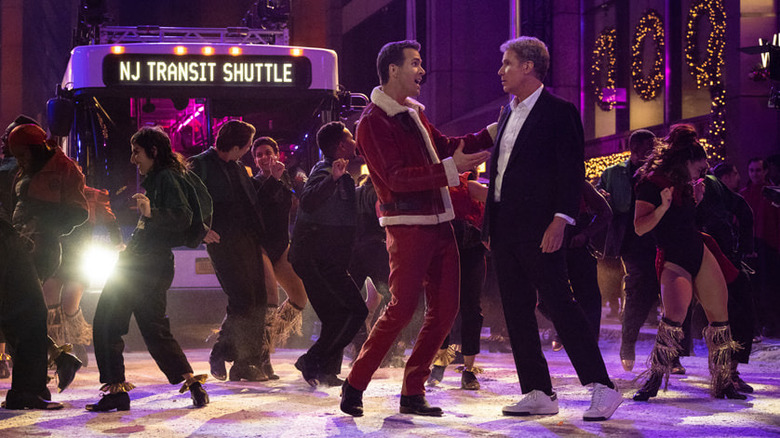 The creative personnel behind the camera on "Spirited" also demonstrates the likelihood of the project containing some irreverent comedy. Co-directed by comedy vets Sean Anders and John Morris, who have worked with Will Ferrell on the "Daddy's Home" movies and a host of other comedies (both for families and otherwise), the film was written by the pair as well. And of course, Charles Dickens deserves plenty of credit for his original story, which has been turned into movies, TV shows, plays, and everything else under the sun more times than anyone can count. But that's what makes it a classic, and a dependable choice for a holiday movie.
With comedy pros Anders and Morris behind the camera, this version of the Scrooge story should hopefully prove a little more palatable to those who might have a low tolerance for the unalloyed holiday cheer that's present in some other versions of the material.
What will Spirited be rated?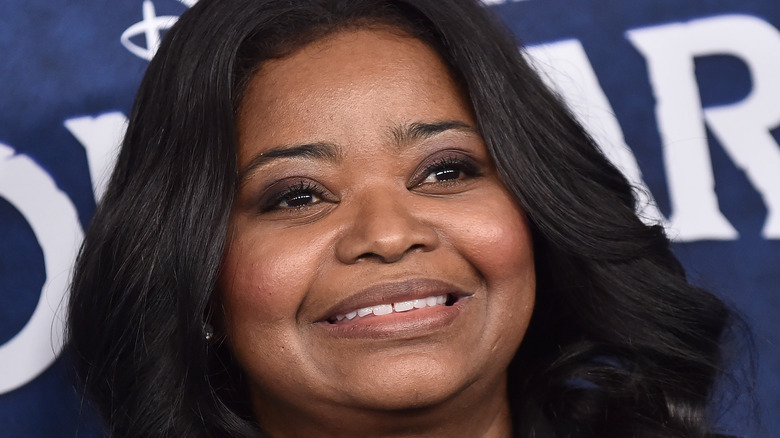 DFree/Shutterstock
Billed as a family musical comedy, you can safely assume that "Spirited" will not be in the raunchy vein of some of the stars' other work, although a holiday retelling of "A Christmas Carol" featuring Ron Burgundy and Deadpool does have a certain appeal. The film's IMDb listing has it rated PG-13, which means fans can look forward to some mildly adult humor while still feeling comfortable about watching with their families. 
The listing doesn't say how the PG-13 rating was arrived upon, but some mild language and suggestive humor are to be expected in a project of this vein. So if you were worried about this particular holiday film not being fit for older children, those worries appear to be unwarranted, at least for now. Of course, there's always "The Muppet Christmas Carol" on Disney+ if PG-13 is too rich for your family's blood this Christmas.