Why Andor's Genevieve O'Reilly Still Isn't Ready To Claim Mon Mothma After Portraying Her Three Times - Exclusive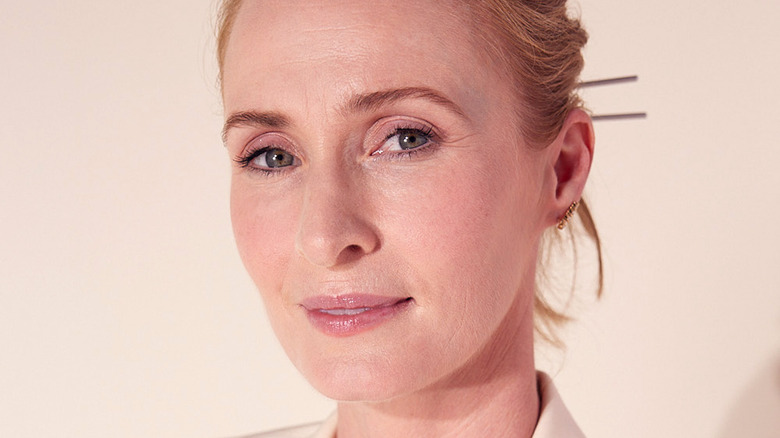 Corey Nickols/Getty Images
Very few actors get the opportunity to reprise a role during their careers, much less play that role in three different live-action projects and voice it twice in the animated realm. But that's the unique blessing Genevieve O'Reilly has enjoyed in playing Rebel leader Mon Mothma for the past 17 years, especially after she was asked by writer-director Tony Gilroy to play the revered "Star Wars" character once again in the new Disney+ series "Andor."
"Andor" is the prequel series to the 2016 film blockbuster "Rogue One: A Star Wars Story," which followed a group of Rebels including Jyn Erso (Felicity Jones) and Cassian Andor (Diego Luna), who sacrificed their lives to get plans that showed a weakness in the Empire's Death Star structure to Princess Leia. "Rogue One" also featured O'Reilly in her second live-action turn as Mon Mothma, whom she first played for "Star Wars" creator George Lucas in "Episode III – Revenge of the Sith" in 2005. In addition to her big-screen turns as the character, O'Reilly also voiced Mon Mothma in the 2016 animated miniseries "Star Wars: Go Rogue" and the animated series "Star Wars: Rebels" the following year.
Set five years before the events of "Rogue One" as the formation of the Rebellion begins, "Andor" marks the first time O'Reilly has played Mon Mothma since "Rebels." While the actor has embodied the character for nearly two decades, she's not quite willing yet to call Mon Mothma her own since Caroline Blakiston originated her in 1983's "Star Wars: Episode VI – Return of the Jedi" in 1983.
O'Reilly says Blakiston's turn as Mon Mothma 'is to be respected'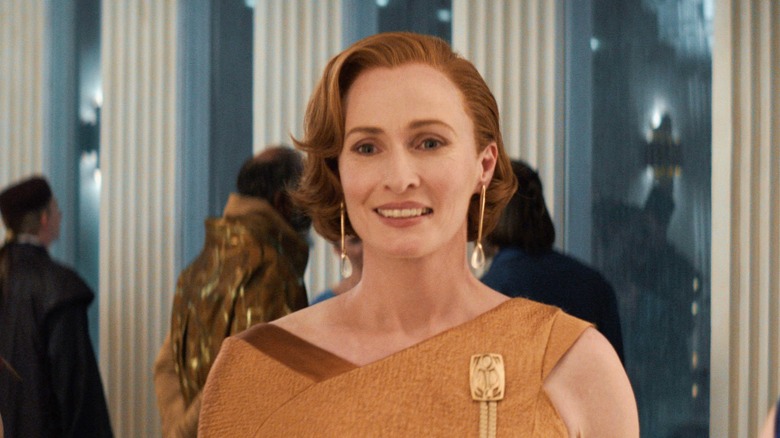 Lucasfilm/Disney+
Caroline Blakiston played Mon Mothma in a supporting role in "Return of the Jedi," in which she prepared Rebel forces for their attack on Death Star II. Displaying a commanding screen presence, Blakiston's performance highlights one of the most memorable scenes in the film. As such, Genevieve O'Reilly is excited to expand the story of the venerable Rebel leader in "Andor" with her predecessor in mind.
"I will always respect the work that was done by Caroline Blakiston and George Lucas to originate [Mon Mothma]," O'Reilly told Looper in an exclusive interview. "They created her back in 1983 in 'Return of the Jedi.' They wrote her and created her as a female leader of a Rebel Alliance — I think that is to be respected. I always am grateful for the opportunity to continue to explore her. I do feel like I know her now, and I'm grateful to flesh her out in a way that feels that the character is deserving of that. I'm thrilled that I get the opportunity to do that."
O'Reilly said her introduction to "Star Wars" in her youth actually came with "Return of the Jedi," and she'll never forget the impression the late Carrie Fisher had on her as a young girl in the U.K. "I was a child of the 1980s, so 'Star Wars' is part of my pop-cultural references for everything ... I remember Carrie Fisher as Princess Leia with the gun on her hip in those cargo pants, fighting," O'Reilly said. "She was an extraordinary role model for me as a kid growing up. It was wonderful to see a woman like that ... It's part of my storytelling history as much as anyone who has grown up since George Lucas created 'Star Wars.'"
"Andor" is streaming exclusively on Disney+, with new episodes premiering every Wednesday through November 23.