What Is The Song In Netflix's Enola Holmes 2 Trailer?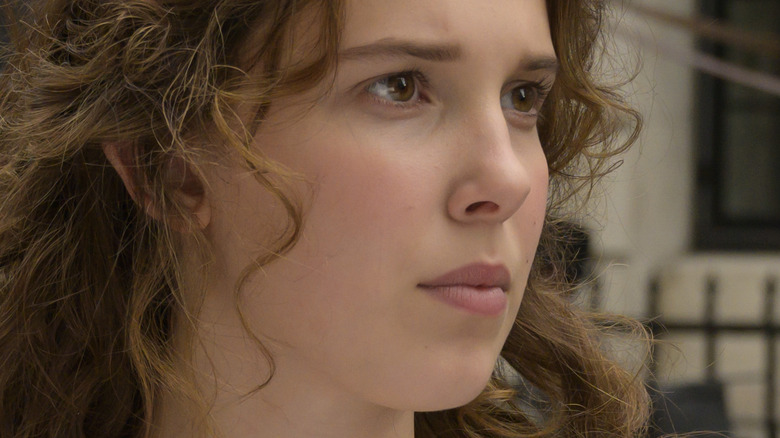 Alex Bailey/Legendary/Netflix
One of the most pleasant surprises to have come out of the Netflix original movie pipeline so far is "Enola Holmes." Directed by Harry Bradbeer (who won a Primetime Emmy for his direction of "Fleabag," per IMDb) and based on the young adult detective novel series "The Enola Holmes Mysteries" by Nancy Springer, the zippy mystery-comedy film won over a huge fanbase not long after it arrived unassumingly to the streaming service in September 2020. Its story of the brilliant yet underestimated younger sister of Sherlock (Henry Cavill) and Mycroft Holmes (Sam Claflin) and her efforts to track down her own missing mother, Eudoria (Helena Bonham Carter), proved a fantastic showcase for star Millie Bobby Brown's charisma, agility, and unexpectedly sharp comedic timing.
Speculation about a possible sequel began pretty much as soon as the first film rolled around. It wasn't much of a surprise to anyone when, in May 2021, Netflix officially announced "Enola Holmes 2." Now, more than a year later, we're finally on the cusp of the film's November 4 release date, and Netflix has already cued up the hype machine. The official trailer for "Enola Holmes 2" was unveiled as part of the 2022 edition of the yearly "Tudum" global fan event, promising a new helping of mystery as fascinating and exciting as the first one. To translate the film's uproarious spirit, a sassy rock song was used as part of the trailer's soundtrack. Here's what that song was.
The trailer uses Mallory Merk's cover of a Jet classic
The official trailer for Netflix's "Enola Holmes 2" matches up rapid-fire stomp-clap drums and cheeky electric guitar lines to images of Enola defying the squareness of Victorian English society — an amusingly anachronistic choice that befits the franchise's sense of self-aware fun. Those drums and guitars come from the song used in the trailer's soundtrack: "Are You Gonna Be My Girl" by Mallory Merk, covering Jet.
Written by Nic Cester and Cameron Muncey, "Are You Gonna Be My Girl" was initially released in 2003 as the lead single from "Get Born," the debut studio album by Jet. With its irresistibly crunchy garage rock sound and point-blank lyrics about pining for a knockout gal with "big black boots" and "long brown hair," the song became a massive hit both in the band's home nation of Australia and around the world. In the U.S. alone, it hit #29 on the Billboard Hot 100 (via Billboard), becoming Jet's highest-charting song stateside, in addition to scoring a 3th-place peak on the Alternative Airplay chart (via Billboard). In fact, "Are You Gonna Be My Girl" cast a long enough shadow on pop culture to be chosen as the 38th most Australian song of all time in a 2018 countdown by Aussie radio network Triple M titled "The Ozzest 100" (via Music Feeds).
As massive hits do, "Are You Gonna Be My Girl" then went on to be covered several times — including this version by American singer Mallory Merk.
Mallory Merk is an up-and-coming alternative R&B singer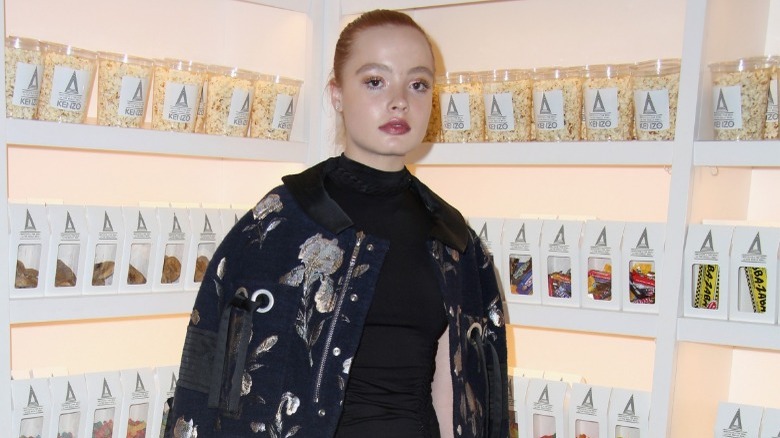 Sonia Moskowitz/Getty
The popularity of "Are You Gonna Be My Girl" resulted in it being covered by several artists throughout the years, including a version by vintage musical collective Scott Bradlee's Postmodern Jukebox and an appearance as a musical number on "Zoey's Extraordinary Playlist," where it was sung by Max (Skylar Astin) and Simon (John Clarence Stewart). The version that can be heard in the trailer for "Enola Holmes 2" is by Mallory Merk, an up-and-coming American singer and songwriter.
Born in Louisiana and raised in New York City, Merk started out as a model at 14 years old, working on campaigns for Kanye West's Yeezy and Rihanna's Fenty Beauty. From 2016 onward, she began to focus on her musical career, serving up both covers and original songs perched between the realms of alternative R&B and soft guitar pop. Her debut EP, "Strangers," featuring seven original songs all written or co-written by her, was released in October 2020 by Field Trip Records; it was followed up by another seven-track EP, "Thorns," in August 2022, with Merk now signed to Warner Records in addition to Field Trip. Merk's wistful, dream-pop-skirting work as a musical auteur doesn't really have that much in common with the incursion into hard rock of her "Are You Gonna Be My Girl" cover, which was released as a single in July 2021 — but if you dig her voice, there's plenty more to explore in her catalog.