The Trailer For Enola Holmes 2 Promises Familiar Characters And A Fresh Mystery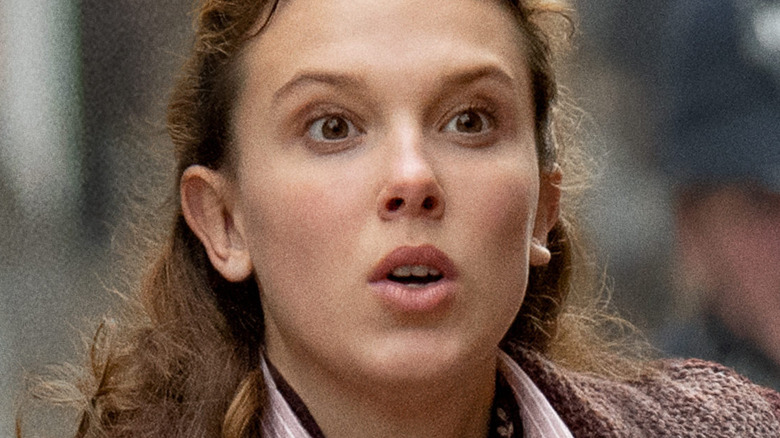 Courtesy of Netflix
One of the most exciting moments of the 2022 TUDUM event was the appearance of Millie Bobby Brown, who appeared to promote her newest flick, "Enola Holmes 2." The sequel is a follow-up to the very successful 2020 film, which features Brown in the titular role. Returning alongside the "Stranger Things" star is Henry Cavill, reprising his role as Enola's older brother, Sherlock Holmes. Helena Bonham Carter is also back as the Holmes matriarch Eudoria. The new flick will also feature David Thewlis, Louis Partridge, Susan Wokoma, Adeel Akhtar, and Sharon Duncan-Brewster.
The first trailer for "Enola Holmes 2" promises the endearing nature of the first, and another mystery fans will be trying to solve right alongside the new sleuth. Enola's tenacity is as prevalent as ever, as is Sherlock's brooding charm in the brand new Netflix teaser, which will have you guessing whodunit by the end of the short clip.
Enola Holmes has opened up her own shop
As seen in the trailer, "Enola Holmes 2" will follow the titular character as she opens her own detective agency. Enola will learn how complicated this process is, especially because she's a woman. "Resigned to accepting the cold realities of adulthood, she is about to close shop when a penniless matchstick girl offers Enola her first official job: to find her missing sister," the official synopsis reads. "But this case proves to be far more puzzling than expected, as Enola is thrown into a dangerous new world — from London's sinister factories and colorful music halls to the highest echelons of society and 221B Baker Street itself."
Enola will enlist the help of her brother Sherlock to help with the confusing case, as well as some new friends we didn't see in the first film. Millie Bobby Brown was so excited to introduce the new trailer at TUDUM, and after getting a look at the new flick we can certainly see why.
"Enola Holmes 2" lands on Netflix on November 4.